If you're an outdoor person you've likely heard of Chaco. It's the brand that put heavy-duty sandals on the map for outdoor excursions, and has since become synonymous with high quality, impressively supportive footwear.
This year Chaco has a huge range of styles on discounts for Cyber Week. If you have been waiting for the right time to shop a pair of Chillos, Z/1s, slippers, or boots, your time has come.
Browse the huge number of products on Sale, then take an additional 35% off those products with code SALE35 (entered at checkout). You can save up to 70% in some cases, while supplies last.
Check out our favorite discounted Chaco shoes below.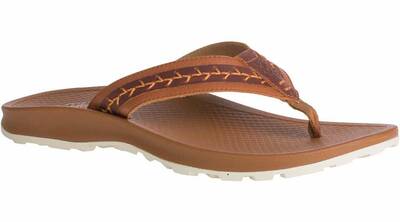 The Chaco Playa Pro sandals are a laid-back, good-looking flip flop that'll work on any beach, backyard, and stroll. Unlike your typical flip flop the Play Pros utilize Chaco's LUVSEAT PU midsole, which is award-winning for its comfort and will make sure your feet are supported. They also use Chaco's Cloud cushioning tech, which is a softer, slightly squishier feel for casual shoes. The outsoles use ChacoGrip Plus rubber and have 1.5 mm lugs, just enough to give you some light traction while scrambling down rocks to the beach.
The Playa Pros have leather straps and have been dyed with the e.dye® Waterless Color System, which dyes fabric without using a drop of water. This helps reduce the water and energy consumption used to create the sandals, and the leather lining means you'll have comfortable, custom-fitting straps in no time.
The Chaco Playa Pro Leather Sandals in Maple are 63% off when you add code SALE35 at checkout, and come in a full range of sizes (for now!).
See the Women's Chaco Playa Pro Leather
---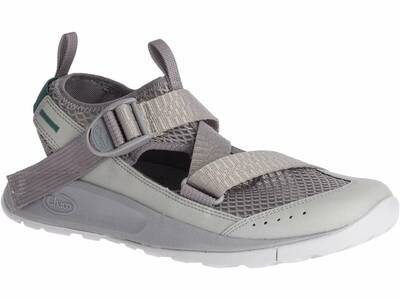 If you thought Chaco just made open-toed sandals, the Odyssey will surprise you. It's a hybrid piece of footwear — part water shoe, part sandal, part mesh-hiker, part barefoot trainer — and it makes as much of a statement with its look as it does with its versatility.
The men's Odyssey Sandals have a combination of breathable mesh in the upper, which goes over the top of your foot to provide structural support and protection, and the signature jacquard straps, which Chaco uses in most of its sandals. The straps can be tightened to get a secure fit on your foot, making sure these sandals move when you do and stay in place.
There's a protected toe bumper for rock-hopping, a supportive heel slip to keep the sandal in place, and open vents at the bottom of the heel and forefoot to let water swirl in and out. The Odyssey has the LUVSEAT dual density EVR midsole, which is softer than the PU version of Chaco's burly sandals, and has a vegan-friendly construction. You can take the Odyssey sandals just about anywhere, but they excel in water.
The Chaco Odyssey Sandals in Light Gray are 61% off when you add code SALE35 at checkout, and come in a full range of sizes (for now!).
See the Men's Chaco Odyssey Sandals
---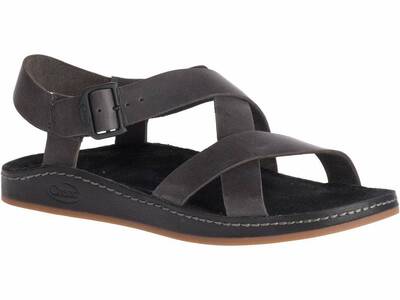 If you love the outdoor vibes of Chaco but want a more sophisticated, city-minded sandal, meet the Wayfarer. One of the bestselling models for a reason, the Wayfarer women's sandal uses the classic silhouette of the Z/ sandal — the same one that made Chaco famous — and changes up the straps to pre-broken in leather with an antique buckle made of finished metal.
The Wayfarer still uses the women's specific LUVSEAT PU midsole, offering unparalleled support for your whole foot and for high arches. Then it has a suede footbed, more suited to days in the park than days down a river, and a non-marking ChacoGrip rubber outsole for excellent traction on concrete or dirt.
The Wayfarer takes a traditionally "outdoor" shoe and makes it urban, just like that.
The women's Chaco Wayfarer Sandals in Tornado are 51% off when you add code SALE35 at checkout, and come in a full range of sizes (for now!).
See the Women's Chaco Wayfarer Sandals
---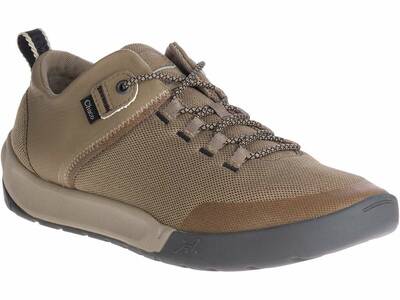 For men who want the classic Chaco support in a casual sneaker, the Sidetrek was built for you. The shoe looks like something between school-teacher and skater, has a breathable full mesh upper, and uses well-made laces that tuck into the tongue for a rather stylish look.
The Sidetrek still has the classic LUVSEAT footbed, and uses the EVR midsole composition for a light, springy feel that feels good for all-day use in a more casual environment. The outsole uses a sticky non-marking rubber, and the whole thing screams casual comfort.
The men's Chaco Sidetrek in Coyote are 55% off when you add code SALE35 at checkout, and come in a full range of sizes (for now!).
---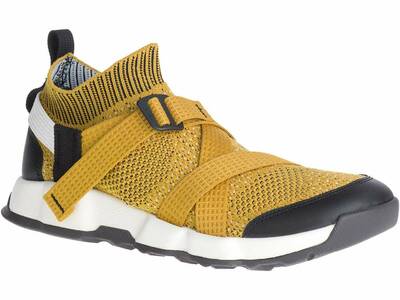 The reality is that the Z/ model of Chaco sandals is so legendary, the company has made many interesting iterations. A few are listed in this guide, and the women's Z/Ronin is another unique model with the Z/ at its core.
Built to be a sneaker-style sandal with a breathable mesh sock-like upper, the Z/Ronin takes the general outline of the iconic sandal and closes it up, adding a toe bumper, full heel, and full mesh upper. The result is a unique looking shoe that feels like a Chaco sandal….sort of.
The Z/Ronin has a knitted polyester upper that can be worn with or without socks. It breathes well, making this an ideal summer shoe, and has a sock-like cuff for your ankle that is surprisingly cozy and comfortable. The classic Z-style straps are in the Ronin, and still allow you to dial in exact fit. The LUVSEAT PU midsole is also the same, and the ChacoGrip outsole has 2.5 mm lugs that will grip to pavement or trail alike.
The Women's Chaco Z/Ronin sneakers in Spice are 62% off when you add code SALE35 at checkout, and come in a full range of sizes (for now!).
---
This post is Sponsored by Chaco.
Backpackers.com Affiliate Policy: This guide contains affiliate links, which help fund our website. When you click on the links to purchase the gear we get a commission, and this goes a long way to creating guides, gear reviews, and other excellent content.