This is part of the ongoing series COVID Relief Alliance, which highlights outdoor brands that have put significant resources into fighting against the pandemic. To see all the brands in one place, see the full article.
Dickies, the brand best known for its iconic workforce apparel, is helping to convert fabrication plants in Mexico and Honduras to produce FDA-compliant isolation gowns for hospitals and healthcare workers.
The company is doing this with the help of its parent company, VF Corporation, in order to get much-needed PPE garments to those on the front lines of the COVID-19 pandemic.
"Dickies has stood alongside generations of workers and in light of these unprecedented times, we're joining in the effort to help healthcare professionals on the frontlines," said Denny Bruce, Dickies Global Brand President.
"As a heritage brand that goes to work, especially when the work gets tough, we are committed to equipping these workers with the critical medical garments they need to protect themselves as they continue the fight against this pandemic."
Dickies Produces Hospitals Gowns and More
Dickies' history includes producing millions of uniforms for the U.S. military during World War 2, and has approached the current crisis in a similar way. The production of isolation gowns begins in late April, and Dickies and VF Corporation are expected to deliver 50,000 gowns in May. The companies will have production capacity make 3.4 million gowns by September, and will source the fabric from industry partner Milliken & Company.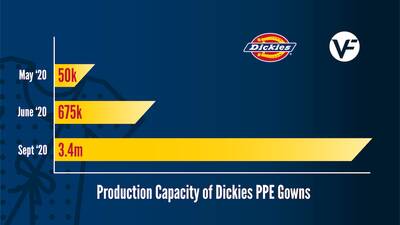 Dickies will distribute the PPE gowns throughout the U.S. by cooperation with state government with the goal of getting them to the most heavily impacted areas. The gowns will be sold at market price.
Dickies will also be donating approximately 20,000 gowns to the local communities in Mexico and Honduras, where the gowns are produced. If they have capacity they will consider donating to high-need communities in the U.S. as well.
Dickies, in partnership with Careismetic Brands, has also donated scrubs to hospitals that have been heavily impacted in the U.S. Careismetic donated $1 million in scrubs to the hospitals, and included both Dickies and Cherokee as brand partners in the effort.
How you can help
Continue to support Dickies, and other VF Coporations, as they retool their factories and donate direct funds and create PPE equipment.
If you want to help the global fight in another way, please donate to the World Health Organization's COVID-19 Solidarity Response Fund. If you want to help your local community, we suggest getting involved in community fundraisers.
---
All images courtesy Dickies, All Rights Reserved.
Backpackers.com Affiliate Policy: There may be affiliate links in this post, which help fund our website. When you click on the links to purchase the gear we get a commission, and this goes a long way to creating guides, gear reviews, and other excellent content. See more here.