Deckers X Lab, renowned for its innovative approach to footwear, proudly introduces its latest masterpiece – the X-SCAPE BAJA.
A groundbreaking creation that pushes the boundaries of versatility, the BAJA is a shoe purpose-built for conquering rivers, roads, and post-workout recovery.
The Ultimate Footwear for Versatility and Comfort
The X-SCAPE BAJA effortlessly blends functionality with unparalleled comfort, making it the ideal companion for both relaxation and urban exploration.
Featuring a plush sugarcane midsole and anatomically molded footbed, this revolutionary shoe provides relief from muscle pressure and ensures a swift recovery process.
Its genius design incorporates drainage holes and a breathable sugarcane IM-EVA upper frame, guaranteeing rapid water expulsion and quick drying.
Complementing this water-friendly construction are non-wicking laces, solidifying the BAJA's reputation as the ultimate choice for aquatic adventures.
This remarkable footwear doesn't stop at functionality – the X-SCAPE BAJA prioritizes comfort as well.
The soft foam collar envelops the foot in a gentle embrace, while the Sorona bio-based knit tongue facilitates effortless slipping in and out of the shoe.
Boasting a sleek and modern design, the BAJA effortlessly transitions from outdoor escapades to casual settings.
Whether you're navigating scenic rivers in a kayak or relishing a serene beach day, the X-SCAPE BAJA guarantees unmatched protection, functionality, and style.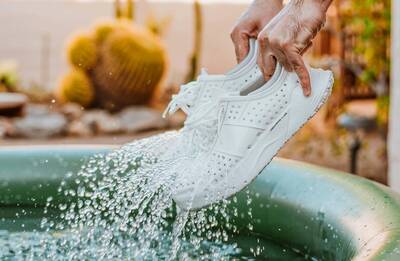 The X-SCAPE BAJA is now available for purchase exclusively on the Deckers X Lab website.
---
Images courtesy of Deckers X Lab
Backpackers.com Affiliate Policy: This article may contain affiliate links, which help fund our website. When you click on the links to purchase the gear we get a commission, and this goes a long way to creating guides, gear reviews, and other excellent content.