The world of backpacks is vast, and there is a different backpack for every kind of adventure. It can be overwhelming to choose which backpack to use on any given day, and it gets expensive when you try to purchase the perfect pack for each trip.
Baltoro saw this backpack problem and came up with a very cool solution — make a base unit with interchangeable backpack units that correspond with the adventure you want. It's a simple and effective concept that Baltoro put into action with their Impetro Modular Backpack System.
If you are a multi-sport person or enjoy venturing on different types of outdoor trips, the Baltoro Impetro Backpack is the backpack for you. With an easy couple of zips, you can change your backpack's specialized focus from hiking to biking, or mountaineering to skiing, or… you get the idea!
Swapping out packs is really that simple with this system. And by using just one base unit, you save a lot on cost, making this a really good deal on a high-performing backpack.
The complete Impetro Modular Backpack System bundle includes the base unit and four packs. The four packs are for hiking (10L), biking (15L), skiing (22L), and mountaineering (33L). Each unique pack has a layout and features designed specifically for the activity it's named after.
See the Baltoro Impetro Modular Backpack System
With ImpetroGear's modular backpack system, you can also mix and match and buy different configurations depending on your interests. Configurations include solo (one backpack), duo (choice of 2 backpacks), trio (choice of 3 backpacks), or complete bundle, depending on your interests.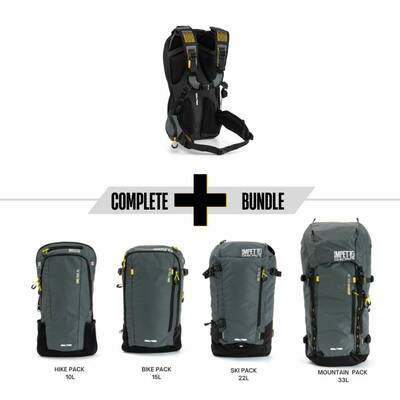 Baltoro Impetro Modular Backpack System Specifications
Feature Type
Feature Specs
What This Means
Weight

Base Unit: 30oz

Hike: 9oz

Bike: 17oz

Ski: 17oz

Mountain: 18.5oz

Weight is on-par with most backpacks of similar size on the market.
Type
Multiple use
Base unit works with four separate outer packs depending on the activity you're doing.
Material
400d nylon
330d N66
Burly and tough, but lightweight.
Sizing
One size
One size fits most.
Pockets
Varies between 5-7
Depending on the pack you're using, you'll have varying pockets of all sizes and placements, from stretch to zipper pockets.
Pocket Placement
This varies a bit between styles
Top lid zip pocket, side water bottle stretch pockets, front zip pocket, zip hip-belt pocket.
Waistbelt
One size fits most design
Adjustable with a pocket and a gear loop.
Sternum Strap
Magnetic X-Harness
Unique design to keep range of motion broad.
Hydration Sleeve
Yes
Can hold a 3L bladder.
Recco Ready
Yes
Base unit has Recco.
Manufacturer Warranty
Lifetime warranty
Lifetime warranty on workmanship and materials with proof of purchase.
Sustainability
Learn about that here
Donates 5% of profits, discontinuing single-use plastic by 2024, responsible supply chain.
Retail Price
Configurations:

Solo bundle: $149

Duo bundle: $224

Trio bundle: $279

Complete bundle: $349

Inexpensive, especially when comparing the costs of buying multiple individual backpacks!
See the Baltoro Impetro Modular Backpack System
Unique Features of Baltoro Impetro Modular Backpack System
There really aren't any backpacks like Baltoro's Impetro Modular Backpack System on the market. For the cost of what you'd typically pay for one premium backpack, you get four unique backpack setups with the Modular Backpack System. With a simple zip, you can swap from a bike backpack to a mountaineering backpack. This is so ideal for multi-sport athletes!
Other than varying sizes, each backpack is made thoughtfully to its respective sport. For example, the hike backpack has two stretch pockets for water bottles or trekking poles, while the bike backpack has a pump pocket and a helmet holder. This system allows you to use a pack that is just right, never too much backpack or too little. It's the Goldilocks backpack.
In practice, it was nice to have the mountain backpack for a short backpacking trip while using the hike backpack for day trips from base camp. Usually, a whole second backpack is required for such adventures, but the Baltoro Impetro Modular Backpack System makes it simple: just toss the lightweight hike pack into the larger mountain backpack, and you're all set!
Zip to switch.
Fully loaded.
Magnetic X-Harness
The core feature of the Base Unit is its magnetic X-Harness. This sternum strap alternative allows for a great range of motion and offloads weight from your shoulders.
This harness design keeps your pack centered and helps it to really stay put during moments that jostle! Having a magnetic closure instead of a traditional clip closure is nice if you have gloves or mittens on. If a standard sternum strap gives you trouble, the Magnetic X-Harness is likely the solution you've been looking for.
Recco
Recco is an effective reflective technology that allows search and rescue teams to find avalanched or lost humans more easily with radar. Baltoro installed Recco technology into the Base Unit, so no matter what backpack you have zipped in for your adventure, you can rest easy knowing you've got Recco if an emergency situation presents itself.
Recco equipped.
Pockets aplenty.
How the Baltoro Impetro Modular Backpack System Compares to Other Backpacks
Baltoro is quite a standout where modular backpacks are concerned. No brand is putting out something as customizable as the Impetro System, so when we look at comparisons, nothing is an exact competitor.
Seek Outside Revolution Pack Frame vs. Baltoro Impetro Modular Backpack System
The first backpack that comes to mind would be Seek Outside's Revolution Frame System. This design allows adventurers to build out a fairly custom pack. But you certainly cannot change out enough pieces to create a completely different pack for each adventure.
The Seek Outside Revolution Pack Frame isn't as refined nor as robust an offering as the Baltoro Impetro Modular Backpack System.
Mystery Ranch Terraframe vs. Baltoro Impetro Modular Backpack System
Another fairly customizable backpack would be the Terraframe from Mystery Ranch, which allows wearers to add or subtract a fair amount of storage, and you can break it down into a hip pack for short excursions. Again, this backpack does not have so much customization that you'd be able to customize it for hiking, biking, and other sports. It would be a lot of pack for a day hike, for example.
The Baltoro Impetro simply offers more customization.
Traditional Backpacks vs. Baltoro Impetro Modular Backpack System
It wouldn't be fair to compare any individual traditional backpack to the Impetro, because that backpack is bound to look bad by comparison. The Baltoro Impetro is as practical as other top-tier backpacks that can't transform, and even moreso in many ways. Also, the Impetro isn't excessively heavy like you might assume — it's comparable to many of the standard lightweight packs on the market.
So Baltoro's Impetro Modular Backpack System is a standout for what it is: a backpack system for any adventure.
See the Baltoro Impetro Modular Backpack System

Who is Baltoro?
Based out of Toronto, Baltoro is a company set on making high-quality and innovative outdoor gear. They are a direct-to-consumer company, which allows them to keep prices low on premium gear.
Baltoro is set on doing good things and working with organizations that give back to the environment and help support responsible tourism. On top of great adventure gear, they also make thoughtful beach gear.
See the Baltoro Impetro Modular Backpack System, and learn more about Baltoro.
---
Baltoro sponsors this post. We maintain editorial independence on the content.
Backpackers.com Affiliate Policy: This article may contain affiliate links, which help fund our website. When you click on the links to purchase the gear we get a commission, and this goes a long way to creating guides, gear reviews, and other excellent content.