Backpackers.com — Congratulations are in order — we've made it to another Earth Day! Pass out the ice cold filtered water if you can find it, do your best not to twist open any sort of water bottle (unless it's reusable), and get to drinking. Seriously, drink up. Hydration is important.
Now that your thirst is quenched, we can begin to really celebrate this day. What is Earth Day? Well, to put it briefly, it's a celebration of our planet through active involvement in a huge variety of environmental conservation activities. Planting trees, participating in large recycling programs, speeches, articles, hugging plants, picking up trash, etc.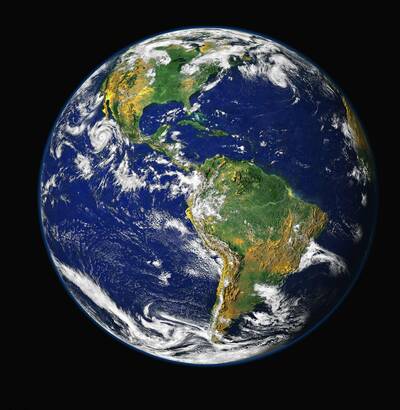 The Earth Day Network is the official voice of Earth Day, which began April 22, 1970. It states:
"Growing out of the first Earth Day, Earth Day Network is the world's largest recruiter to the environmental movement, working with more than 50,000 partners in 196 countries to build environmental democracy. We work through a combination of education, public policy, and consumer campaigns.

The first Earth Day on April 22, 1970, activated 20 million Americans from all walks of life and is widely credited with launching the modern environmental movement. The passage of the landmark Clean Air Act, Clean Water Act, Endangered Species Act and many other groundbreaking environmental laws soon followed. Twenty years later, Earth Day went global, mobilizing 200 million people in 141 countries and lifting environmental issues onto the world stage. More than 1 billion people now participate in Earth Day activities each year, making it the largest civic observance in the world."
The concept is that environmental protection in many ways started with the uprising of Earth Day, and as it states above, in 1990 the mainstream culture also began to celebrate.
So, it's Earth Day. Wahoo! We've collected 15 resources from other publications, events, and happenings for you to read about on this, the day of our Earth.
Earth Day 2016 Roundup
Watch live while the leaders of the world talk climate control and sign the historic agreement.
Exactly what it sounds like. Reduce, reuse, and recycle.
A compelling title by John D. Sutter, this article lists five major reasons climate consciousness and the protection of Earth is on the rise despite the chaos of our world.
Similar to the above, NextGen gives stats on how humans have decimated the Earth, and how important politics, news, and media (like the next President of the U.S.) are at this moment — how they will decide the fate and future of Earth's longevity.
This article first talks about the Google doodle for Earth Day 2016, signifying the cultural acceptance and shift of conservation; it then lists five trivia facts (they're pretty good) and a longer section on how you can get involved. That's right, go get involved.
In partnership with Earth Day Network, Art Works for Change has debuted an online gallery of critical and artistic work that highlights climate change and conservancy. The 35 featured galleries are incredible and full of detailed information.
NatGeo brings it with a massive list of 46 detailed, hyperlinked victories for the environmental movement, all of which have occurred since the first Earth Day in 1970. Progress, people.
We debated including this, because free stuff on Earth Day isn't really the point of the movement, but some of these items are awesome, and some of them have an environmental benefit. But, if you're like us, don't buy anything. Instead…
Donations typically make people think of money, but this is more comprehensive. Check out the full list of Earth Day Network Campaigns (there are a lot of them) and consider donating your time. If time is money to you, donate your money.
Addressing the historic climate change agreement in Paris, how much he loves the Earth, and the need for conservation across the world, Obama has officially declared April 22 "Earth Day" in the U.S.
Another list (who can blame them?), the Latin Times assembles moving quotes from famous thinkers, celebrities, politicians, and mountain people to remind us not only of the sanctity of Earth, but of language too.
12. The Ultra High Definition View of Earth via NASA
As they, "just watch."
A live stream from the ISS, way up in space. See the astronaut's video of our little ol' planet on its … well, not birthday. On its human recognition day.
"Lab Girl" is a book by Hope Jahren, and a section of it talks specifically about when, why, and how to plant a tree. It's about the most iconic thing you could do today.
Edmund Muski was Jimmy Carter's Secretary of State, and this blog post on his life and impact will have you reveling in the old days of '70s earthiness.
A celebratory Earth Day to you all!
Featured image courtesy NASA