Elevating the e-bike journey to unprecedented heights, Electric Bike Company (EBC) has launched a line of top-tier American-made electric cruisers.
EBC's unwavering commitment to excellence is evident in every facet of its designs, encompassing speed, quality, customization, and user-friendly features.
What Makes Electric Bike Company Stand Out
From sleek aesthetics with handlebar shrink wrapping to a hassle-free Water Resistant Plug and Play System, EBC ensures a clean and convenient riding experience.
Riders can fully personalize their bikes, crafting them from the frame up, a unique offering exclusively available with EBC.
Safety and innovation are seamlessly integrated into EBC's designs through the Cutting-Edge Tech Package, boasting essential features like brake lights, electric horn, turn signals, high/low beams, and an auto-light sensor.
The industry's finest Top-Notch Front Basket, frame-bolted for stability and capable of carrying up to 65 lbs, guarantees security and functionality.


EBC makes repair on the go a breeze with a Comprehensive Tool Kit that includes a pump, CO2 cannister, and self-sealing tire gel.
Charging concerns are eliminated with the Quick Charging Smart Super Charger, fully replenishing the e-bike's battery in just 2-3 hours using a 3.5 amp charger.
Emphasizing quality control, each EBC bike is accompanied by a QC Authentication Card, signifying rigorous testing, and bearing a unique serial number for authenticity.
Select models feature the MIK Click Rack System for enhanced functionality, while others can use click-on MIK accessories.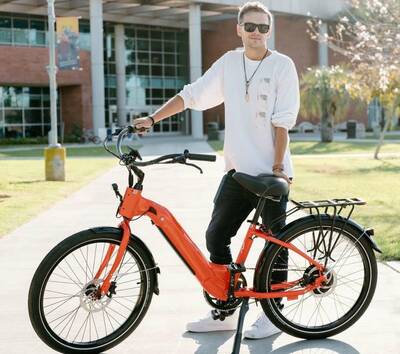 Driven by a devotion to crafting the finest custom American e-cruisers, EBC leverages quality materials, local expertise, and relentless innovation.
Enthusiasts and curious riders can explore EBC's exceptional features on their website, embarking on a journey that redefines e-biking.
---
Images courtesy of Electric Bike Company
Backpackers.com Affiliate Policy: This article may contain affiliate links, which help fund our website. When you click on the links to purchase the gear we get a commission, and this goes a long way to creating guides, gear reviews, and other excellent content.