Considered a griller's dream, the Camp Chef's Apex Grill combines the ever-popular wood pellet grill and the time-tested propane grill (optional add-on) to give you a patio experience, unlike anything you've ever had.
The Apex Grill, which is available in 24-inch and 36-inch versions, is the only grill of its kind on the market.
With a turn of a knob, you will be able to change the fuel source in a single chamber on one unit.
To create a hybrid pellet/propane grill, you can purchase the Apex Gas Kit (sold separately).
The Gas Kit comes with either 4 or 6, 9K BTUs/Hr. internal propane burners and a Sidekick unit that attaches to the side of your grill.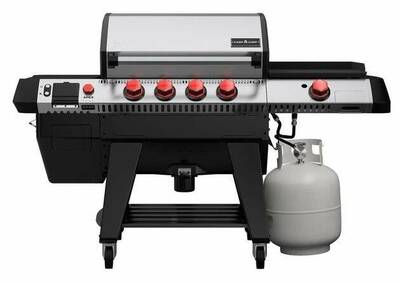 Just like the traditional Sidekick, it's compatible with other 14-inch, one-burner set-top accessories.
So, roll smoke or rock a flame with the Apex Grill. For more info, check out Camp Chef's website.
---
Images courtesy of Camp Chef
Backpackers.com Affiliate Policy: This article may contain affiliate links, which help fund our website. When you click on the links to purchase the gear we get a commission, and this goes a long way to creating guides, gear reviews, and other excellent content.