Sustainable desert performance brand Erem has pledged to plant 1 million cactus pear cacti to help mitigate the impact of climate change.
The brand's commitment to planting these trees is part of the Erem's Cactus Pear Program which aims to deliver the desert's most promising answers to the planet's toughest challenges.
Noah Swartz, Erem's co-founder and chief executive officer, said planting cactus pear is a better solution for arid landscapes in terms of long-term carbon sequestration protecting local ecology, revitalizing local economies, and conserving precious water resources.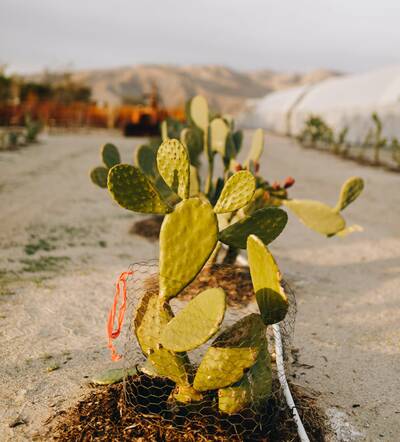 Since launching last November, Erem planted its first 250 cactus pear cacti at a pilot site outside of Joshua Tree National Park and is now beginning to scale its Cactus Pear Program by cultivating thousands more this spring.
Erem is promoting cactus pear products via its Marketplace to build customer demand for these incredible plants which will further accelerate cactus propagation.
Along with partner AutoCamp, Erem also announced plans to host a launch celebration of the cactus pear movement.
The event will be held outside of Joshua Tree, in Southern California, at AutoCamp's newly opened Joshua Tree location, from May 2-4.
---
Images courtesy of Erem
Backpackers.com Affiliate Policy: This article may contain affiliate links, which help fund our website. When you click on the links to purchase the gear we get a commission, and this goes a long way to creating guides, gear reviews, and other excellent content.