Forget your usual 2D map — now you can learn the terrain with a 3D walkthrough experience with AllTrails+. AllTrails provides everything you need to plan for your next trek, and the all-new AllTrails+ Trail Previews feature provides an immersive experience, allowing you to see routes up close before you even get to the trailhead.
See precisely what lies ahead of you on any AllTrails trail route.
Introducing Trail Previews
AllTrails recently launched a new feature exclusive to its AllTrails+ subscribers — Trail Previews.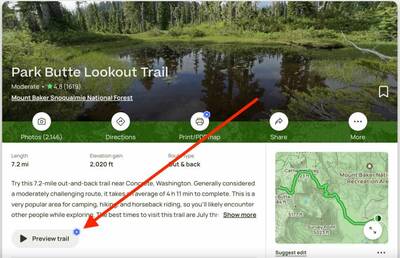 You can now enjoy a 3D tour of any AllTrails verified route on the AllTrails app or website, giving you a clear look at the landscape and environment.
Before choosing a path for your next adventure, you can better envision the ups and downs of the trail by viewing the cumulative elevation gain as you preview the route. And you can see what the topography looks like every step of the way.
How To Preview a Trail
To preview a trail, you must be an AllTrails+ subscriber. Once you're signed up, you can open the trail details for any trail in the AllTrails database, then tap or click 'Preview trail' and off you go!
A bird's-eye view of the route will load on the screen, and then the preview will play before your eyes. A blue dot will move along the trail, simulating the trek. As the dot moves along the trail, the route will change to blue as it progresses, and elevation and trail length details will be displayed.
During your preview, you can pan and zoom around the map to your heart's content. Don't worry — the preview will pause when you do. Explore all you want.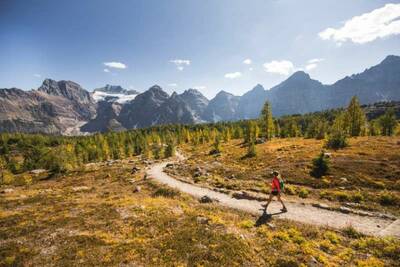 Go Further and Be Prepared with Trail Previews
With Trail Previews, planning is made even easier by getting a feel for the trail before leaving home. Plus, with all the bonus features AllTrails+ has to offer, you can get a complete overview of the trail you're planning to tackle.
Check out the terrain and elevation at specific points, and get an immersive preview of any trail. Start your free trial of AllTrails+ today to use Trail Previews for your next trip!
---
This post is sponsored by AllTrails.
Backpackers.com Affiliate Policy: This article may contain affiliate links, which help fund our website. When you click on the links to purchase the gear we get a commission, and this goes a long way to creating guides, gear reviews, and other excellent content.