For over 140 years, Helly Hansen has been a trusted brand in the outdoor adventure space. Whether you're looking to recreate on water, in the mountains, or somewhere between, you can bet Helly Hansen makes the perfect gear to outfit your fun!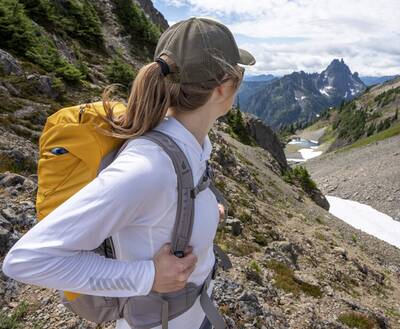 Helly Hansen has been an innovative brand since its start. In recent years, Helly Hansen has created game-changing fabrics and technologies, such as their responsibly made Lifa Infinity Pro™ fabric and their much loved LifaLoft™ insulation. Innovation is what Helly Hansen is all about, and it doesn't end with technology and fabric.
This company is also serious about innovation in sustainability. Helly Hansen uses a holistic and scientific approach to best serve the environment as a big name in the industry. They believe in fair working environments, creating gear with a long life and developing low impact materials!
Most recently, Helly Hansen has launched Open Mountain Month — a month-long initiative to inspire and enable people to get outdoors. The brand invites you to celebrate the mountains through a series of events and activities all throughout June 2023.
Helly Hansen + Open Mountain Month
Open Mountain Month is a fun virtual affair encouraging and supporting folks to get outside. Through storytelling and easy-to-digest education, Helly Hansen aims to show you the way to adventure through the stories of two outdoor experts: Monika Lovenmark of the Squamish Search and Rescue team and Ole Martin Heløy of Norwegian People's Aid.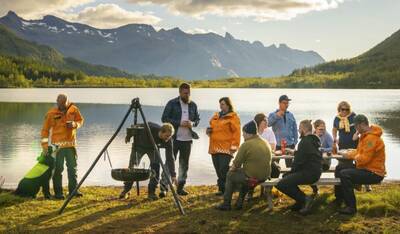 Whether you're a seasoned pro when it comes to the outdoors or someone looking to learn new skills to feel empowered, Open Mountain Month is for you. Helly Hansen has put together inspiring videos, informative articles, and a whole community of folks sharing the joy of adventure. Nature is truly for everyone, and Open Mountain Month celebrates this.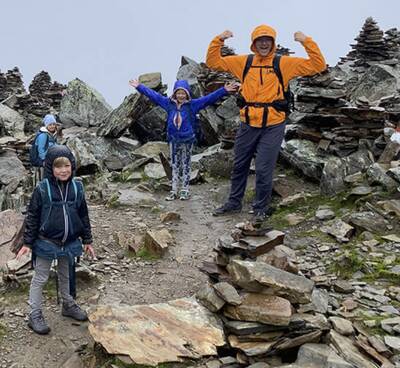 Inclusion is essential to the future of outdoor recreation, and it's great to see a company celebrating diversity, teaching important principles such as Leave No Trace, mountain safety, and how to get kiddos stoked for outdoor time. It feels amazing to set out on an adventure fully prepared, and it's cool that Helly Hansen cares so much about this.
Open Mountain Month is a fun way to celebrate the outdoors. You can celebrate with Helly Hansen by going on your favorite hike and tagging it with #OpenMountain to show the world your favorite place to play.
Dress for the Mountain: The 3-Layer System
Back in the 1970's Helly Hansen came up with their 3-Layer System to teach folks about the importance of layering in the mountains. It's a system that is simple, smart, and widely accepted as the gold standard for getting adventure-ready where clothing is concerned.
So what is the 3 Layer System? It's pretty simple!
Base Layer
This is the layer that sits on your skin. This layer should be close-fitting or even a little snug. This layer helps to keep you dry by wicking moisture from your skin. For a base layer, it is hard to beat the versatility of Helly Hansen's Lifa line.
See base layers for men and women.
Mid Layer
Next up, you'll want a mid layer. This is meant to keep you cozy and your temperature regulated. For a really versatile mid layer, the Verglas and Daybreaker lines are hard to top!
See mid layers for men and women.
Top It With A Shell
The final layer is the shell. A shell is a jacket that is typically windproof, waterproof, or a mix. The purpose is to keep the elements out. An outstanding lightweight shell is the Loke shell. If you're looking for something a little burlier, the Blaze 3-layer shell jacket is ready for any adventure!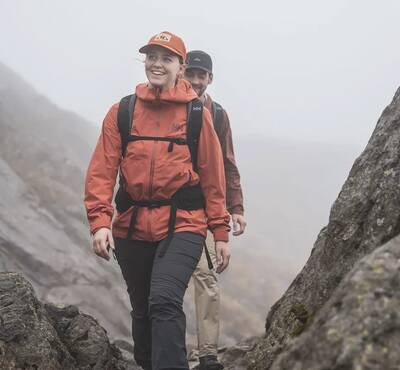 The Mountain Is Calling
So join in on the fun of celebrating the Open Mountain with Helly Hansen and a growing community of explorers. Visit the Open Mountain page to discover adventurous tips, tricks, and upcoming events.
---
This article is sponsored by Helly Hansen.
Backpackers.com Affiliate Policy: This article may contain affiliate links, which help fund our website. When you click on the links to purchase the gear we get a commission, and this goes a long way to creating guides, gear reviews, and other excellent content.