The world-famous Skunk Train of Mendocino County, California, will be offering a one-of-a-kind experience for railbike fans every Saturday evening, beginning this May.
After sunset, customers will be able to glide along on their custom two-person pedal-powered railbike, with breathtaking scenery as it winds through the redwood trees of the Redwood Route.
Dubbed "Railbikes by Moonlight," this unique experience is perfect for families, friends, and romantic couples.
Skunk Train General Manager Stathi Pappas said these railbike trips are an unparalleled way to experience the majestic redwood forest and coastal river environment.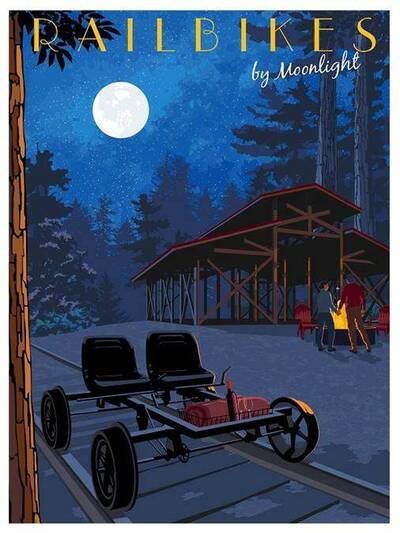 Riders arrive at the Fort Bragg depot 45 minutes before sundown for their adventure, and after learning how to manage their bikes, off they go on the journey, well-equipped with snacks and beverages of their choice and LED lights for the return.
Bikes meander along the Pudding Creek Estuary and deep into the heart of the Mendocino forest.
The bikes arrive at the turnaround point (The Glen), and here, riders disembark and enjoy a leisurely (or romantic) stroll, sit and roast marshmallows by the fire, or play a competitive game of corn hole.
The interlude lasts an hour, with the first half spent in a twilight setting, and the second half in near-nightfall. LED lights and moonlight illuminate the tracks in the darkness, on the trek back to the station.
Railbikes by Moonlight is priced at $295/bike, with room for two riders. For tickets and more information, visit https://www.skunktrain.com/railbikes-by-moonlight/.
---
Image courtesy of Skunk Train
Backpackers.com Affiliate Policy: This article may contain affiliate links, which help fund our website. When you click on the links to purchase the gear we get a commission, and this goes a long way to creating guides, gear reviews, and other excellent content.