This year has been a little different. With fall in full swing and the pandemic still underway, we can think of nothing better to do with the family then head into nature. Local campgrounds, or even the backyard, are a way to take in nature-filled sites, stay safe, and burn off that pent up steam.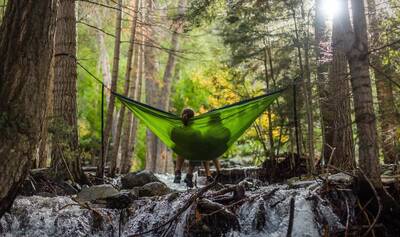 Reconnect with nature and bring a few comforts with you. We've hand-picked products for just such an adventure. See them, below.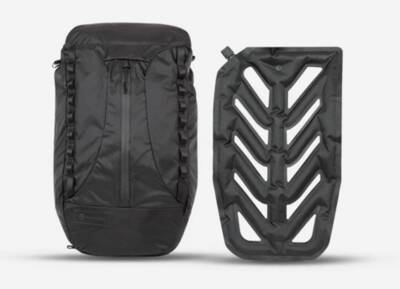 Every good camping trip requires a day hike or two. For your trekking purposes we recommend the WANDRD VEER daypack. It's an 18 liter lightweight backpack with excellent storage and materials, but was built to truly shine for photographers.
What makes it unique is the inflatable back panel. Yes, you can inflate the back panel with a couple breaths of air, slide it into the back of the pack, and receive a huge amount of support for heavier loads and longer treks. It's also compatible with an inflatable camera cube from WANDRD that allows you to carry multiple lenses and protect your expensive goods.
The Veer is built high quality Robic Dynatec and Robic HD Oxford material, contains a stuff-it main chute, exterior zippered compartment, zippered top compartment, and large water bottle pocket. It's solidly built with air-mesh shoulder straps and packs up into the top compartment. Finally, it's quite minimal in design, perfect the stylish one in your group.
---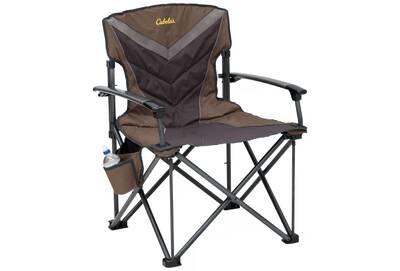 Every campsite requires a solid chair, if to do nothing except sit by the warmth of a roaring fire. This is especially true in fall, and you'll want to be comfy as you roast up marshmallows and tell a few stories. Cabela's Big Outdoorsman chair is extra-large to suit everyone (400 pound weight capacity), comes with a built-in cup holder, and has a padded seat and back.
The entire chair screams comfort, and is made of steel tubing, aluminum, and 600-Denier polyester, all built to handle years of camping. It all folds into an included carry case, too.
See the Cabela's Big Outdoorsman XL Chair
---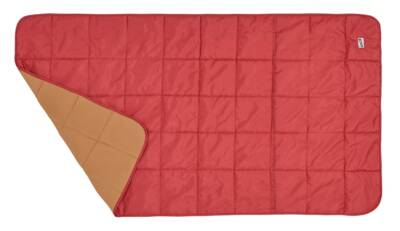 Aptly named, Kelty's Bestie Blanket was built to huddle in warmth under a sky of stars. Insulated blankets have become campsite staples in recent years, and the Bestie Blanket combines an affordable price tag with solid materials to keep you warm and snuggly.
The blanket uses Cloudloft insulation for warmth, a mix of durable polyester fabrics for sleeping-bag style coziness, and a standard size for two to warm up. Great for kids, you can set the blanket on the ground to keep them from getting dirty and provide a bit of star-gazing warmth, or you can wrap yourself up for the night.
---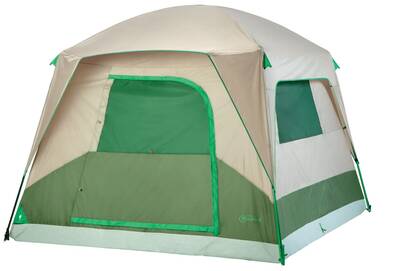 The best kind of tent is one that fits the whole family, can survive a bit of weather, is easy to setup and take down, and won't break the bank. The Bass Pro Eclispe 6-person cabin checks each of these boxes impressivly — and it will work for most families in most situations.
The Eclipse has a single large door with a zippered mesh window along the top, three other large zippered mesh windows throughout for airflow, and a very tough PU bathtub floor for durability and water resistance. The canopy protects from weather, there are pockets for easy storage and access, 90 square feet of resting room, and it's six feet tall, so the whole family can stand up!
See the Bass Pro Shops Eclipse 6-Person Cabin Tent
---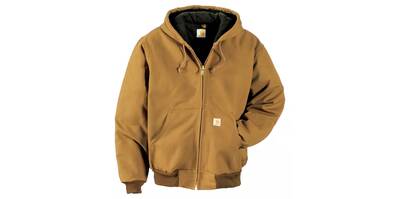 Carhartt makes gear we're all very fond of, and these two jackets were built for fall.
The men's Quilted Flannel-Lined Duck Active Jacket is a do-it-all coat that can be worn to work, around the house, and especially in the campground. It uses a flannel lining for soft-on-skin warmth, then a ringspun cotton duck exterior that has been finished with water-repellence for a wind-proof, rough exterior. There are two pockets, an attached hood, inside pocket, and a generally impressive build.
The Sandstone Sierra Jacket is a similar women's jacket that's lined with sherpa fleece for coziness. The exterior is a durable cotton, and the drop hem tail provides a bit more coverage and warmth. It has a hood, two deep pockets, and is built to keep you extra warm as the night temperatures dip.
See the Carhartt Quilted Flannel Jacket
See the Carhartt Sandstone Sierra Jacket
---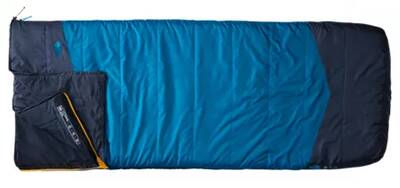 You may think sleeping bags are a dime-a-dozen, but we know that as the temperatures drop you need something that will reliably keep you warm and comfortable for a night in the woods. The North Face Dolemite is a new style of sleeping bag — called a 3-in-1 — that uses multiple layers to create the perfect bag for a range of temperatures. The Dolemite One works in 50-, 30-, and 15-degree weather with three different color-coded layers, which can be swapped out depending on how cold it gets.
The bag has a roomy rectangular shape, synthetic Heatseeker Eco insulation, and a cozy fleece interior liner. For the price we're impressed, and you will have a single comfortable bag for three seasons.
See The North Face Dolemite One
---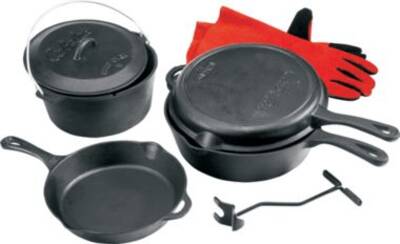 When it comes classic to camping, a cast iron set cannot be beat. You can cook up eggs and pancakes in the morning, make a delicious stew in the evening, and have a spare pan for the catch of the day. Surprisingly inexpensive for cast iron, this Cabela's set has incredible durability and locks in the flavor of every meal.
Cabela's Five-Piece Cast Iron Starter Set comes with a 10-inch skillet and lid, two 12-inch skillets (and one lid), and a 10-inch camp oven with lid. There's also a lid lifter and heat guard leather gloves to round out the set.
See the Cabela's Cast Iron 5-Piece Starter Set
---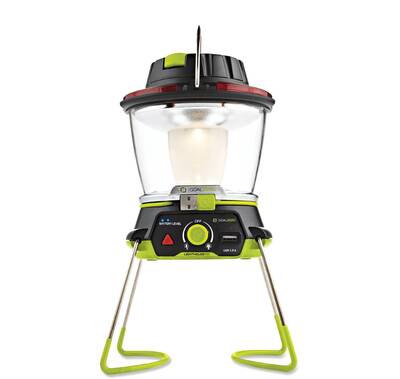 Every campsite needs light. Whether you get in late and have to cook in the dark, decide to play a round of cards, or need a s'more prepping station, a bright lantern is best. The Goal Zero Lighthouse 400 is like the tall, beaming lantern you grew up with, but it's more portable, has more functionality, and will last longer than you might expect.
This is a 400-lumen lantern that can be dimmed, use only one side for light, has pop-up legs, a USB-charging port for your phone, and a hook for hanging. Heck, you can even hand it to the kids to recharge the battery via a built-in hand crank (it builds character). More than enough light to see, eat, and play by.
See the Goal Zero Lighthouse 400
---

What would a fall camping guide be without an insulated tumbler to keep your drink piping hot well into the evening? YETI needs no introduction, and the YETI Rambler Tumbler may not either. It's a stainless steel, double-wall vacuum insulated vessel that'll hold 20 or 30 ounces of liquid and keep it toasty for hours.
The Rambler Tumbler features YETI's MagSlider lid, which uses magnets to easily open and close, and the DuraCoat finish is great to grip and dishwasher safe. Plus it'll fit into that camp chair cupholder above. If you don't have your Tumbler yet, grab one.
---

You might think a cart is a rather basic item on a camping list — we could not disagree more. If you haven't noticed, your family has been cooped up for months. They want to get outside, and they're going to want to bring a few things to settle in for fun. The Bass Pro Shops Eclipse Multi-Function Cart is the best way to haul all that stuff from the car to the camp site, and it serves as a little camp trolley for the kids when they're bored.
It has a solid 180 pound weight capacity, folds up for easy storage, and has a big handle for pulling. While it's perfect for camping, we're pretty sure you'll find a way to use it in regular life too, whether that's yard work, beach trips, or lugging the kids around yourself.
See the Bass Pro Shops Eclipse Multi-Function Cart
---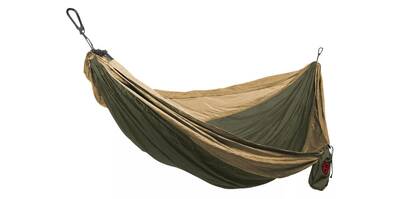 You know that lackadaisical image of stringing up a hammock between two pine trees, settling in with a steaming cup of coffee (that won't spill on you), and finally cracking your murder mystery? That's possible this fall. Of course you'll need a book and some coffee, but the Grand Trunk Double Parachute Hammock is ideal for the whole hanging bit.
We prefer the Double because it gives plenty of room to roll around, and you can fall asleep with one or two people for a restful mid-day nap. Grand Trunk uses parachute nylon for incredible strength — it can hold 400 pounds — and includes nautical-grade carabiners and ropes for hanging (most hammock companies make you pay extra). The whole thing weighs just under two pounds and will be one of the smaller items in your car.
See the Grand Trunk Double Parachute Hammock
---
This post is Sponsored by multiple brands
Featured Photo by Spring Fed Images on Unsplash
Backpackers.com Affiliate Policy: This guide contains affiliate links, which help fund our website. When you click on the links to purchase the gear we get a commission, and this goes a long way to creating guides, gear reviews, and other excellent content.