Backpackers.com — Inspiration comes in many forms. A few weeks ago a video was released by Juicy Studios debuting the Release 3, the new premier mountain bike from Diamondback Bicycles. Product releases happen regularly in the outdoor adventure world — there's always new tech to be debuted — but a video was created to showcase the bike, and that video has taken the outdoor world by storm.
Called DreamRide, it shows rider and co-creator Mike Hopkins pedaling through a plethora of fantastical lands. A poem, an ode to the world and to dreams, is narrated by Graham Tracey over Hopkins' powerhouse cycling. All of this creates a stunning visual that reminds us dreams, inspiration, and the possibilities of a creative pursuit. It is, in short, a mountain bike fantasy of the highest caliber.
We got in touch with Hopkins and Lacy Kemp, co-creators of the project, to get an inside look at how DreamRide was made. Watch the video and read our in-depth email interview below.
Interview with Mike Hopkins and Lacy Kemp, creators of DreamRide
Backpackers: Can you talk some about the collaboration elements for this piece? How did the film come about, and how did everyone fit in?
Lacy: Back in August Diamondback Bicycles approached me about doing something "big" for the launch of their new mountain bike, The Release. About a year ago I had the idea that I wanted to make a video based around Dr. Seuss' "Oh the Places You'll Go!," but I couldn't find the right avenue to make it come to life. When Diamondback asked if I had any ideas, I laid out an outline of a visually stunning piece that tells the story of the highs and lows of life…
Mike Hopkins was the first person I approached … he knew immediately who we should hire to produce the film … After three intense weeks of shooting the timeline for the piece started to come together. It became clear that the story was morphing less into a metaphor for life, and more into a surreal dream that we all have as bikers — to ride those places that you only see in your imagination. While still maintaining crucial elements of the original story, Mike and I rewrote the final script to better support what the team felt the best version of the video could be.
The voice over brought the story to fruition while Mike's riding and the filming and editing were just visually incredible.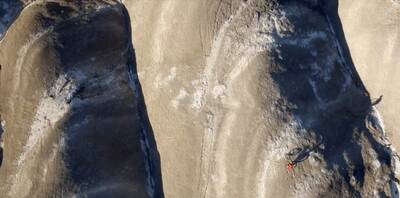 Mike: This project took a fair few ingredients to put together, but when you put a handful of like minded people in the same room things tend to happen. The original concept was to build a film around the works of Dr. Seuss … The marketing manager at Diamondback gave us the green light, untethered control, and one request, "Make it different."
The first person I approached was Scott Carlson of Juicy Studios. He's been a friend and creative influencer of mine for years and we'd been waiting for a project like this. Next up, we wrangled director/cinematographer Ryan Gibb, who was chomping at the bit to get a little dusty in-between HONDA commercials, and cinematographer and aerial specialist Scott Secco. With motion covered I called my buddy and photographer Bruno Long, and before you knew it we had our production team in place. One month, a boat load of footage, too many sleepless nights to count, and nearly 8000km later, Gibb, Secco, Bruno, and I arrived back home just in time for Christmas.
Post production began mid-January, and for the next month or so Scotty and I more or less lived at the studio.  I watched him grow a few grey hairs in the process as he managed graveyard shifts and family, but the guy's unstoppable. Foundation, framework, visual effects, colour, sound, narration… the list is long in the land of post production. On the back end, Keith White Audio built sound environments and Graham Tracey provided the voice. There was little doubt we had an incredible team behind this project every step of the way.
Diamondback had handed over the reigns, let the creative process play its course, and trusted us at every turn. So when it came time to show the final product you might say we were a little anxious. But hey, I am sitting here writing you today so you guys can imagine how it was received. Diamondback gave us an amazing opportunity and the team and I couldn't be happier with the reception.
Backpackers: Can you talk more about the "dream" concept?
Mike: Diamondback … trusted the team and essentially allowed us make the project we wanted. The "DreamRide" concept just kind of happened. We were searching for a creative platform that would allow us to move seamlessly between very contrasting landscapes, and dreaming fit the bill. The first version of the poem was originally written by Lacy Kemp, but as the project progressed her and I worked together to give [the words] personality and narrative to the visuals.
It may sound a little cheesy, actually no, it definitely sounds cheesy, but as we wrote we tried to focus on the atmosphere of doing something that gives a sense of freedom. Whether it be a board, bike, skis … the feelings are pretty universal across the board. That being said we aimed to write something where "Bike" could be swapped with "Skis," and it would still be a genuine representation of how that sport or thing makes one feel. Hoping that this would be something everyone could appreciate, not just mountain bikers.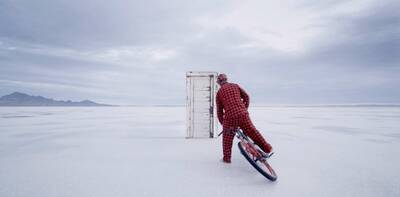 Backpackers: One of our favorite lines in the video is, "The never ending quest to quiet my mind." This is a typical sentiment for outdoor enthusiasts. Could you speak on the nature of this reality in our world?
Mike: The line speaks to that moment you get on your bike and everything seems to fade away. You are forced to be in the moment. In this day and age of kinked necks and notifications those moments are becoming more and more fleeting. Let's be honest, if you get wrapped up in that world life can get overwhelming for no reason at all. I find the further I ride my bike, the better I feel. All the "Noise" fades to the background. When I'm on my bike I think of things that really matter, or nothing at all. It's pretty sweet.
Lacy: I interview mountain bikers all of the time and always ask "Why do you ride?" The overwhelming answer usually has something to do with escape, freedom, or quieting of the mind. Life moves super fast, and our minds are constantly whirring to keep up. Putting wheels to dirt and focusing on nothing but the beauty around you and the trail in front of you is like instant medicine for daily stress.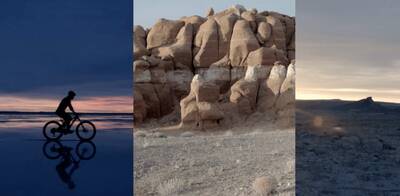 Backpackers: Can you list the specific locations in which this was shot? 
Mike: One of the goals of this project was to show amazing and otherworldly locations … insert countless hours of location research. We spent months researching various locations, being sure to steer clear of protected areas and choosing locations that see recreational use. The realization that the U.S. is littered with the beautifully strange, the opportunity to piece these backdrops together made for a trip worth traveling. Our road map read like a 5-year-old's doodle. We spent a month swirling through the continent's western latitudes connecting the dusty, cold, massive, saturated, and vibrant dots.
Locations:
Hanksville
Canesville
North Wash
Salt Flats
Spiral Jetty
Middle of nowhere Nevada
California
Rockaway Beach
Devil's Punch Bowl
Bellingham
Rossland BC
Backpackers: Did you have a favorite shoot location?
Mike: The slot canyon was pretty surreal. It was my first experience with a canyon of the sort and it really drove home the fact that Nature is (for lack of a better word) badass. The shapes and textures, and even the way the light slipped through the canyon's seam, it just felt extremely alien.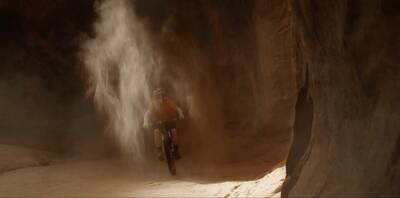 Backpackers: What is the shape in the desert scene, which is compared to an unfurling tendril? Did you actually assemble all those rocks? 
Mike: Oh hell no! We definitely didn't build it. It's called the "Spiral Jetty," built by earthwork sculptor Robert Smithson in 1970. It sits in a remote part of Utah's Great Salt Lake, but it was well worth the trip. I think he spent something like five years rolling boulders from the shoreline, it's super impressive. We stumbled upon it when we were researching locations for the project and immediately made the connection with the fern. Naturally we had to go.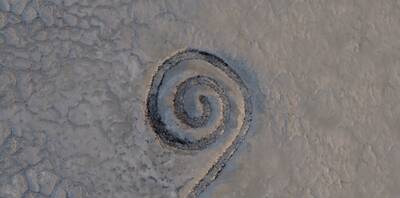 Backpackers: Did you ever consider releasing this without music? It might make it more stoic than amped.
Mike: We toyed with a number of ideas, one of which was building it around sound design, but in the end we felt with the right music we could really make this something special. It only took Scotty and I a couple sleep deprived nights at the studio to lock it down. I like to think we "Nailed it."
Backpackers: Any advice for how to make such dreams a reality?
Lacy: Foster creativity. Look at the world from a different perspective as often as possible. We were super fortunate that Diamondback funded this project and really let us run wild with the concept. They trusted us to deliver something special without giving us any weird corporate guidelines. Letting it be organic makes it really, really unique and beautiful.
Mike: If you work hard, dreams don't stay dreams for very long.
The video and project made rounds among all the major outdoor publications, and really invoke something deep and exuberant about mountain biking in specific, and exploration in general. You can follow most of the team on social media — here are their handles: Mike Hopkins, Lacy Kemp, Bruno Long, Juicy Studios, Scott Secco.
All screenshots courtesy Juciy Studios, Present by Diamondback Bicycles, All Rights Reserved.