Backpackers.com — Backpacking and camping in the modern world has two main focuses — nature and gear. Nature is built into the experience and will always be the most important aspect of getting outdoors. That's why we do it. But with the rapid expansion of synthetic technologies, the growth of interest in outdoor activity, and our innate desire to innovate, gear comes a close second.
Everyone has their own opinion on what gear is best, what is necessary, and what makes life easy or awesome. The reality is that we're all turning into gear heads. There are so many options today and all of them have highly specific niches. With a little research you can probably find the exact gear you're looking for.
The issue is after you find that perfect piece of gear, you'll find out it's expensive. At least the high end stuff is — the ultralight backpacks and simmer-control stoves, the tents with built-in LEDs. This conundrum — excellent gear that costs an arm and a leg — has been solved by two main marketplaces.
The first is big brand discounts and sales. The second? GearTrade.
GearTrade
GearTrade is similar to a discount online retailer because it has goods for sale that are seriously discounted. But GearTrade is more than that — it's the personal swap and shop for outdoor gear. Individuals or companies can post items that they want to sell; interested consumers can buy them. It's like a Craigslist for outdoor gear that's mediated by a knowledgable, certified team who provides excellent support for both parties.
This model is fantastic because it gives unwanted or unused gear a second life. Instead of collecting dust in a garage or warehouse people can now make a little money off the crazy expensive gear they bought, while giving another person a discount. Of course, every item is dependent on someone posting it, so it's rare to shop GearTrade and have multiple color options of the exact item you wanted.
The concept of reduce, reuse, and recycle (the three R's we learn in grade school) are all employed at GearTrade, and help build a stronger, more environmentally conscious outdoor community.
How It Works
The how of GearTrade is really simple. It functions differently if you're a buyer or a seller:
Buyers
This end of GearTrade should be fairly familiar. If you go to the home page you'll find a scrolling page of gear. The picture of the gear is front and center, then the retailer, condition, size, and cost. The home page has a few distinct categories, but you'll want to narrow down the selection if you're looking for something specific. You can use the search bar, which runs a search on the whole site, or select one of the categories on the left-hand side. This — like most online retailers — groups gear into different categories automatically.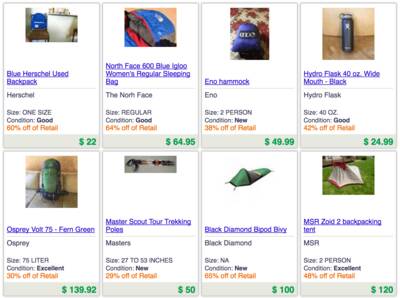 After finding something you want, click into the item and you'll see who the seller is, a longer description of the gear, and it's condition. This immediately builds trust between the seller and buyer — and much like eBay, there is a 5-star rating system that shows the history of each seller and how they did. Most sellers are individuals, but you can find some discounted gear from manufacturers as well.
You have to create an account to buy something, but once you do it's as simple as entering in your payment information and clicking buy.
Sellers
The selling side of things is more complicated than buying, but still extremely easy. In a single-page setup you'll be able to list every aspect of your gear, including how much you want to sell it for, the percentage off retail, if the product should cost less the longer it's on the site, and the story of why you're selling it.
You can upload photos of the gear and keep the item on the site for a year. Listing gear on GearTrade doesn't cost anything up front, but when you sell the item GearTrade will take a flat 12%. This might seem high, but the site makes it incredibly simple for you to sell your gear.
As the intermediary between two parties, GearTrade itself needs to be secure, present, and helpful. It is natural to wonder if GearTrade reviews are any good.  It has an A+ rating with the Better Business Bureau, and a dedicated customer support staff, which is outlined in our interview below. It features all kinds of gear: surf, snow, skate, fishing, travel.
We got in touch with Rob Reinfurt, the COO at GearTrade, to talk about online retailers and what is unique about GearTrade. You can read the full interview below.
GearTrade Interview with Rob Reinfurt
Backpackers: Where does your gear come from?
Rob: There's a myriad of sources where the gear comes from. We don't inventory anything. Most of our listings come from individual users, but we do work with some companies. CampMor liquidates their returns with us, [so does] Backcountry.com. There are lots of reps that liquidate their sample sets with us, [and] local shops that get rid of their demos with us. There are lots of small companies that use GearTrade to liquidate their gear, whether its closeouts, sample sets, or returns.
Backpackers: GearTrade was bought by Backcountry.com in 2005. Was there a big shift on the site at that time?
Rob: There was a shift in that we started with Backcountry to liquidate all their returns. But the core part of the business model stayed the same — promoting the reuse of outdoor gear and helping individuals buy and sell their gear.
***Editor's note: Backcountry does not currently own GearTrade.
Backpackers: Do you find the deals on your site are better than other sites?
Rob: One-hundred percent. That's what we're known for. It's a site where people can come and score. Either because it's used or beyond closeout or a return, we're one of the best places to find deals.
Backpackers: For the gear not posted by individual people, who posts those items?
Rob: The sellers are responsible for that. They'll sometimes do it one item at a time, but we also allow feed integration. A lot of blogs will have a product feed, and we accept a myriad of different product feeds, so companies can upload a lot of items at once.
Backpackers: Why should people use GearTrade?
Rob: What we've done over the years is to streamline the process [of listing items]. I think you'd find it about 5 times easier than listing that item on eBay. It's also way more complete than Craigslist. Obviously there's a level of protection that we offer our sellers that nobody else offers. We essentially take all the dirty work out of [listing], make it really easy, and guarantee payment. It's streamlined and hassle-free from a seller's perspective. The reason we do that is because it's difficult to get people to sell their gear, so we want to make it [as] easy for them as possible. We want them to get back outside to do what they love.
Backpackers: How do you handle unhappy customers?
Rob: We have a great customer service team, and we're pretty good at mediating returns. We encourage our sellers to fully describe the item in the product description. We allow returns if the item is misrepresented, and the seller is responsible for the return in that case.
But what we often do is mediate the return. We're ask the buyer, "Is this something you'd like to return, or did you feel like you got a good deal and a partial credit will work?" A lot of times people will say, "Oh yeah, I can't find this new, maybe if they give me a $15-20 credit, I can use the money to fix it up."
We're able to mediate a lot of possible returns into partial credit. It doesn't have to end in sending the item back and that whole process. We add a level of legitimacy to the process, guarantee both people so everyone feels safe, and then we're tactful about it. We get a really small percentage of returns [because of this]. People know the item is used. It works out really well.
Backpackers: Are there new things on the horizon? Will your model change?
Rob: We're happy with our model, and the model won't change. It's a good model. However, there's a site redesign in our future. We hope to make things way more dynamic. We want to take advantage of all the things that make a marketplace unique.
People haven't caught onto the term "marketplace." We don't think anyone has done it to date — has [made] a true [outdoor] marketplace. Everyone knows eBay is a marketplace because it has incredible brand recognition. But besides that there are very few marketplaces that people understand immediately.
We're going to try to incorporate the idea of a marketplace in our design better than we've done in the past. We want to really nail it, and feel nobody has successfully done it. It's about building dynamic categories so that people right away understand the site is coming from individuals. Creating categories that are marketplace centric. Fastest sellers, individual listings, location-based listings. [So] people can recognize that people don't have to throw their gear away. There's plenty of people out there that want a beat up pair of skis.
This could be the start of their lifelong hobby.
Backpackers: When might that update come?
It's in the works. We're working on wire-framing and brainstorming — hopefully within a year. Hopefully sooner, but you know how that goes. We're a small team over here. There are about eight of us.
If you are looking for gear, or have some you are ready to unload, GearTrade is the place to do it. Not only will you be saving (or gaining) straight cash, but you'll be building a more collaborative outdoor industry, one that uses products to their fullest potential.
---
All images courtesy GearTrade, All Rights Reserved
Affiliate Policy: We support the hours that go into testing, gear reviews, and informative articles through affiliate commissions on purchases made through links in this article. These don't effect the outcome of our reviews, selection of gear, or the quality of the content.