Backpacking and camping in bear country can cause distress, and the last thing you want to worry about when you're in the wilderness is losing your food to critters.
In the past, options for bearproofing your food included using a dry bag, which isn't the most durable against determined animals, or carrying a heavy and bulky bear canister in your pack. Ursack eliminates such problems with its bear-resistant and odor-concealing hang bags.
Ursack Bear Bags: Lightweight, Packable, and Tested
All Ursack bear bags undergo rigorous live bear testing with the Interagency Grizzly Bear Committee, where injured and troubled bears are rescued and rehabilitated. Each Ursack bear sack prototype endures at least one hour of continuous contact with one or more bears attempting to get to the food.
What's more, Ursack bear bags are approved for use in dozens of national parks where bearproof containers are required for backcountry explorers.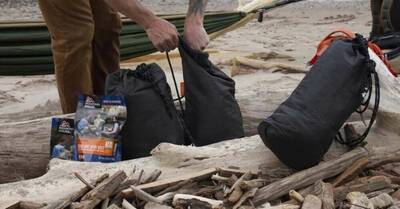 Right now, you can save on food storage protection in the backcountry from 12/21/2022 to 12/31/2022. Get 30% OFF Ursack products with code: GIFTGUIDE30
---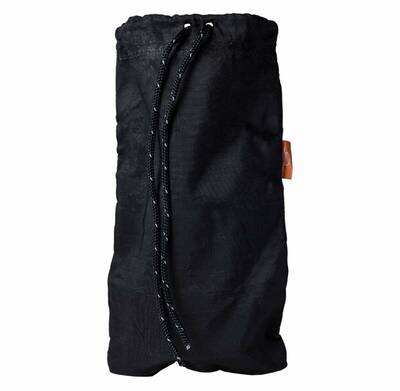 Bears may be at the top of your thoughts when trying to keep your food safe in the backcountry, but those pesky squirrels and mice can also damage your food. Other Ursack bags can protect against large tears from bears but still suffer the small punctures caused by a hungry little critter's nibbling. The Ursack AllMitey Bear-Resistant Food Sack solves this problem by protecting your food against animals both large and small.
It is water-resistant and can be treated with seam sealant, so you'll have peace of mind when those storms sneak up on you at night. This Ursack bear bag comes with a 6-foot high-strength tensile cord with reflective tracers and a reflective exterior tag. Ursack recommends purchasing one of their Odor Barrier Opsak bags to go inside the AllMitey for the best protection.
See the Ursack AllMitey Bear-Resistant Food Sack
---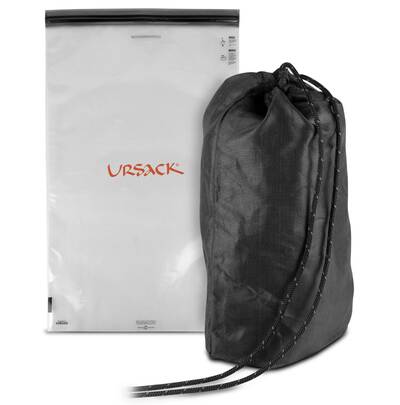 The Ursack Major + Opsak Odor Barrier Bag is the perfect solution for those looking to cut down on weight but still achieve some of the best protection against bears. This alternative to traditional canisters is made from high-performance ultra-high molecular weight polyethylene (UHMWP) fabric to prevent curious bears from getting into it.
The major is about 10.65 liters and holds approximately 5 days of food for one person. It's perfect for two-person weekend trips or an extended weekend trip for one. This bag is collapsable and easy to store when it's not in use. It weighs 7.6 ounces, making it a lightweight option compared to some heavier ones on the market.
See the Ursack Major + Opsak Bags
---
The Major XL + OPSak bag is the larger version of their bestselling Major line. While the Major XL holds 50% more food than the original Major, it weighs just 8.8 ounces. It's great for keeping weight down while still providing bear-proof storage. With 15 liters of storage, this bear bag can carry food for roughly 7 days for 1 person, allowing you more time in the backcountry.
This bag comes with the recommended Odor Barrier Bag for added protection. Like other Ursack bear bags, it has a reflective exterior tag to make searching for your bear bag in the dark easier.
See the Ursack Major XL + Opsak Bags
---
Those heading out into the backcountry for long stints or on group trips will appreciate the Ursack Major 2XL bear bag. This Ursack bear bag has a 30-liter capacity, which holds food for roughly 14 days for one person. Its food storage capacity makes it a little easier for those long rafting, backpacking, and hunting trips when it comes to packing your meals. Like the rest of the major line, it is manufactured with high-performance UHMWP fabric and has a reflective exterior tag for increased visibility at night.
The Major 2XL does not come with the recommended OPSak Odor Barrier Bag. Ursack does recommend you purchase it to help keep odors in and avoid attracting bears in the first place.
See the Ursack Major 2XL Bear-Resistant Bag
---
When traveling in grizzly bear country, you need to be prepared with the right gear and smart with how you use it. It's a place where storing food in your tent is a definite no. You want a food storage solution that a grizzly can't get into.
The Ursack Grizzly Food Sack lets you pack about 9 days' worth of food within its UHMWP and Kevlar confines. It has a 20-liter capacity and weighs 13.8 ounces. Though heavier than Ursack's Major line, it's the ultimate in tough, and it still weighs less and is more practical to carry than a bulky bear canister.
See the Ursack AllMitey Grizzly Bear-Resistant Food Sack
---
Backpackers.com Affiliate Policy: This guide contains affiliate links, which help fund our website. When you click on the links to purchase the gear, we get a commission, and this goes a long way to creating guides, gear reviews, and other excellent content.