Backpackers.com — Here's a small nugget of visual inspiration for the outdoor crowd. Budding adventure filmmaker Lev Koshko takes us on a drone-inspired journey around Issyk-Kol lake with glimpses of local culture, biking adventure, and stunning scenery of mountainous Kyrgyzstan.
Issyk-Kol (Inspires Me)
Kyrgyzstan is a relatively small, landlocked country in Central Asia that borders China, Uzbekistan, and Kazakhstan. In the outdoor community it's predominantly known for its mountain ranges and a massive lake, Issyk-Kol. Issyk-Kol means "warm lake" (so we'v been very redundant with our wording, we know) — it's the second the largest saline lake in the world, and while the mountain ranges that surround it are continually capped with snow, Issyk-Kol never freezes.
It's hard to freeze a salt-based lake that's 113 miles long and 37 miles wide, no matter how cold it gets.
Lev Koshko found inspiration in this lake during a recent trip, which happened to include his camera, a drone, and a mountain bike. Watch the video and read our interview with the creator, below.
Interview with Lev Koshko
Backpackers: What is your background in film and outdoor adventure?
Lev: Truly speaking, my experience in filming and adventure is pretty small. A long time ago I captured some videos with a GoPro camera and became interested in filming and editing.
A month ago I retired from a post-production studio, bought a digital camera, and started testing my vision in this kind of activity.
I have been in touch my with wonderful team, Photosafari.kz, and they took me on their 'not commercial' trip to Issyk-Kol lake in Kyrgyzstan. So, we went there to chill and shoot some footage.
Backpackers: Who is the mountain biker?
Lev: I took my bike and thought, maybe, there would be some places to ride. By doing this on the trip I created the perfect subject to film with our quadcopter drone: me on a bike.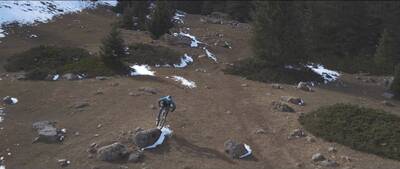 Backpackers: What kind of drone and camera did you use to shoot this?
Lev: The footage was shot on our new drone, the Inspire Pro, my new Sony a7s, and a Nikon d800.
This is my first experience shooting on digital cameras  and editing it with drone footage, so I was very surprised to see this resonance on Vimeo. It inspires me to learn more and advance these skills.
Backpackers: Your work uses technology and nature to make for a very interesting video. Why did you combine these different elements in your film?
Lev: A long time ago I was inspired by famous films, like "The Art of Flight" and "Into the Mind." The main idea of introducing non-organic, artificial titles into the organic, beautiful natural shot came from there.
Backpackers: Any plans for more videos in the works?
Lev: This July we will travel to Pamir, Tadjikistan. The next video will be about this adventure.
We can't wait. Follow Koshko's Vimeo channel to keep up with new videos.
All screenshots courtesy Lev Koshko, All Rights Reserved
Note: "Issyk-Kol" is an alternative spelling used to stay congruent with the video, "Issyk-Kul" is the more standard spelling.