Backpackers.com — With the sun shining once again, it's about time to dust off that hammock. Oh, you don't have one? Didn't you hear? Hammock camping is the new thing. It's lighter, cozier, and way cooler than any other sleeping method around. Snark aside, hammocks are on the rise, and this has furthered a new crop of hammock-related questions.
One of the most common: What about bugs?
We got in touch with Jeff Zhang of Serac Hammocks, who wrote a guest post for us on how to bug proof your hammock. Serac Hammocks sells just one type of hammock — the Classic, which is lightweight, knot-free, and a screaming deal. The company is dead set on increasing awareness about hammock camping, and recently released a free e-book that describes everything about the process.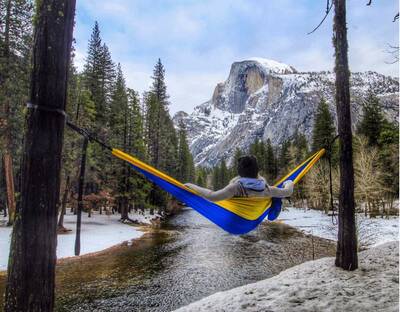 Getting further into the bug issue is important — many stray from hammocks due to the lack of assumed protection. Enter Jeff Zhang.
How to Bug Proof Your Hammock
By Jeff Zhang from Serac Hammocks
As the weather gets warmer and the temperature rises, mosquitoes come out to play. Mosquitoes are completely inactive in the winter, hibernating through the cold months. But once the temperature warms, the mosquitoes begin to come out in force. I hate mosquitoes, but they sure as heck love me. To keep my undesired suitors at bay, I always make sure I'm properly equipped to bug proof my hammocks. Here are a couple ways to make your next trip sucker free.
Get a Jungle Hammock
A jungle hammock is a style of hammock that features a built in mosquito net. These hammocks provide full protection even in the buggiest conditions. They are often sold as complete shelters and can run several hundred dollars.
A cheaper alternative to a jungle hammock are parachute hammocks with a built in mosquito net. These hammocks are essentially the same as the popular parachute nylon camping hammocks, but with an attached bug net. These hammocks can also be used as a normal hammock by flipping it over, making it a versatile choice. This way, you can just hang out without being constricted within the net.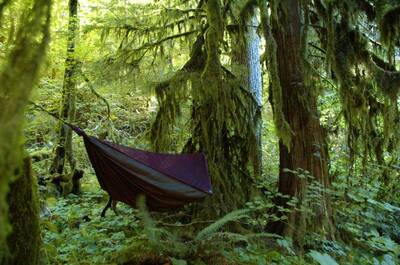 But watch out for low quality netting. A net that feels soft and lightweight might be comfortable to to the touch, but they will tear easily. A single hole in your netting can make it all but useless. Instead opt for a bug net that has strong individual fibers with a more textured feel.
Use a Mosquito Net Designed for Hammocks
If you aren't looking to buy a new hammock just to fight some mosquitoes, you can still find great protection for your hammock. Many types of netting exist that are designed specifically for your hammock. The concept for all of them is essentially the same. The hammock is strung through the mosquito net through two openings on each end. The mosquito net is suspended with a ridgeline above the hammock. You can get in and out of the mosquito net through a zipper on one side.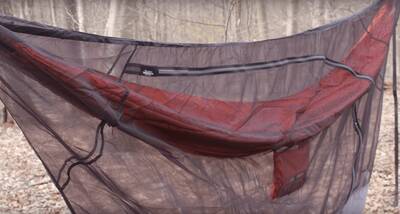 A separate mosquito net provides 360 degrees of protection for your hammock. Unlike a built in mosquito net, a separate mosquito net will prevent insects from landing on the outer layer of the hammock itself. This reduces the chance of persistent critters biting through the fabric. This ridgeline style setup is also very easy to master.
Treat your Hammock and Gear with Permethrin
Sometimes we just want to sleep under the stars without a net obstructing our view. If you don't want to fumble with a bug net, you can treat your equipment with permethrin. Permethrin is a synthetic molecule that is similar to pyrethrum, a natural compound found in chrysanthemum flowers. Permethrin not only repels insects, but it will kill ticks, mosquitoes and all sorts of other buggers on contact. It is the active ingredient in many insect repelling fabrics. It kills insects that come in contact with it by overloading their nervous system. But for us, don't worry, it's nontoxic and completely safe for topical use on anyone over the age of 2 months.
You can buy spray bottles of permethrin to apply to your own gear. Once properly applied, it is odorless and leaves no residue. A hammock treated with permethrin combined with insect repellent makes a powerful mosquito shield. This is great for people that are weight conscious about their gear or simply don't want a mosquito net. Keep in mind that permethrin has "spatial repellency" to insects. This means that mosquitoes may swarm around you, but they will not land on a hammock that has been treated.
Use Natural Mosquito Repellents and Camp Away from Water
The easiest way to avoid mosquitoes is to set up camp far away from where they are likely to be. Mosquitoes tend to swarm around water sources where the females lays her eggs. Campsites that are far away from rivers and lakes will have a much lower concentration of mosquitoes. Having a hammock gives you plenty of options for campsites. However, this will only reduce the overall number of mosquitoes. It's very hard to completely be rid of them.
Natural insect repellents exist also exist, but are less effective than netting or chemicals. Natural oils like citronella are effective mosquito repellents. You can apply these to your skin before camping in your hammock. Drinking a few teaspoons of apple cider vinegar can also reduce the amount of mosquito bites you'll encounter.
Don't Let the Mosquitoes Stop You!
All of this is our best advice, but keep in mind that when we're outdoors, mosquitoes are often a fact of life. But just because they're buzzing around, it doesn't mean that you can't still enjoy a trip into the wild! Whether you get a mosquito proof hammock or simply modify your existing one, hammock without fear the next time you're out.
Images in order: Hammock by Pete via Flickr; Serac Classic Hammock courtesy Serac, All Rights Reserved; Screenshot of Therm-a-Rest Slacker Hammock Bug Cover via Backcountry Edge