The AeroPress Go is the new version of what is, by now, a worldwide phenomenon. The original AeroPress coffee press uses pressure to force water through ground coffee to create an espresso-style cup of joe, and it has become a mainstay in the outdoor community. After all, who can live without a fresh cup on a cold morning in the mountains?
The Go uses the same brew method as the original, but updates the parts that come with the with the press (and a smaller press overall), creating a complete system for brewing and drinking coffee on the spot. All you need is the ground coffee and hot water.
The Go comes with a mug (the original does not), and the entire device packs away neatly into the mug. It also comes with a scoop, a stirrer, 350 paper micro-filters, a case to hold the filters, and a rubber boot that secures everything when traveling. And of course the press, which has been shortened to fit neatly in the mug.
Due to the pressure method of brewing, you simply pour the coffee grounds in, add hot water, stir for 10 seconds — then press. For those backpackers who typically boil a pot of water in three minutes or less, you're three minutes and 10 seconds from a fresh cup of coffee in the wild.
Unique Features of AeroPress Go Coffee Maker
The AeroPress as a concept and product is unique because it requires few parts, none of which are easily breakable, and very little time to brew a delicious cup of coffee.
That said, we think the design update, especially the mug, is impressive. Backpackers, travelers, and roadtrippers love things that nest. It's easier to store, clean, and keep track of gear that packs away into itself, and the AeroPress Go was literally built to do that.
This is done mainly through the included mug, which holds 15 ounces of liquid, is made of BPA-free plastic (just like everything in the Go), and which holds everything in an obvious and simple manner when not in use. This form factor eliminates the need to pack a separate camp mug, and increases the overall usefulness and value of the AeroPress Go travel press.
Updated Directions and Brew Methods
With any device like this good directions are paramount, and AeroPress has made a habit of providing explicitly clear instructions on packaging and its website.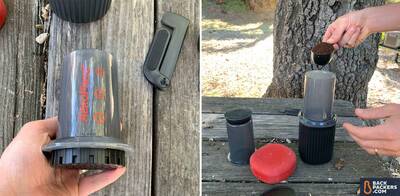 The AeroPress Go brew unit has numbers printed onto it, which serve as simple markers for those who want to brew one, two, or three shots of espresso. You can drink those shots of espresso straight, or dilute each shot into 8 ounces of hot water for a cup of American-style coffee.
AeroPress now also includes directions for brewing iced coffee, American cups of coffee, and lattes. In short, you've got a fully functional coffee maker on your hands.
Who is AeroPress?
AeroPress makes only two products — the original and the new Go. Both are designed to brew an impressive cup of espresso in one minute flat, and do so using pressure.
The AeroPress Go comes with a mug, and packs away to create the ultimate in portable coffee drinking.
See the AeroPress Go, and learn more about AeroPress.
---
This article is sponsored by AeroPress.
Backpackers.com Affiliate Policy: This guide contains affiliate links, which help fund our website. When you click on the links to purchase the gear we get a commission, and this goes a long way to creating guides, gear reviews, and other excellent content.