Wallets come in all shapes and sizes, but most have one thing in common: they are bulky.
Decadent Minimalist has built a card wallet that defies this rather obtuse trend. True to the name, the patented minimalist wallet is built to securely hold credit cards, library cards, and National Park Pass cards (to name a few), to remain unobtrusive, and to be incredibly light.
These are features that outdoor folks concerned with product weight, function, and durability care a great deal about. If you need an outdoor wallet that works on your ultralight hut trip and back in the office, Decadent Minimalist has built it.
You simply slide your cards into the end of the wallet, keeping pressure towards the back, until you hear a satisfying "click." Your card is now secure, protected, easy to access, and visible any time you should need it.
To be clear, these wallets specifically hold cards — not cash, coins, or receipts. Decadent Minimalist does make a Money Clip to help with the cash, but part of going minimal means ditching all the physical stuff that normally weighs down a wallet.
See the Decadent Minimalist Wallet
Unique Features of the Decadent Minimalist Wallet
We were impressed by the simple yet robust design of the card wallet, which seems indestructible. Most wallets have pieces that fall apart, get weathered, or slowly unravel over time. The Decadent Minimalist wallet, specifically the aluminum model DM1 (which we used), is a machine-tooled piece of aircraft aluminum that has no moving parts. This means nothing to break.
Beyond the durability, the simplicity is really outstanding, especially for outdoor people. It's never a good idea to leave your wallet, with all your cards and ID, in your car during a backpacking trip. But it sucks to take a bulky wallet in your backpack, as you're probably tight for space and want to save on overall pack load. This solves that problem simply. And, if you're traveling, the DM1 Wallet slips into any pack's pouch or your front pocket with ease.
Then there's the weight — the aluminum 8-card DM1 Minimalist Wallet weighs .67 ounces, or 19 grams, which is so light we don't really consider it "weight." And no matter what material or size you get, the weight won't exceed an ounce. That's without the cards, but who has ever said their credit cards weigh too much?
The weight alone is a reason to get one of these things, never mind the bulk of a traditional wallet!
A Personalized Card Holder Wallet
We also wanted to call out a nifty feature of Decadent Minimalist's production — you can personalize these card holder wallets. Who doesn't love their own name, or nickname, on stuff? You could put a phone number for a lost and found, your partner's name, or your buddy's trail name right on the wallet.
It's a simple, heartfelt thought in an otherwise austere product, which includes nothing but what is absolutely necessary.
See the Decadent Minimalist Wallet
Who is Decadent Minimalist?
Decadent Minimalist was founded in 2014, and is the product of a very successful Kickstarter. The DM1 wallet — the same in this Highlight — was funded by overwhelming numbers, and the company maintains the record for the largest wallet crowdfunding campaign ever.
The DM1 Wallet and other Decadent Minimalist products like the Money Clip are made entirely in the U.S. at their milling factory in Seattle, Washington. The wallet design is patented, and has helped to usher in the minimalist aesthetic that combines space-age materials and simple design.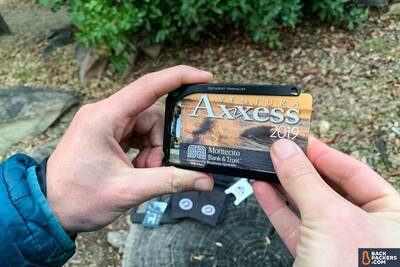 Decadent Minimalist offers the DM1 Wallet in three alloys — aluminum, nickel, and titanium — and a huge range of colors. You can also choose from slightly different thicknesses of wallet, which allows you to hold a range of four, five, eight, and 12 cards.
You can also purchase a DMC Money Clip, which slides into the DM1 Wallet like a regular card, but holds your wads of cash. This is also engrave-able.
See the DM1 Wallet, and learn more about Decadent Minimalist.
---
This article is sponsored by Decadent Minimalist.
Backpackers.com Affiliate Policy: This guide contains affiliate links, which help fund our website. When you click on the links to purchase the gear we get a commission, and this goes a long way to creating guides, gear reviews, and other excellent content.