LITHIC is a new outdoor gear brand brought to you by Moosejaw, the witty online outdoor retailer, and Wal-Mart, Moosejaw's parent company. The collaboration sees Moosejaw designers, who are gear experts, and Wal-Mart's distribution, combine to create a comprehensive new line of outdoor gear at a fraction of the usual price. The cut in price removes the cost barrier currently associated with outdoor recreation, allowing socially and economically diverse groups of people to easily access the outdoors.
A standout product in the new LITHIC lineup — which includes everything from tents to sleeping bags to camp cookware — is the 65L Expedition Pack. It's a fully functional backpacking pack with an adjustable torso, solid load-hauling capability, smartly designed pockets, and plenty of room for a weekend (or week-long) backcountry trip.
The LITHIC Expedition Pack contains the myriad of features necessary for a true backpacking pack: compression straps and load lifters to correctly carry weight, a cinch-top opening with a long chute for stuffing the bulk of your gear, a top lid with pockets for quick access, mesh water bottle pockets with ample stretch, trekking pole loops, and plenty of extra pockets for detailed organization.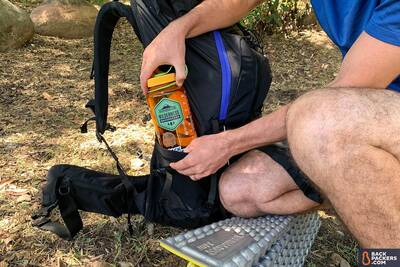 The list goes on. And what's truly impressive is that all of these features come standard in a sleek, understated backpack that costs $98. Yes, a fully featured backpacking pack for under $100 now exists.
See the LITHIC 65L Expedition Pack
Unique Features of LITHIC 65L Expedition Pack
The LITHIC 65L Expedition Pack aims to hit every mark of a true backpacking pack, which means it doesn't have a lot of wild features. Instead it gives you the industry-standards without the huge markup.
These include the two zippered hip belt pockets that are large enough to fit a modern smartphone and trail snacks, and two large mesh water bottle pockets.
You also get a solid external pocket for stuffing and protecting quick-access gear, like a rain shell, First Aid Kit, and other light layers. Some brands use a stretch mesh pocket here, while the LITHIC includes a robust zipper for increased protection, and plenty of room for important items.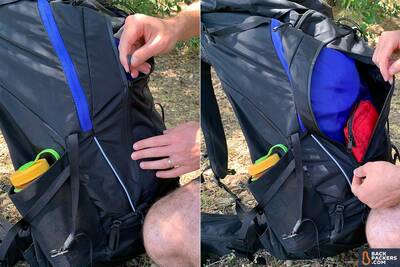 Then there's an internal pocket on the top lid, which is lined with a cushy material to help store and protect sunglasses and phones when you're done hiking for the day. It's a nice premium touch that's understated.
Finally, the designers at Moosejaw did add one twist (beyond the purple interior): a side zipper that gives you quick and simple access to the main chute. The zipper can be opened with two pull tabs at the top of the chute, or you can grab the zipper yourself.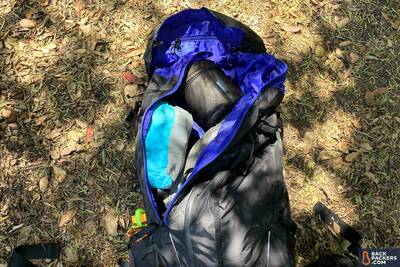 Either way, it gives you a satisfying look into your pack, allowing for on-trail access of hard-to-find items, and a quick pack experience when you're in camp.
Rain Cover Included
A final touch that's really surprising given the cost: an included rain cover. In the very bottom of the LITHIC Expedition Pack is an unassuming zippered pocket (that you may just miss if you're not looking for it). Open it up and watch as a large rain cover unrolls. It fits on the pack well, and is removable if you know there's no rain in the forecast.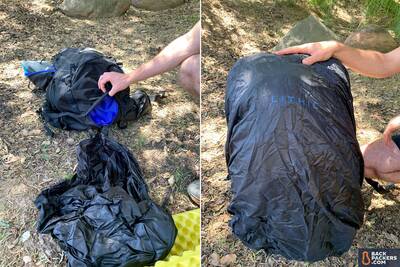 See the LITHIC 65L Expedition Pack
Who is LITHIC?
LITHIC is a new brand created by Moosejaw and Wal-Mart. It's a comprehensive hard-goods line of products built for backpacking, hiking, and camping, and was created to remove the cost-barrier to the outdoors.
See the LITHIC 65L Expedition Pack, and learn more about LITHIC.
---
This article is sponsored by Moosejaw.
Backpackers.com Affiliate Policy: This guide contains affiliate links, which help fund our website. When you click on the links to purchase the gear we get a commission, and this goes a long way to creating guides, gear reviews, and other excellent content.