Every so often we forget that products can be (and should be) fun. Merrell is here to remind us with a unique collaboration: their classic Agility Synthesis trail runner that has taken heavy design cues from Honey Stinger, the bite-sized waffle energy snack. The result is the Merrell Agility Synthesis x Honey Stinger, a shoe that provides ample cushion, a neutral gait, and bold design that will turn heads and keep you moving.
Yes, the shoes are as honey-dipped as they look.
If Merrell's reputation for quality footwear, the build of the Agility Synthesis (which is offered in non-honey versions), and the bold design aren't enough to immediately peak your interest, there's even more than meets the eye with these trail runners.
They're built with sustainability in mind, using recycled materials and algae to create a trail runner that can tackle dirt or pavement with aplomb. They have a comfy stack height of 30.7 mm with a 6 mm drop, providing enough cushion and striking comfort for most runners. And they have a rock plate for protection.
Merrell has limited runs for men and women, and if they suit your fancy, we recommend grabbing a pair before they're sold out.
See the Men's Merrell Agility Synthesis x Honey Stinger
See the Women's Merrell Agility Synthesis x Honey Stinger
Unique Features of the Merrell Agility Synthesis x Honey Stinger
The best question for this pair of gold and black shoes might be "what's not unique?" The design is the most striking part, and we've found that most people, even diehard gearheads, truly care about the look of their footwear.
Merrell has set off this limited run of Honey Stinger trail runners with a golden honeycomb pattern on the mesh upper, which is made of woven performance yarns that feel substantial under your fingers and provide excellent durability to an otherwise featherlight shoe. The pattern is mesmerizing.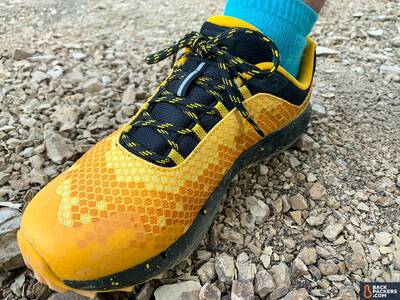 This is coupled with a honey-dipped golden TPU toe cap and reinforced heel counter, both of which help to secure your feet in the shoe, and keep debris out. Again, it looks just like the shoe has been dipped in a vat of honey.
From a performance perspective, this is the classic Agility Synthesis from Merrell — a trail runner with a medium build that works for most people. The forefoot has room for splay but isn't overly wide, the 6 mm drop is between minimalist (barefoot) and standard, and they weigh a scant 9 oz per shoe. The outsoles have grippy 5 mm lugs that work for trail or pavement, and on the whole, despite the thick cushioning, they are responsive, fast trail runners that allow you to feel the ground beneath your feet.
Eco Design
While the look of gear is important, we find what makes up the shoe (and how it performs) to be the most important factor in purchasing. This Honey Stinger shoe is built with the eco version of the Agility Synthesis.
Most of the shoe is built with recycled or eco-minded material. The laces, TPU toe cap, and film heel are made of 100 percent recycled material, the M Select GRIP outsole is 30 percent recycled, the midsole is made of BLOOM foam, which contains 10 percent algae biomass, and the entire thing is vegan-friendly.
The BLOOM midsole is the unique feature here, as the algae used actually cleans and restores the environment when harvested — which happened to make these shoes.
The Honey Stinger collaboration proves to be popular — the shoes keep selling out, and Merrell keeps restocking, but they won't forever. Grab your pair below.
See the Men's Merrell Agility Synthesis x Honey Stinger
See the Women's Merrell Agility Synthesis x Honey Stinger
Who is Merrell?
Merrell is one of the most popular shoe brands in the outdoor world, and has long made footwear that works out of the box in a range of categories, including backpacking, hiking, water sports, and running. Their shoes typically have moderate cushion, a standard heel to toe drop, and fit average-width feet (with specific exceptions).
See the new Agility Synthesis x Honey Stinger trail running shoes, and learn more about Merrell.
---
This article is sponsored by Merrell.
Backpackers.com Affiliate Policy: This guide contains affiliate links, which help fund our website. When you click on the links to purchase the gear we get a commission, and this goes a long way to creating guides, gear reviews, and other excellent content.