The Merrell Hut Moc was crafted to fill a surprising gap in footwear. Outdoor folk need quick and easy slip ons for midnight tent exits and morning cups of coffee around a fire. Yet during the cooler months of the year, you also need a comfortable, simple slipper for inside the house and around the backyard.
While there are some models that fit the bill for one activity — like the Merrell Jungle Moc — few excel at both. The Hut Moc is just rugged enough to serve as that lightweight, no hassle camp shoe while remaining your daily slipper at home. It weighs a scant 6 oz per shoe, has a springy EVA outsole for all-day comfort, and an iconic design that encourages you to put your feet up.
See the Men's Merrell Jungle Moc
See the Women's Merrell Jungle Moc
Unique Features of the Merrell Hut Moc
The Hut Moc is a deceiving shoe: it seems simple, but each component is fairly unique in its construction.
The outsole is made of ultralight EVA, a foam used in most midsoles of running and hiking shoes, known for its comfort and springiness. Since the entire outsole is made of this foam it's quite comfortable to walk on all day — akin to a recovery sandal. The Hut Moc outsole is lightly ridged for basic grip, and while initially it slips on hardwood floors, the EVA actually gets grippier the longer you use it, resulting in a very supportive, grippy slipper for the weight.
The Hut Moc also uses a collapsible heel made of microfiber. This allows you to wear them backless if desired, excellent for a quick slip on, and then you can easily pull the heel up to secure your feet inside when walking with more purpose.
The heel is complemented by a simple loop on the forefoot for quickly securing the Hut Moc on your feet. The hook doubles as a carabiner loop if you want to hang these outside a backpacking pack, too.
Finally, there are two well-built stretch panels to help your foot slide right in. Everything here is built for easy on and off.
Quilted for Comfort, Style, and Warmth
Perhaps the most iconic aspect of the Hut Moc is its quilted upper. This stitched square design has a certain visual appear that, much like a puffy jacket, makes us think of cozy warmth immediately. Most versions of the Hut Moc use a synthetic nylon ripstop material for the upper, but a few models actually use wool in a plaid design on the upper to increase the literal and imagined coziness of the shoe.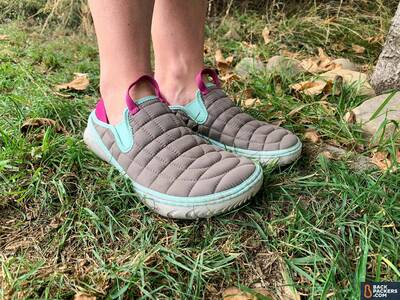 This upper is warm — there's a thickness to it and some synthetic insulation layered in there — giving your feet ample protection from a chilly morning. That said, they're not like cold-weather slippers that have heaps of warm fabric. The Hut Mocs are more streamlined, with a bit of warmth and heat-trapping ability. We found them plenty warm in the mid-50's, but would recommend socks if dipping below that.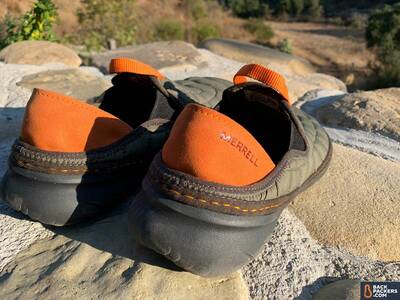 The quilted design coupled with the springy outsole and easy slip on functional make the Hut Moc an excellent choice for your outdoor slippers.
See the Men's Merrell Jungle Moc
See the Women's Merrell Jungle Moc
Who is Merrell?
Merrell is one of the most popular shoe brands in the outdoor world, and has long made footwear that works out of the box in a range of categories, including backpacking, hiking, water sports, and running. Their shoes typically have moderate cus hion, a standard heel to toe drop, and fit average-width feet (with specific exceptions).
See the Men's Hut Moc and Women's Hut Moc, and learn more about Merrell.
---
This article is sponsored by Merrell.
Backpackers.com Affiliate Policy: This guide contains affiliate links, which help fund our website. When you click on the links to purchase the gear we get a commission, and this goes a long way to creating guides, gear reviews, and other excellent content.