Moment made a name for itself with custom lenses, and has since become the go-to marketplace for "creators." Creators, in this sense, are artsy, photography-minded creatives that like well-organized, impeccably-made gear that serves a purpose. Style is critical, but function is absolutely essential.
The new line from Moment is dubbed Travelwear — or MTW — and its key product is the MTW Backpack.
Self-described as a souped-up Jansport with style, the MTW Backpack was designed to fit seamlessly into your pandemic-induced work-from-anywhere life. It comes in 21-liter and 17-liter versions, which correspond to longer and shorter torso lengths, holds a 16 in. laptop without batting an eye, and has a surprising amount of room for a minimal-looking pack.
If you've been seeking that all-purpose, comfortable, stylish everyday carry backpack that works well with your camera gear and digital nomad gear, don't miss the Moment MTW Backpack on Kickstarter.
Unique Features of Moment MTW Backpack
The Moment MTW Backpack was built for your everyday life, which means it can carry a wide variety of essentials. There are three compartments (plus a water bottle pocket), each of which has plenty of open space and specific organization.
Perhaps most essential for the on-the-go creator is a padded laptop sleeve in the back compartment and a smaller tablet sleeve, in case you roll deep in screens. Organize your chargers and cords with your screens, and have some room leftover for odds and ends.
The pack also fits Moment's Camera Insert (also in this Kickstarter), handily converting the second zippered compartment into a rugged container for DSLR cameras.
The second zippered compartment is large and open, meant for stuffing puffies, books, extra gear, or lunch. There's a large mesh zippered area on the front for more organization, and the zipper is protected (and kind of hidden) under a fabric bonded hood.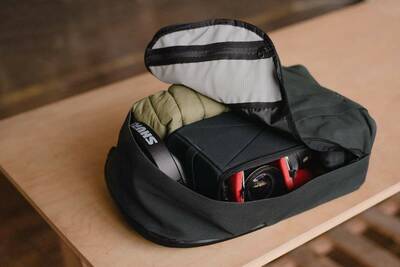 The third zippered compartment is your classic stash pocket, with a bit more room than normal. Put your small, easy-access essentials here, and get them on-the-go.
All this is rounded out with a stretchy water bottle pocket for your hydration needs, and a pass-through back panel for easy transport during airplane travel (whenever you can do that again!).
Impeccable Materials
Small-ish, general-use backpacks are a dime a dozen. There are two things that make them stand out: design and materials. The MTW Backpack is designed to be practical and feature-filled, but we're duly impressed with the materials.
This is a backpack that's worth the Lifetime Warranty it has. Moment uses aluminum hardware, recycled 600-Denier nylon for a rugged in-hand feel, YKK AquaGuard zippers, and ridged (not rigid) EVA foam in the back panel and shoulder straps. Each of these speaks to a lifetime of use, and the EVA foam in particular mixes comfort with durability with breathability, the three essentials of a comfortable carry.
While the Moment looks stylish and simple, the materials will surprise you.
Who is Moment?
Moment started as a camera lens and accessory brand that has expanded into a full marketplace for shutter-happy creatives, both with their own products and like-minded brands' products in their e-commerce store. While camera gear remains the core of what they do, the brand is increasingly making and carrying gear for photographers, urban creatives, and outdoor content creators.
The Moment Travelwear (MTW) line of backpacks, tote bags, and accessory pouches has a few days left on Kickstarter — help launch it! And be sure to learn more about Moment.
---
This article is sponsored by Moment.
Backpackers.com Affiliate Policy: This guide contains affiliate links, which help fund our website. When you click on the links to purchase the gear we get a commission, and this goes a long way to creating guides, gear reviews, and other excellent content.