The Nomadik is a premium outdoor subscription box that focuses on gear to get you hiking, camping, and backpacking.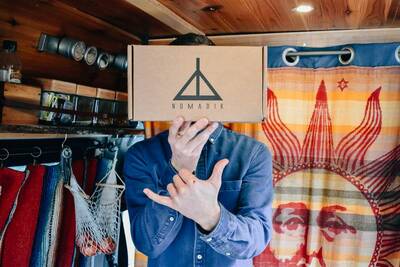 In case you're unfamiliar with the concept, a gear subscription box is a monthly commitment that shows up on your doorstep in the form of a box of gear. Said box of gear has a mix of product — from tools to food to water filters to hammocks and more. You get a box every month you subscribe, the products don't repeat, and they are a mix of useful, necessary, and fun.
The Nomadik subscription box fits this model, then enhances it through seasonal themes, a handful of lifestyle activities to help dial in the gear you actually want, and excellent brand partners. You can find brands such as Topo Designs, United by Blue, UCO Gear, HydraPak, Mountainsmith, EcoVessel, RX Bar, Grand Trunk, Kammok, MPOWERD and more in The Nomadik's Boxes, and you can see Past Gear Kits to get a sense of the level of product they include.
Plans start at $32.95 and have a guaranteed value of $50 or more. Yes, you essentially get a huge discount on gear by going with The Nomadik. There are no long-term contracts or cancellation fees, and you can skip any month you want.
The Nomadik Welcome Box
While each month of Nomadik gear is excellent, the Welcome Box is particularly packed with awesome gear. We featured the Welcome Box, and were impressed by the lineup of products and brands.
Here's what comes in the Nomadik Welcome Box:
Grand Trunk Ultralight hammock
Grand Trunk 5ft straps
Gear Aid Patch Repair Kit
UCO Hurricane Matches 25 ct
Skratch Labs Hydration Mix
Nomadik sticker
This will set you up to backpack with a lightweight shelter or camp in style, and the patch repair kit and matches assure you won't have any technical failures out in the wild. Pretty good for just over $30.
Hiking, Camping, Backpacking: A Customized Subscription Box
Within the realm of outdoor gear there are a number of activities you could pursue. In fact, we break up a lot of these activities on our site because of how different they are. Nomadik recognizes this, and wants to know if you're a hiker, camper, backpacker, or something else.
Their system allows you to select a number of interests, specific to different outdoor activities, to help refine the kind of gear they put in your box every month.
This is in addition to the seasonal pattern Nomadik uses with its boxes. Summer gear is quite different from winter gear, and the products should match. Nomad is the only monthly outdoor subscription box that takes these two elements – season and interest — into account when creating a custom box for you.
There's also a monthly challenge in each box, which relates to the activity theme and season, prompting you to get outside as much as you're able.
The Simple Joy of Unboxing
Part of the reason monthly subscription boxes are so appealing is the joy that comes with knowing unique, helpful products are on their way to you. Instead of shopping in retail stores or sorting through endless information online, let Nomadik get you what's good in the outdoor world.
We can guarantee you'll meet new brands and receive products you may have never thought to get yourself, but now can't live without. These also make the perfect gift for any outdoor-lover in your life.
Check out The Nomadik's Outdoor Subscription Boxes.
---
This article is sponsored by The Nomadik. All images courtesy Nomadik, All Rights Reserved.
Backpackers.com Affiliate Policy: This guide contains affiliate links, which help fund our website. When you click on the links to purchase the gear we get a commission, and this goes a long way to creating guides, gear reviews, and other excellent content.