Period health is incredibly important, and not often talked about. Whether it's in the outdoors, in your normal daily life, in the U.S. or abroad; the topic is typically one that people tend to steer clear of. Amber, the co-founder of Pixie Cup, saw this as both unrealistic and damaging to girls and women as she traveled the world. She sought to change the stigma around period health by encouraging a depth of conversation around periods, female hygiene and health, and effective solutions.
Menstrual cups are one of the most eco-friendly period health products, so Amber and her brother Ben founded Pixie Cup, a non-toxic cup that collects menstrual flow, provides up to 12 hours of leak-free protection, and will last for years.
Pixie Cup sets itself apart with two styles and multiple sizes of menstrual cups, impressive sterilization and cleaning products to pair with your cup, and a simple, impactful giving program.
Pixie Cup is Founded on Giving
Pixie Cup's co-founders Amber and Ben saw the need for period health products around the world and created the brand to supply that product.
For every Pixie Cup purchased, the brand gives one away to a woman or girl in need. It's a model most popularized by TOMS (which gives shoes), but the gift of a Pixie Cup comes with the recognition that period health is important, possible, and sustainable.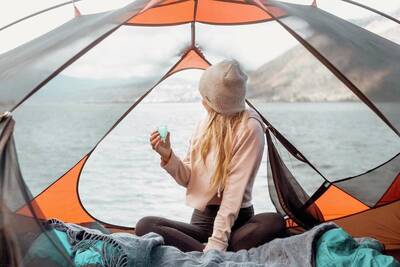 So far Pixie Cup has donated over 100,000 cups. It partners with a number of organizations to distribute these cups, including LA Dream Center, I Support the Girls, Convoy of Hope, LSU School of Medicine, and Generation Next. The donated cups go to homeless women in New Orleans, women in Kenya (including educational classes on period health), and women across the U.S. in need.
Pixie Cup: Travel Ready
Part of what makes menstrual cups so ideal for the outdoor community is that it's reusable, lasts for a long time, and is easy to clean. The Pixie Cup is excellent for backpacking trips and thru-hikes for all these reasons, and the brand wants to make sure you get a size and style that works best for you.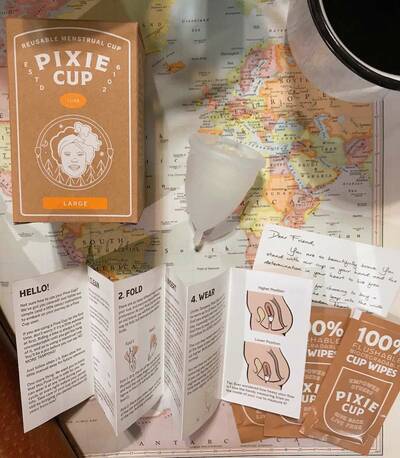 Pixie Cup makes the original Pixie Cup, which comes in a Small, Large, or Extra Large size, and has a .25 inch stem. They also make the Pixie Cup Luxe, which has a shorter stem and a softer, more flexible material, ideal for users with a lower cervix. The Luxe also comes in a Small or Large Size. The Pixie Cups are made out of recyclable materials and 100% BPA-free and FDA-approved medical-grade silicone.
This range of options ensures the right fit, providing serious comfort in the outdoors and beyond.
Pixie Cup also makes a number of other sanitary products to use with the cups, including vegan Wash, Wipes, Lube, and the Cup Steamer (which sterilizes and cleans your Cup at home). All of these are designed to keep you and your Pixie Cup clean and healthy.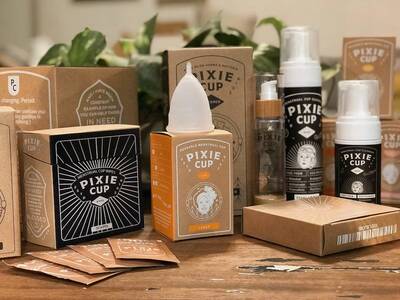 Then there's the Pixie Cup UV Sterilizer, which is a small, portable sterilization device for your cup that can run on AAA batteries or via USB cable. The UV Sterilizer kills over 99% of germs and harmful bacteria by using UV-C light and will keep your cup clean.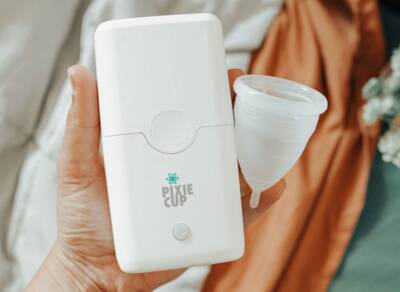 This is ideal for backpacking trips, where you want to keep your cup as clean as possible with an easy, portable solution.
If you are in need of a sustainable, long-lasting solution to period management, check out Pixie Cup. And know that your purchase will give a cup to a woman in need.
---
This article is sponsored by Pixie Cup
Backpackers.com Affiliate Policy: This guide contains affiliate links, which help fund our website. When you click on the links to purchase the gear we get a commission, and this goes a long way to creating guides, gear reviews, and other excellent content.