There is something soul-warming about a good soup. Whether it's the turn of autumn and you are eating it against the season's first chill, or deep in winter, the warmth, flavor, and nutrition of soup is hard to match. This is even more true in the campground, where warm meals take on a legendary glow.
Santa Barbara Soups is a food brand that creates nutrient-rich ready-made soups. Each soup comes in a sleeve with every ingredient you'll need, simply simmers in water to cook, and will make your camping experience that much more delicious.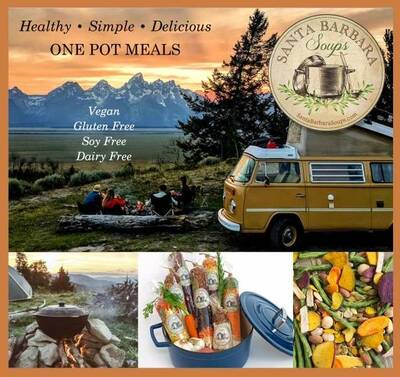 Explore the full range of Santa Barbara Soups, including dishes packed with chili, curry, chowder, and quinoa, to find the mix of flavors that you want most around the campfire. They are all non-perishable and made with high quality, gluten free, vegan ingredients.
Premium Dry Mix Soups
In the outdoor food world there are a handful of dry mix soup recipes and companies. None match the design and flavor profile of Santa Barbara Soups. The company uses non-perishable ingredients like legumes and quinoa, dehydrated beans, and freeze dried corn to create hearty meals that are ready to cook when you're ready to eat.
They are packaged beautifully and will slide into a backpack pocket or duffel bag for camping without an issue. The main complaint most outdoor folks have with pre-prepared food is the flavor. Santa Barbara Soups packs each unique recipe with a huge range of spices and a variety of ingredients (which you can see through the clear packaging) to create soups that taste like they were homemade.
This includes spices spread out along the six offerings — celery seed, garlic powder, paprika, black pepper, bay leaves, coriander, ginger powder, basil, chives, and more — which give each dish that zing of flavor that's missing from most just-add-water camp meals.
Each soup cooks simply with boiled water or a dash of milk on light simmer in 15-45 minutes. And each sleeve includes 4-6 servings, which is an impressive amount of soup. You're always hungrier in the wilderness, and Santa Barbara Soups makes sure you'll have plenty to eat.
Six Healthy Soups
Santa Barbara Soups offers six unique flavors, keeping it simple, refined, and delicious. Unless you add ingredients, each soup is vegan, gluten free, dairy free, and soy free, meeting a high bar for health and anyone with dietary requirements.
The Vegetable Bean Chili is a hearty three-bean soup that cooks with water, but if you've brought meat on your trip, cook it and throw on top for an extra dose of protein and flavor.
The Coconut Lentil Curry uses traditional Indian spices, a mix of red lentils and dried spinach, and comes with coconut milk powder to thicken up the soup.
The Moroccan Quinoa and Quinoa Enchilada Casserole are two entirely different takes with the same base ingredient, satisfying anyone who craves a sweet curry or a Mexican meal (assuming you're burrito-less on the trail).
Finally, there's a Corn Chowder that tastes like something you'd find in an East-coast harbor town, and a Rice Pudding (technically not a soup) for dessert. Both taste more authentic with milk (cow, coconut, or another variety), so they are better for car camping adventures, but you could use milk powder on a backpacking trip.
Each soup has a unique flavor profile, cooks in under 45 minutes on a simmer, and will serve your whole group. You can try the entire line in the convenient 6-Meal Bundle, or grab the dishes that will hit the spot.
Enjoy Santa Barbara Soups in the campsite (or at home) and see more about the brand.
---
This article is sponsored by Santa Barbara Soups.
All images courtesy Santa Barbara Soups, All Rights Reserved.
Backpackers.com Affiliate Policy: This guide contains affiliate links, which help fund our website. When you click on the links to purchase the gear we get a commission, and this goes a long way to creating guides, gear reviews, and other excellent content.