The Topo Athletic Trailventure is the new fast and light boot from Topo Athletic, a brand best known for running footwear that focuses on natural movement.
The natural gait concept works, and increasingly so for minimalist-minded outdoor folk who hit the trail on the regular. These weight-conscious backpackers are shedding weight and extras in their backpacks, and are doing the same with their footwear.
The Topo Athletic Trailventure is one of the most rugged minimalist hiking boots you'll find. With a nod to style, high quality materials, and intentional design, the Trailventure is a speed hiker that's quite versatile, working for light jogs, weekend backpacking trips, entire thru-hikes.
The boot comes in men's and women's models, two colors, weighs roughly 13 ounces per boot, and costs $140.
See the Men's Topo Athletic Trailventure
See the Women's Topo Athletic Trailventure
Unique Features of the Topo Athletic Trailventure Boots
The Topo Athletic Trailventure features an aggressive, well-lugged Vibram XS Trek EVO outsole that grips in all manner of weather.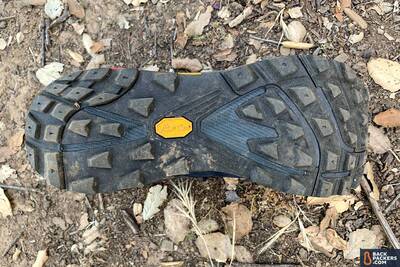 It also has a rear foot rock plate to protect against sharp stone and three individual layers in the EVA midsole, each with varying degrees of firmness for naturally supportive hiking. The solid toe bumper and impressive rip-resistant upper mesh provide durability where most trail runners lack it.
There are two main features that stand out on this fast hiking boot.
First, there's a locking mechanism in the lace system of the Topo Athletic Trailventure that allows two different points of tension throughout shoe. This means you can lace them up to be as loose as you want in in the forefoot, and tight around the ankle, or the other way around.
It's a smart system that increases the minute customization so often necessary while hiking long distances, and makes for easy adjustments. The laces lock simply, too.
Natural Gait with Wide Toe Box, Molded Collar, and 5 millimeter drop
The second biggest feature of the Topo Athletic Trailventure is the wide toe box in conjunction with the molded collar of the shoe and the low heel-to-toe drop. The wide toe box allows your feet to splay naturally, and it really is wide for how relatively normal (even narrow) the rest of the boot is.
This is paired with a collar that is made of a comfortable cushion that molds to your foot, giving you a secure, close fit. With each step the Trailventure holds your feet and gives it room to fully splay, and the whole boot offers a 5 milimeter drop, meaning it's very close to the barefoot strike.
All of these combine for a natural, supportive gait.
See the Men's Topo Athletic Trailventure
See the Women's Topo Athletic Trailventure
Who is Topo Athletic?
Topo Athletic has been making waves in the running world for a few years now, focusing on natural running. In essence this means minimalist shoes, roomy toe boxes, and low drop heights to run the way your foot was built to run.
Best known for trail runners and daily joggers, the Trailventure is the company's first foray into hiking boots.
See the Trailventure, and learn more about Topo Athletic.
---
This article is sponsored by Topo Athletic.
Backpackers.com Affiliate Policy: This guide contains affiliate links, which help fund our website. When you click on the links to purchase the gear we get a commission, and this goes a long way to creating guides, gear reviews, and other excellent content.