ust, once known as Ultimate Survival Technologies, has overhauled its identity. Yes, the lack of capital letters is on purpose, and yes, the brand has had an indelible impact on the outdoor industry since 1936. In fact, you probably bought ust gear in the past, you just didn't know it.
Camp accessories in the outdoor industry — lighters, carabiner mugs, glow-in-the-dark compasses — don't always leave a lasting brand impact, but they're essential to any outdoor kit. This basic line of reasoning began the year-long process of a 100 percent re-brand for ust, something you don't often see.
We're excited to see how a brand rekindles itself, and its followers, in the process. Learn more about the new ust below.
ust Redefines Itself
The new ust is replete with an upbeat logo, a new line of colorful camp essentials, a podcast and video series that brings you into the heart of the rebrand, and a mission statement that meets the outdoor world where it's at, today.
"As a brand, our goal is to inspire and cultivate people's love of all things outside. We set out on this path with strong intention going forward…to create gear that allows EVERYONE to enjoy the activities that give us so much happiness.'
We were surprised at the candor of ust's video series — Re:Fresh — in which key designers easily (and with a laugh) say, "Currently, it kinda blends in. We wanted ust to be a relatable brand that people feel connected to…a [brand] that someone goes to the store to get."
Honesty and openness are the way to a follower's heart, and this series dips you right into the process, from company hires to key product design. ust has also created a permanent storyteller series, which is essentially a brand ambassador program, to foster the messy, silly fun of outdoor adventure, and ust as the ubiquitous guide in that fun.
"Storytelling will be at the core of everything we do on all levels," says John Holdmeier, Brand Manager of ust. We not only want to create gear that allows everyone to enjoy the outdoors, but also provide the infrastructure for people to join our community and share their voice and inspiration. We want to bring people together by creating a space for storytelling."
ust's Camp Essentials
Strong storytelling is half the battle of brand identity; gear is the other half. ust has a unique head start in that its accessories have been a staple for years with prominent placement in major retailers.
What's new for the brand is the core line of camp essentials — tents, sleeping bags, and sleeping pads.
The Highlander is a 2-person backpacking tent that weighs roughly 5 pounds, sets up with trekking poles if needed, has one extra-large door and vestibule, one small zippered vestibule, and a unique design for maximum headroom and weather protection.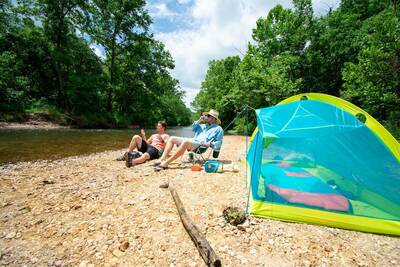 The House Party is a 6- or 4-person camping tent that provides an impressively tall, large space for families (plus friends) to, well, party. The tents have a unique single-wall construction for simple setup, color coded poles, and expandable interior space to give nearly-vertical walls and floor space. There's a massive front door which zips fully down, and a smaller back door for airflow and late-night exits.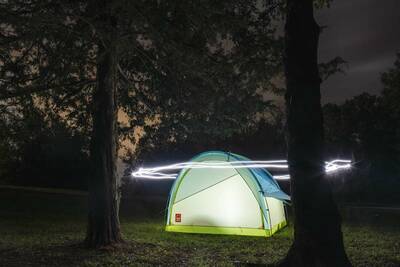 The sleep system consists of the Monarch Sleeping Bag — a mutli-degree bag that warms up with attached wings, which fold over you for extra cozy. There are two pads — the lightweight Freestyle air pad for backpacking and the Fillmatic self-inflating foam pad for camping — both of which use unique construction for the best sleep in the wild.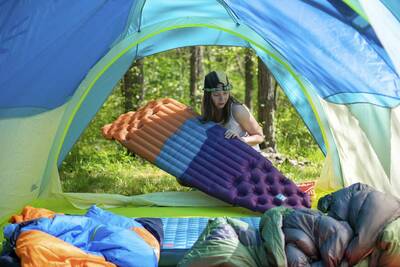 What you'll notice in each of these new is the colorful design and range of unique features. They are the core of the ust re-brand, and make it look like a whole bag of fun.
All this said, ust still offers its line of camp accessories. Its lantern, headlamp, and general light offerings are impressive, and its FlexWare and camp kitchen gear remain affordable and practical. And if you need a machete, ust still has you covered. The packaging is moving to 100% recyclable, too. We're excited to see its camp accessories shift as the company continues to evolve.
Make sure to check out ust's new vibe and products.
---
This article is sponsored by ust.
Backpackers.com Affiliate Policy: This guide contains affiliate links, which help fund our website. When you click on the links to purchase the gear we get a commission, and this goes a long way to creating guides, gear reviews, and other excellent content.