Backpackers.com — Some states in the U.S. have unified hiking platforms, but a lot of them don't. Sure, there are trail associations to help maintain significant trails, like the Pacific Crest Trail or Appalachian Trail, but, for the most part, a listing of state hikes and trails has been not been unified in any major way. You can find a smattering of trails through government organizations like the National Park Service and State Parks, or you can use private companies like AllTrails or EveryTrail, which aim to list a huge number of trails across the entire country and beyond. Finally, there are individual blogs that focus on specific areas, like SoCal Hiker.
This smattering of resources represents our basic societal inclination towards capitalism, which splits up similar concepts into multiple factors so people have a choice. Sometimes that works great. Other times, it would be nice to have a more unified trail resource.
The Montana Wilderness Association (MWA), a public and non-profit organization founded in 1958, created such a unification in April of 2016. The Hike Wild Montana guide exists as a public resource for tourists and locals alike, featuring hundreds of trails in Big Sky Country.
Hike Montana With the Guide
If you go to the Hike Wild Montana guide website, you'll be presented with an interactive map that starts at the entire State level. Each pin is a trail, and each trail has been reviewed, classified, and verified by an editor working for the MWA.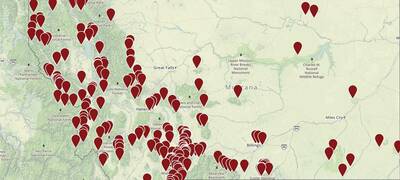 The classification of these trails is a key component to Hike Wild Montana's guide. You can break trails down in four main categories:
Physical location within the state. This directs the map in a certain area of Montana, providing hikes for locals or tourists that are staying in a central area.
Different trail features. These include waterfalls, campsites, old growth forests, and number of other custom features. This allows you to search for hikes that will include a specific thing you want to see.
Seasons. This is self explanatory, and very useful. Montana has harsh seasons, so getting a clear idea of when certain trails are accessible is hugely helpful.
Trail Surface. Getting into the nitty-gritty, this resource lets you know if the trail is dirt, rocky, or paved.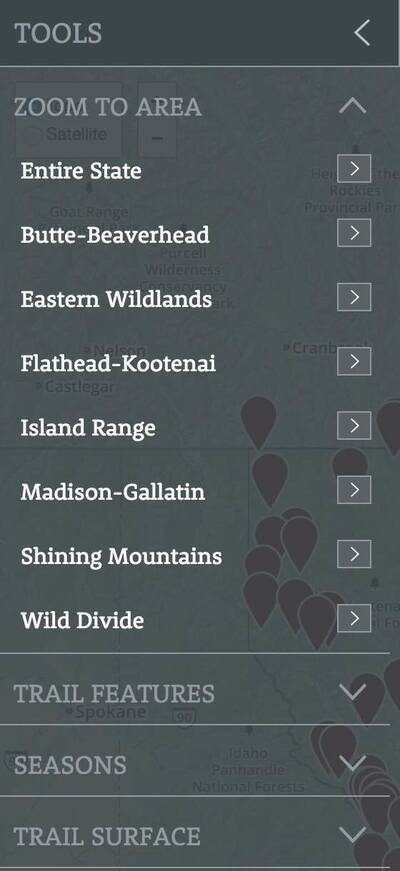 With each of these selecting factors you will get closer to the type of trail you want. Of course, some people are just curious and want to click around random areas of the map, which is easy to do in the interface.
Each trail has a heap of information, including a lengthy trail description, mileage, all the above-mentioned features broken down, volunteer opportunities on the trail, phone number and address of local ranger districts, and local businesses near the trail. That last piece is unique, and aims to help support a local economy. As MWA Community Engagement Manager Kassia Randzio said of this feature,
"We put out a call for recommendations on local businesses, so when you are out on the trail dreaming of a hamburger or a micro brew when you are done, you can walk into that downtown business and discover it … (The idea is) to highlight the economic benefits of these places to local communities."
Individuals can also rate every trail listed on the website. While this is a great feature, it isn't used very heavily at this time. Then again, the site just launched. When rating a trail the site will ask a lot of specific details, which over time will build a very comprehensive trip report and community.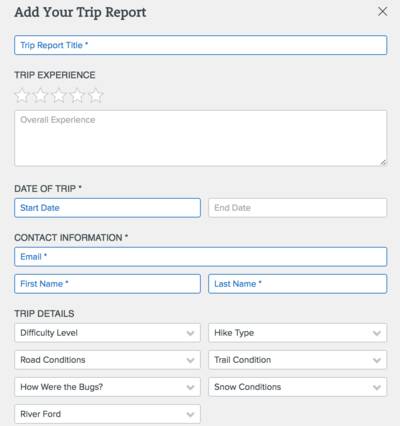 In addition to rating a trail already on the site, you can also add your own trails. This is an excellent feature to have in the first place, but highlights one of the small issues with Hike Wild Montana. There are a good number of trails on there — really, an amazing amount to be assembled in a short time by volunteers. But not every trail in Montana is on there. This works in one way, because avid hikers can add to the project and get their own trips and trails on an official site. It detracts a little as well, because individuals might go elsewhere to find more specific areas.
One example is Glacier National Park, one of the most famous spots in Montana and the U.S. for hiking. The central part of Glacier on the Hiking Guide only has a single hike, and a handful of hikes, about 15, are scattered around the edges and in other wilderness areas surrounding Glacier. There are certainly more hikes to be had. In time, users and staff will add them.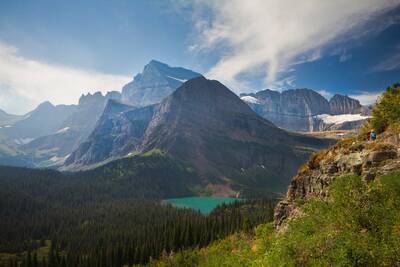 Another aspect that could be added is a specific area for trail length. This is not included in any of the features or breakdowns, and while trails can be listed by length in ascending or descending order, an option to sort trail by mile markers — 1 mile, 2, miles, 10 miles, etc. — would be handy.
User Interface
The issue with non-profit and government funded projects most often comes down user interface and code. The spirit is there, but the technical ability to organize the information and make it accessible is often lacking. Hike Wild Montana falls right in the middle when it comes to execution. Many aspects of the site are designed incredibly well, especially for such a comprehensive amount of information. The interactive map is central, with further details that pop up on the left- and right-hand sides. It loads data quickly, everything is in good resolution, and is actually accessible with just a few clicks.
The negatives are that because the categories are displayed on the sides, the inline scrolling interferes with the overall scrolling. Often the cursor gets stuck in the wrong area, and you end up scrolling through things you didn't mean to. Along with this are a couple pop-ups placed in bad locations so that it becomes hard to see the larger web page you're looking at.
A Resource for the Ages
The reality is that a non-profit created a highly functional trail website that emboldens users and builds a community, and it only launched on April 8, 2016. As it gets popular it will become a primary resource for Montana locals and tourists, and greatly increase the hike-ability of the Big Sky State.
Images in order: Grinnell Glacier Trail by Jeff P via Flickr; All screenshots courtesy MWA