We talk a lot about parks. We might love parks more than our morning brew — blasphemy, I know. And we love the National Park system (I still have my collection of National Parks badges tucked away in my mom's attic), which celebrated its centennial in August 2016.
While it may not be easy to tick all 59 U.S. National Parks off your bucket list, the best way to start is with a National Park pass, better known as America the Beautiful: The National Parks Annual Pass. Plus, with the pass sitting in your glove compartment, burning through your dash, you'll be more likely to go check out all these amazing spaces. Everglades? Check. Joshua Tree? Check. The Badlands? Check. You get the idea.
There are over 2000 recreation areas included with your National Parks Pass. Yes, the pass includes free entry to all National Parks, National Wildlife Refuges, and many National Forest lands. So what are you waiting for?
How to Buy a National Park Pass
Don't worry, it's not complicated. Before you purchase one, you need to know what kind of pass you qualify for. There are three general types:
Annual Passes: These are offered to citizens under the age of 62 who don't qualify for a free National Park pass. These will cost you $80 a year and include a car full of people, up to four people over 16. Anyone 15 and under gets in free. If you're going to bury someone under camping gear to sneak them into the park, make sure they have snacks. It's only polite.
Lifetime Seniors Passes: If you're over the age of 62 you can buy a Lifetime Seniors Pass. This does exactly what you think it does! A pass that gets you in free for the rest of your life.
Free National Park Passes: You may qualify for a free National Park pass. To see if you do, scroll to the bottom of this article.

Lifetime Seniors Pass Fee Increase!
The National Park Service (NPS) recently announced that the Lifetime Seniors Pass was getting a price boost. What's the current price? $80 plus a $10 processing fee.
Now — right now — is the time to score your Lifetime Senior Pass. We also recommend this as a perfect gift for the camper, hiker, or wilderness-obsessed 62-year-old in your life.
So how do you score the best 62nd birthday present ever? Or buy a pass in the first place? There are several easy ways.
Where to Buy a National Park Pass
In Person
The cheapest way to get your National Park Pass is in person. Here is the list of all the offices where you can buy your pass and bring it home immediately. You can feed it, crack open a cold beer with it, buy it a sleeping bag and snuggle up together under the stars.
In-person pass buying doesn't add a "service" fee to the process and makes sure you'll interact with a knowledgable NPS employee — always a good idea.
This is also the only way to get a last-minute pass — the other options take at least a couple of weeks to get sent over.
Online
You can buy a pass online, but you have to pay for the digital privilege. There's a $10 convenience fee. Steep, I know. But hey, the money still goes towards National Parks.
You can buy the National Park pass online from the official USGS store. Make sure to select the appropriate pass for you.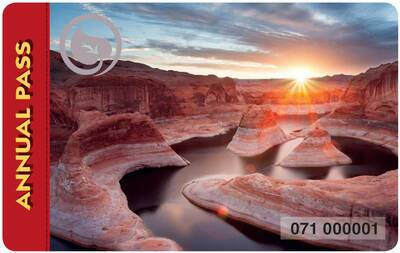 You can also buy the Annual National Park Pass online at REI. While you can't get the Senior Pass or other versions, this is a hassle-free way to grab one. You can also use an REI gift card, which is a major win. Your local REI might actually sell the pass in-store, too, so if you're desperate make sure to call.
By Mail
If you're old school, enjoy licking envelopes, and find joy in picking out the perfect summer fruit stamp (watermelon, always), you can mail in your National Park Pass order. The convenience fee is $10 for this method as well. Or if you're counting pennies, it's $10.49 including the postage. (Unless you bought your Forever stamps when they were $0.35).
If you want to mail in the form, download it here. You'll need to include a copy of your driver's license proving you're old enough (I bet it's nice to be carded again, huh?).
How to Get a Free National Parks Pass
There are some options to get free National Parks passes, which we wanted to share in case they apply to you.
Free National Parks Pass for Military
I come from a Military family and love that we give our Military families free National Parks passes.
How do you get one? Show a proper Military issued ID at any of the physical locations where you can purchase an annual pass. Most of them have Military Passes available as well. You may want to call and double-check that they have them in stock if you have a long drive.
Current U.S. military members and their dependents in the Army, Navy, Air Force, Marines, and Coast Guard, as well as most members of the U.S. Reserves and National Guard, are eligible for free Military passes.
Free National Parks Pass for Fourth Graders
If you're lucky enough to still be nine years old, you can get a free National Parks Pass! Every 4th-grade kid in America can complete some fun and easy online activities about our parks on the Every Kid in a Park website. Then, print off your voucher and exchange it for an Annual 4th Grade Pass at your local Federal Recreation Site. You have to show up in person to get these, sorry Mom and Dad!
Gummy worms, chocolate pudding, and a free National Park pass…Can I be nine again, please?

Free National Parks Pass for Disabled Americans
If you are permanently disabled, you should get outside and enjoy our National Parks. They are there for all of us. You can order a free pass here. Download the paper form to mail it in here.
Free National Parks Pass for Volunteers
I've got a beach clean-up on my calendar, but it's not enough to get me a free National Parks Pass. You need a hefty 250 hours of community service to get a free pass for the next year. Take as long as you like to accumulate your hours, just make sure you get them officially signed off.
Are there any restrictions on my volunteering, you may ask?
Yes. You can collect your 250 hours by volunteering on Federal recreation lands managed by one or all of these agencies:
You can pick up hours at any or a combination of agencies, it just has to total 250 hours before you get to turn your time in for a free pass. Then your pass is valid for 12 months from the date you pick it up.
We think all passes should come with a bag of marshmallows, ready to roast. But you'll have to pick those up, too. Just make sure to save extra chocolate for my s'mores!