Backpackers.com — Vandalism in National Parks, state parks, and general wilderness areas has flooded the news recently.
Sometimes it feels like mankind's desire to write messages, disturb animals, and leave trash on protected land is inborn. Just like our society produces polarized notions of race, religion, and politics, there is a bold and vocal minority of land-defacers that stirs up a frenzy amongst those of us who love the outdoors and wish it no harm.
There are a couple salient points that can be taken from all these events, which we'll explore below. But first, here are a collection of some of the most recent disturbing events.
Four Acts of Vandalism and Insensitivity in 2016
1. Casey Nocket "Creepytings" Pleads Guilty for Vandalism in National Parks
The largest, most recent breaking story has been the trial of Casey Nocket, known online as Creepytings, a 23-year-old that managed to draw and paint graffiti on seven National Parks in just 26 days during September and October of 2014. Modern Hiker broke the story originally in 2014 and has, in the two years of investigation, trials, and verdict become the central place to view conversations about the story.
Nocket used permanent acrylic and sharpies to draw a number of graffiti-like images, including a woman smoking a cigarette with a signature of "Creepytings," which was her Instagram handle before the account was deleted.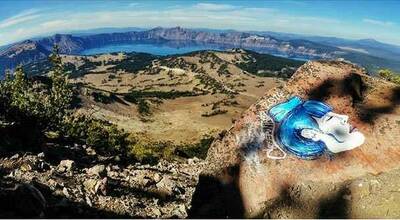 Nocket has been sentenced to two years' probation, making it illegal for her to enter any federal lands. She has also received 200 hours of community service. Court records indicate that Nocket's prosecutors want the community service to involve removal of her graffiti, but how that will happen in conjunction with her probation is yet to be seen.
So far a monetary fine has not been issued, nor has any jail time.
2. Slaughterhouse Island on Shasta Lake Wrecked by Fraternities from University of Oregon
In May of 2016 this news story spread like wildfire across Reddit, Facebook, and then major news stations. Slaughterhouse Island in Shasta Lake in Northern California is the annual site of a large party held by fraternities at University of Oregon.
This year more than 1,000 students descended on the island for the weekend. As photos surfaced from the event it became clear that heaps of trash, gear, and perishables (including excrement) were left on the island after the party, leaving the Park Rangers and government to clean it up.
University of Oregon has condemned the activities, and the Lambda Chi Alpha fraternity chapter at the University has been suspended until restitutions are made.
3. Bison Calf Euthanized Because of Human Interaction
This story, also in May, 2016, tells the tale of tourists in Yellowstone National Park who put a bison calf in their car because they were worried about it being too cold. Park Rangers got the calf out of the car and tried to integrate it back into the wild, but its herd would no longer take it.
The calf had to be euthanized.
4. Devils Hole Trespassed, Rare Pupfish Found Dead
Devils Hole is an isolated geothermal pool that's separated from, but technically a part of Death Valley National Park. It's home to the pupfish, an incredibly rare species that's on the IUCN Red List and has been near extinction for many years.
Due to their extreme endangered status, Devils Hole is not accessible by the public.

On April 30 three men drove to the outskirts of Devils Hole, used shotguns to break the locks and many cameras into the site, and swam and walked through the pool. Days after the incident one pupfish was found dead in the water, and it's unclear if the men damaged eggs, as April and May are the spawning period for the pupfish.
On Vandalism in National Parks and Beyond
The four examples above are just those that made the biggest news in the last two months. It doesn't include the most recent story of the vandals in Grand Canyon National Park, or the massive story on Vanessa Hudgens' defacement of land in Red Rock Ranger District of the Coconino National Forest back in Feburary 2016. The list could go on, both in large and small acts of vandalism, insensitivity, and idiocy across the U.S.
Vandalism in one sense has a very strict definition — "the deliberate destruction of or damage to public or private property." So, yes, some of the above examples are not technically vandalism, but they are included here because it is about the larger mentality of what is possible and ethical on federal and state lands.
Vandalism and Park Attendance on the Rise
If anything, this recent surge in reported cases of vandalism and other insensitivities comes at a time when the attendance of National Parks is at an all-time high. More people are getting outside than ever before, and with that comes more vandalism. It's an unfortunate but inextricably linked side effect.
It seems there will always be some part of culture that wants to put its own name or imprint upon that which is natural, even more so when there are laws forbidding it. This is not unique to the outdoor world; humans perform such actions in all aspects of society.
The interesting component to this is that right alongside the increase in vandalism is the increase in user-reports of that vandalism. In most of the above cases officials site Reddit, Facebook, and other social publications as the instigators for identification of these crimes. In the ones where officials note the incident first — like with the pupfish — an outraged community has been quick to deliver evidence and testimony in order to help identity the perpetrators.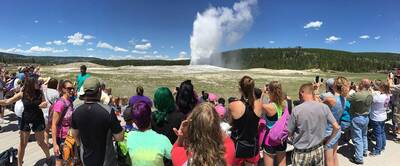 Individuals are noticing the vandalism, putting it online, and exposing these unfortunate acts for the whole world to see. It's public shaming for the protection of our land. Once the social networks are lit with the fire of an agreed-upon act that is unjustified, like vandalism of National Park land, the NPS itself gets on board and attempts to bring those responsible to justice.
This trial-by-fire in the community could never have been possible before social media, another phenomena we see in other parts of society.
Bouncing once more to the negative implications of such exposure, performing these acts can grant the vandal or group almost immediate fame. Even if it's notorious, there are attention-seeking individuals out there who will use these laws, and the land, and the knowledge that social media will put their name in the headlines in order to find those 15-minutes of public glory.
And, in the case of outdoor vandalism, the repercussions are much less serious than other offenses. This sort of mentality has been most noticeably reported in the field of attention-seeking gun-shooters (of which the U.S. is currently mourning). Linking these two is only a very thin thread, but the point is that unlike those atrocities, land defacers are getting their fame and not serving much of a fine or sentence.
The crimes are not the same at all, but Casey Nocket is somewhat famous now, though disgraced. Some call for harsher sentences for defacement of land, others say the sentences are justified for the action. While there is certainly a limited judgement for this kind of crime, the financial and time implications should be enough that people think more critically before engaging in vandalism.
How to Stop Vandalism in National Parks?
There's a question mark above because there's no real, concrete solution. Fines and jail time could go up for offenders, but the reality is that somebody will always try to carve their name into a rock or tree.
It seems clear that the first step must be proper education, so those who might perform such an act learn early on why you shouldn't. A more in-depth education about U.S. land, the history of U.S. land, and why keeping that land pristine for cultural and environmental reasons is an absolute must.
It's not enough to simply make the land federally protected — the knowledge of why, and of what the land means, should be taught in elementary school and up. Otherwise only those who care deeply will fight to protect it, while the rest of the population will visit and disturb it.
For those looking for a more detailed explanation for why the land should be protected — it's a valid question — check out a great article by Modern Hiker, written with the Nocket case in mind.
Putting the context and importance of national land into public education from a young age is a massive endeavor, one that won't happen overnight. But it has to begin now.
In April 2016 the U.S. government announced it would begin to track the economic impact of the "outdoor recreation" industry as part of its GDP data, a clear sign that not only are people going outside, but money is to be made from the massive industry.
Such an industry warrants education and funding for the various parks services, who are currently shelling out thousands of dollars in rewards to identify vandals. It's a top-up system, like so much else in our society. We have an opportunity to teach respect for the land — the land that is already protected and beautiful — to people across the U.S., which will in turn keep vandalism to a minimum.
Until then, social media will have to do.
Images in order: Casey Nocket Vandalsim Creepytings via Modern Hiker; Devils Hole Trespassers via NPS; Yellowstone National Park via NPS