Good golly, is it this close to Christmas already? And you STILL haven't finished your holiday shopping!?
Don't fret—we've got your back. With Amazon Prime, you can still order your last-second gifts online and have them delivered in a flash.
Below you'll find an assortment of small and large outdoor gifts that, as an Amazon Prime member, you can be sure will arrive before Christmas Day (that is if you order right away!).
And if you're really in need of a very-last-second gift, an electronic Amazon Gift Card can be purchased and gifted in mere moments!
So go ahead and scratch those final names off of your gift list. Then you can relax and enjoy the holidays in any fashion you desire.
---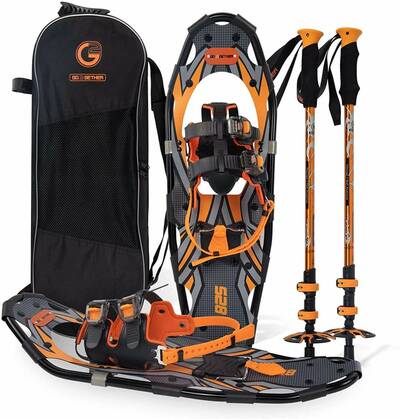 Tis' the season to hit those snowy trails. Hiking can be a year-round activity so long as you have the right equipment. These G2 Lightweight Snowshoes are available in multiple sizes and colors, so you can find a pair for any man, woman, or child on your gift list.
See the G2 Lightweight Snowshoes
---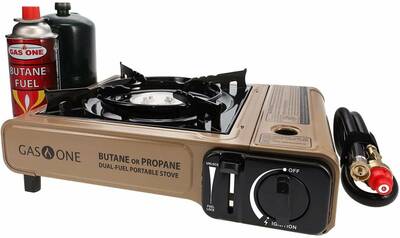 This highly-versatile Gas ONE stove is a great gift for anyone who enjoys camping or road trips. This single gas burner can be fueled by either propane or butane, its heat output is adjustable, and it's exceptionally portable. This will allow any adventurer to have a hot drink and freshly-cooked meal no matter where their travels take them.
See the Gas ONE Propane or Butane Stove
---
This handsome Wealers Camp Kitchen Utensil Set is a great additional gift to go with the aforementioned stove, or it can serve as a gift all on its own for anyone who loves to cook outdoors. This portable kit contains everything a person needs to grill up burgers at the campground or create a gourmet meal in the backcountry.
See the Wealers Camp Kitchen Utensil Set
---
A simple, good-for-anyone gift, this Smartwool Merino 250 Cuffed Beanie is sure to put a smile on anyone's face. Stuff this into a stocking as an extra treat for the holidays. There are many designs and styles from Smartwool to select from.
See the Smartwool Merino 250 Cuffed Beanie
---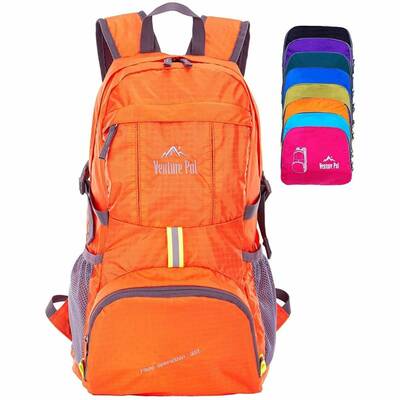 A daypack is an excellent gift to give to someone who is new to hiking and backpacking. The Venture Pal Daypack features an array of storage options, including side drink pockets, and it packs down into a tidy self-contained package when not in use. Even experienced backpacks can appreciate such a gift as they can throw this daypack into their backpacking pack for short day excursions away from camp.
See the Venture Pal Travel Daypack
---
Modern problems require modern solutions. Everyone carries smartphones, GPS tracking devices, headlamps, and other electronic essentials out into the wilds. The Suscell Portable Solar Battery can keep all your personal devices charged with its 20000 mAh capacity. Plus, it comes equipped with a dual-beam LED flashlight and a convenient carabiner clip.
See the Suscell Portable Solar Battery
---
Do you have a friend or loved one who's not quite ready for snowshoeing but they want to get out and explore places that may be a little icy? Give them the gift of traction with a set of Wirezoll Ice Cleat Crampons. These modest crampons are great for trails that may be too slippery for shoes alone, and they can fit over just about any trailrunners or boots a person may own.
See the Wirezoll Ice Cleat Crampons
---
A collection of useful tools and safety equipment is a great gift to give to anyone who ventures out into the wilderness on occasion. The Verifygear 22-in-1 Emergency Survival Kit is good to keep in the car for those just-in-case scenarios. Paracord, a flashlight, a knife, and a compass are items that every person should have. You never know when you're going to need them.
See the Verifygear 22-in-1 Emergency Survival Kit
---
Trekking poles are one of those items that a person doesn't know they want until they try them. The Trekology Collapsible Trekking Poles are lightweight and easy to store when not in use—you can even strap them to the outside of a backpack. The different tip guards and the snow baskets make this a versatile set of poles that will come in useful for any season and terrain.
See the Trekology Collapsible Trekking Poles
---
To some, hammocks are an essential piece of camping gear. Others may consider it an extra piece or a luxury item. For the former, an avid hammock camper will be glad to have a spare to have as a backup or to share with a friend. For the latter, someone who views hammocks as a luxury camping item may not buy one for themself, which means your gift will be extra special.
See the Wise Owl Outfitters Camping Hammock
---
All images courtesy Amazon, All Rights Reserved.
Backpackers.com Affiliate Policy: This guide contains affiliate links, which help fund our website. When you click on the links to purchase the gear, we get a commission, and this goes a long way to creating guides, gear reviews, and other excellent content.