HydraPak started with one goal in mind: To bring you the ultimate hydration experience.
What makes the HydraPak line of hydration reservoirs different is as simple as it is revolutionary. Hydrapak offers a variety of hydration reservoirs and accessories to enhance the performance and comfort of your outdoor adventures.
The entire lineup is loaded with great options, each with its own unique design—so you're sure to find one that meets your specific hydration needs. The Hydrapak reservoir lineup includes the:
---
Save on these reservoirs!
The Hydrapak Labor Day Sale starts today!
Use the code LD20 and enjoy 20% OFF sitewide.
(except for accessories – sale ends 9/5/2022)
---
These reservoirs are made of ultra-durable, abrasion-resistant TPU and RF welded seams for superior durability and elasticity.
They include an adjustable baffle that keeps them from protruding when they're full and boosts stability during high-impact sports, as well as an easy-to-use slider-top that allows them to be completely turned around for cleaning and drying.
Additionally, these reservoirs have been upgraded with high-performance characteristics and have an improved design for 20% greater flow.
With each, you can easily detach the drink tube (an auto shutdown valve prevents spilling) for fast refilling.
holding its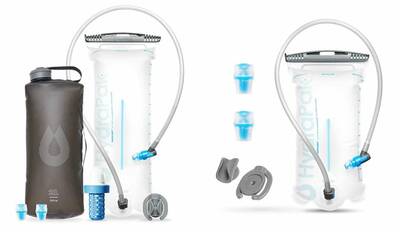 Hydrapak also offers an impressive line of accessories, including the HydraFlex drink tube, Blaster bite valve, bite valve sheath, and a cleaning kit.
The HydraFlex drink tube is designed to keep your water tasting fresh, while the Blaster Bite Valve comes with a dust cover to protect you from grittier elements.
Meanwhile, replacing your bite valve from time to time helps maintain your hydration system. HydraPak's Bite Valve Sheaths provide a soft bite and are made of durable silicone.
And to keep your hydration equipment sparkling clean, the HydraPak Cleaning Kit includes a tube brush and a Bottle Bright tablet.
If you are looking for the best hydration reservoir for your next backpacking trip, HydraPak's design is perfect for almost any outdoor adventure.
With the brand's Beyond Lifetime Guarantee, HydraPak's dedication to craftsmanship and quality really speaks for itself.
---
Images courtesy of HydraPak
Backpackers.com Affiliate Policy: This article may contain affiliate links, which help fund our website. When you click on the links to purchase the gear we get a commission, and this goes a long way to creating guides, gear reviews, and other excellent content.