Are you looking for a cooler that's as eco-friendly as it is stylish?
Now you can have both with the ICEMULE R-Jaunt Cooler, which is meticulously crafted from post-consumer plastic waste to minimize environmental impact.
Adventure Sustainably with ICEMULE R-Jaunt
The new ICEMULE R-Jaunt cooler is made from durable and eco-friendly recycled PET fabric derived from post-consumer plastic waste, such as plastic bottles, that undergoes a series of phases to transform it into a new, reusable form.
Recycled PET materials offer several advantages, including reducing plastic waste, saving energy, and promoting sustainable business practices.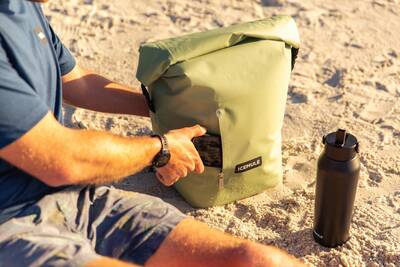 Having convenient carrying straps makes this 20L cooler portable and simple to transport. It's ideal for picnics, camping trips, beach days, and many other outdoor activities.
The R-Jaunt Cooler uses ICEMULE insulating technology to keep food and drinks cold for 24+ hours. Plus, it can carry 20 cans + 10 lbs of ice.
Likewise, this cooler is waterproof and leak-proof, so you can be sure that your belongings stay dry and mess-free.
Your drinks and snacks will be quick and simple to access thanks to the efficient roll-top design, allowing you to spend more time enjoying the adventure. Additionally, side clips have been added for a new closure option where you can roll down and clip to the sides.
Sage Green
Bark
Driftwood
The ICEMULE R-Jaunt Cooler is available in three colors inspired by the Earth – Sage Green, Bark, and Driftwood.
For the perfect mix of sustainability, performance, and convenience, go ahead and choose the ICEMULE R-Jaunt Cooler for your next outing.
---
Images courtesy of ICEMULE
Backpackers.com Affiliate Policy: This article may contain affiliate links, which help fund our website. When you click on the links to purchase the gear we get a commission, and this goes a long way to creating guides, gear reviews, and other excellent content.