When you're enjoying the great outdoors, you need to stay cool and hydrated.
Sports bottles are the perfect solution for keeping your drinks cold no matter where life's adventures take you.
Introducing ICEMULE's Sports Bottles and Tumblers
If a cool beverage can keep you from overheating while you're out and about, then the new ICEMULE Sports Bottles and Tumblers are what you need.
Made of Pro Grade Stainless Steel, the 32oz Sports Bottle bottle combines convenience with durability to provide you with all the benefits of an insulated drink cooler in an ultra-compact size.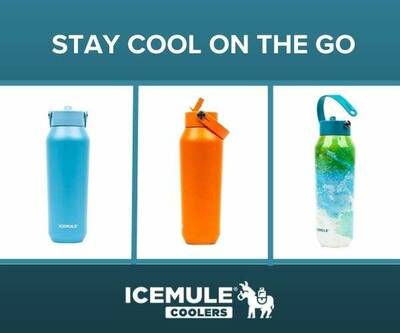 The vacuum-insulated stainless steel design keeps your drinks cold, while the non-slip silicone bottom provides a reliable grip so you're never caught short on your way to an all-day event. Plus, the bottle has a handy strap to attach to your cooler or bag, keeping your hands free for the moments that matter.
Likewise, these bottles won't take up much space or weigh you down when filled with your favorite frosty beverage.
These dishwasher-safe, leak-proof, BPA-free sports bottles would fit in standard cup holders and included splash-proof lids. ICEMULE's new Sports Bottle is perfect for the active crowd on the go.
ICEMULE 32oz Sports Bottle
ICEMULE 24oz Tumbler
Want more? The ICEMULE 24oz Tumbler is another new addition. Made from vacuum-insulated stainless steel, it'll keep icy drinks just as cool.
Fashioned with a non-slip bottom and shaped to fit in most cup holders, the Tumbler is an excellent choice for long car rides, beach days, and flights.
Both bottle and tumbler are offered in an array of fun colors to choose from.
---
Images courtesy of ICEMULE
Backpackers.com Affiliate Policy: This article may contain affiliate links, which help fund our website. When you click on the links to purchase the gear we get a commission, and this goes a long way to creating guides, gear reviews, and other excellent content.