Backpackers.com — A long thru-hike is a daunting goal. Weeks, if not months, out on the trail, night after night, pushing your body and mind to the limit. Injury, stress, and loneliness often come in waves, forcing many to the edges of understanding and patience.
But that struggle is part of the wonder. That's what so many thru-hikers hope to achieve, in addition to connecting with the woods and removing themselves from society. Even if we all don't aspire to such intense journeys, most of us love reading about them.
Which is why we got in touch with Jill and Arthur (RT), a couple that hiked the Pacific Crest Trail in 2015 and blogged about it the whole way. We also highlighted an article about the monetary costs of their PCT thru-hike, a topic of frequent debate in the community.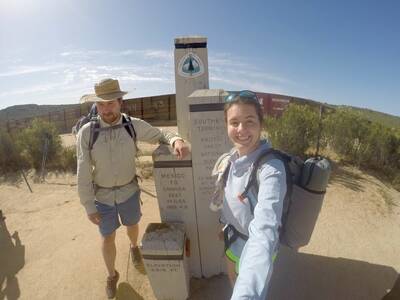 We interviewed them for a full reflection of their trip, what life is like now, and where they're going.
Some brief facts to preface the interview:
Jill and RT had never backpacked before their PCT thru-hike.
They hiked the Northbound route — from the border of Mexico to the border of Canada.
The PCT is 2,650 (ish) miles long.
Jill and RT's blog is full of day-to-day trip reports, gear reviews, and more.
"Nearo" and "Zero" are thru-hiking terms that refer to days spent in town, or around town. They reflect the number of miles hiked, with a "Zero" day being one spent completely in town, and a "Nearo" being a day with few miles hiked.
And now for the interview…
Thru-Hiking the Pacific Crest Trail with Jill and RT
Backpackers: You guys have a blog post for almost every single day of your thru-hike. Pretty incredible. Did you post from the trail, or just when you got into town? What was the response like from your community as you continued to post? Did the blog keep you grounded or rooted in some way to the world you left?
Jill and RT: We used the WordPress apps on our phones to write and save our blog posts. Most of the time on the trail we did not have enough service to actually post to our blog, so we would save a local draft and then when we did get service either on trail or in town we would schedule posts to be released on future days so that only one post would be released per day instead of a big bunch of them all at once.
We used our phones and my GoPro for photos and videos. I had my GoPro attached to my trekking pole so that it was always ready at a moment's notice. I opted for this camera because of its light weight, power, and waterproof case. The GoPro was Wi-Fi enabled, which meant I could wirelessly transfer photos and videos to my iPhone (where I could then edit them in the Photos or iMovie apps) and put them straight into the blog posts. There were big long stretches of trail without service for a week or more at a time. In those cases we just waited until we made it to town to update the blog (which may have contributed to us taking a few extra zeroes for blog work).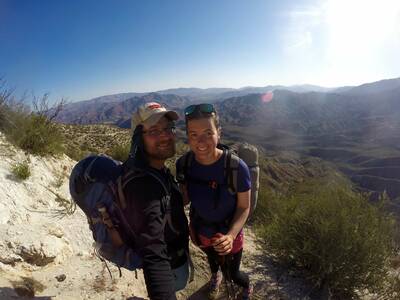 The community continued to grow as our blog continued, and over time we received more comments and feedback which really inspired us to write better posts. I look at the blog now and cringe a little at how basic and unorganized our first posts are, but I'm proud of the length and detail of the later posts.
The blog was a way for us to communicate to our friends and family everything we were seeing and experiencing exactly as it was. It was also something we wanted to keep so that we have a detailed journal to look back on, a gift to ourselves.
Backpackers: How many days did you spend in town vs. on the trail (roughly)?
Jill and RT: It took us 162 days to get from Mexico to Canada. We took about a week off to visit family in Oregon, and several days with friends in Portland. All told, with those long breaks included, we took 25 zeros and 33 nearos on our hike. More liked 15 zeroes without the two long breaks. We had 137 days on trail.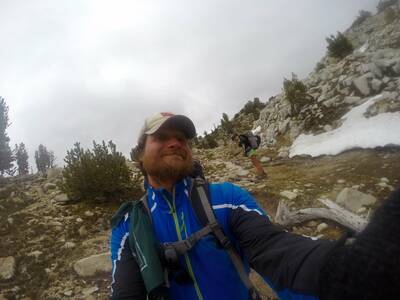 Backpackers: You've said you didn't do any real backpacking before embarking on the PCT. What led you to want to do this? What is your perspective on it now, and do you think backpacking will be in your lives permanently?
Jill and RT: We always loved hiking and outdoor activities. We had just never jumped into any backpacking trips. Jill read Wired's 2011 thru-hike blog and that sparked her interest in doing a thru-hike. She made it a personal goal to complete it one day, and I convinced her it was now or never. So we started planning. I was convinced because I love jumping into new adventures (we had recently graduated from college in Oregon and moved to Boston on a whim, and then a year later moved to the San Francisco Bay Area) and I did not want to get stuck in the retail management line of work I had found myself building a career in. It was a chance to escape and start new again.
In hindsight, we both loved every aspect of the trip. I remember that I struggled through all of California with exhaustion and injury and I told myself I would never want to go on such a huge backpacking trip again. But I made it through those trials and found myself loving every minute of Oregon and Washington. The PCT built me into a backpacker. We both want to do more long-distance trails in the future.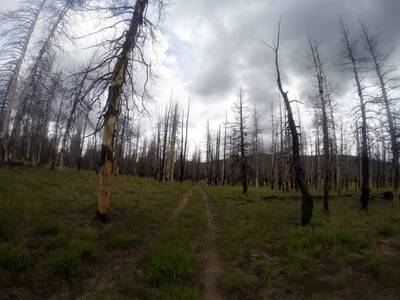 Backpackers: Having never been backpacking before, what resources did you use to prepare for the trip? What were most helpful, and what were not?
Jill and RT: We used other PCT thru-hiker blogs like Wired's and Carrot Quinn The blogs were extremely helpful for preparation, especially those that provided detailed gear information. We read Yogi's PCT Guide. The information was somewhat useful, but we didn't take the book with us on the hike.
We used Craig's PCT Planner to build a day by day expectation of what our hike would be like and where we needed to send resupply packages. Very helpful.
On trail we used Halfmile's trail app and Guthook's PCT app on a daily basis. We watched some documentaries, like As It Happens and Mile Mile and a Half.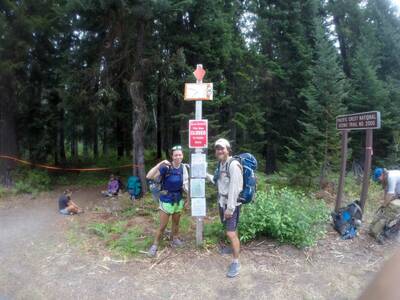 Backpackers: How did the actual experience live up to your expectations?
Jill and RT: We expected difficulty. We expected amazing. It was the extremes of both. The most surprising aspect was the level of community on the trail. I didn't know that I would make so many new friends from all around the world.
Backpackers: A few favorites: Favorite meal? Favorite night under the stars? Favorite day of trekking? Favorite in-town experience? Favorite place to find new friends along the trail?
Jill and RT:
Favorite meal: Gorging on Italian food in our Motel 6 room in Mammoth Lakes after an 8 day hungry stretch in the Sierras.
Favorite part of the trail: Climbing over Forester Pass and dropping down into King's Canyon, continuing on the Kearsarge Pass towards the town of Lone Pine.
Favorite in town experience: Walking in with a group of hikers into Belden on July 4th. There was a music festival party with hundreds of attendees and the hikers got in for free and partied all night long.
Favorite night on trail: Climbing Mt. Hood and pitching a tent in the forest behind Timberline Lodge, then going into the lodge for dinner and drinks with other hiker friends with the promise of an endless breakfast buffet in the morning. We were so warm and happy.
Favorite trail town: Idyllwild.
Favorite swimming hole: Feather River.
Favorite animals: marmots and pikas.
Favorite item learned of while on trail: Powdered Gatorade.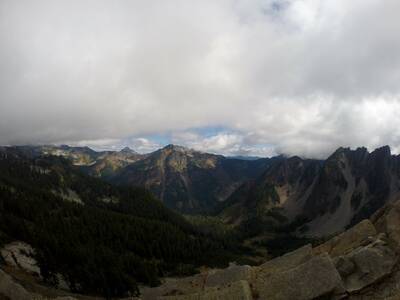 Backpackers: Do you have an emotional, worldly reflection on what six months in the wilderness is like? Have you had enough time to reflect, and if so, what are the biggest things that stand out?
Jill and RT: As described the trail was beautiful and difficult, ever more so than we expected. Being in nature for so long was wonderful, and the struggles only made us stronger. When we ended the trail and took a trip to visit Vancouver with a few hiker friends we found ourselves both to be overwhelmed by the frantic chaos of the city. It took a few weeks to adjust to the day-to-day regular civilian life again. I think you can expect this same story from just about every thru-hiker. The wilderness is a spectacular place.
Where it hit hardest for us was the community and support system around the trail. Aside from our families, neither of us has been involved in a community of such selfless individuals. A world of people were on the trail, and every single thru-hiker was friendly, open, warm, welcoming. We all shared in the same highs and lows. We were all 100% equal. We were all friends. We met so many amazing people, and that's not just hikers.
Trail angels are truly magical people. People who go out of their way, people who spend their own money, people who use their time to aid exhausted hikers. There were the established angels who are actual markers on any PCT hiker's maps. They go above and beyond any expectation you could have of a stranger. They do so much good for the PCT community. Then there are the past hikers or potential hikers who pop in and out when they can to offer some food, drinks, rides, or anything they can give to help. And there were so many people who left water caches or trail magic along the trail that I never had the chance to meet. I was overwhelmed on the trail several times because of the extreme amount of generosity. The expected and unexpected aid was all wonderful.
Aside from trail angels and trail magic, just the people who gave us dirty, smelly hikers rides into town were wonderful. The residents in the towns were all welcoming and wonderful. We were just hikers. We didn't deserve to be given anything, to be treated so nicely. But we were. I felt welcome in every town on the trail, by every day hiker or section hiker I came across on trail.
The best part of the PCT, corny as it is, was the people. By far. I want to make others feel just as welcome in other aspects of life. If the trail can be such a happy place, why can't anywhere else be? Jill and I definitely want to perform trail magic in the future, and I can understand why so many of the trail angels we met moved near the trail on purpose to be able to provide support to hikers. It's such an amazing experience for everyone involved.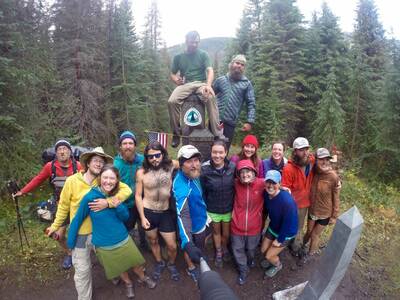 Backpackers: Any future plans that involve backpacking? You mentioned Jill has a job … where are you now, and what's next?
Jill and RT: The Wild Rogue River Loop in southern Oregon is next on our list, and the 400 mile Oregon Coast trail is in our sights for Fall 2016. We live on the Oregon Coast and plan to explore Oregon a bit better. New Zealand's Te Araroa is a huge journey we are hoping to take on sometime in the next handful of years.
I'm publishing a PCT coffee table book in March and a Sci-Fi book in May. I'm going to continue hiking and writing. Jill is pursuing her career in engineering and will continue to hike when she can as well. We'll be providing trail magic for 2016 thru-hikers somewhere on the trail!
Follow the aftermath of Jill and RT's adventures on their blog, and keep an eye out for that coffee table book.
All images courtesy Jill and RT