Have you ever wanted the chance to travel the wilderness with a culinary powerhouse? If so, then this backpacking trip is for you.
Foodies and avid hikers are invited to join this one-of-a-kind co-branded backpacking trip with Olympic Hiking Co. and Outdoor Eats on a special culinary-focused guided backpacking trip along the Olympic Wilderness Coast.
A Culinary Backpacking Trip in Olympic National Park
On this trip, scheduled for June 9–11, 2023, you'll hike 16 miles from Shi Shi Beach to Ozette on a 3-day, 2-night guided camping trip while learning how to upgrade your backcountry meals in real-time cooking workshops led by Chef Corso.
The Olympic Hiking Co. guide will overview the fundamentals of how to safely backpack along the Olympic Wilderness Coast.
Likewise, this will include how to read the topographic maps, plan around the daily tide charts, and navigate through tide-critical areas.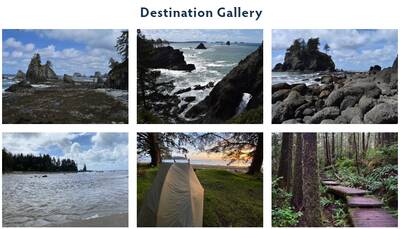 This amazing backpacking adventure, which covers about 16 miles, can only accommodate up to 10 hikers.
Along the way, you'll be given a great experience for the price of $1,300 per hiker (50% deposit due upon booking and remaining balance due 30 days prior).
What are you waiting for? Book now! Online bookings close May 1, 2023. For more details on the itinerary outline and description, check out hikeolympic.com.
Chef Corso, Founder of Outdoor Eats, is your culinary guide to the outdoors, and he's here to put you on the path to amazing meals where ever your adventure takes you.
---
Images courtesy of Olympic Hiking Co. and Chef Corso
Backpackers.com Affiliate Policy: This article may contain affiliate links, which help fund our website. When you click on the links to purchase the gear we get a commission, and this goes a long way to creating guides, gear reviews, and other excellent content.