With the winter blanket slowly coming down, Kahtoola's NANOspikes are here to help you stay warm.
Award-winning footwear creator Kahtoola announced the complete redesign of its ultra-low profile footwear traction, NANOspikes, for the fall 2023 season.
Danny Giovale, founder and owner of Kahtoola, said their innovative NANOspikes redesign is based on customer and athlete feedback, as well as our personal experience from years of field testing the first generation with a variety of popular running shoes.
"It's still the proven, ultra-low profile traction that our customers have come to love, but with thoughtful improvements making it even more performance-driven and comfortable on a wider variety of footwear, " he said.
NANOspikes' revolutionary design elements make it the greatest ultra-low profile traction on the market for exceptional performance on hard, slippery surfaces, and it will be available in retailers in fall 2023.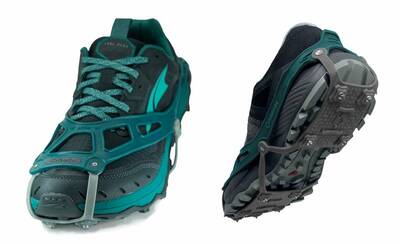 Improved fit with a bigger size range now fits US W 5 to US M 15 and allows a wider range of shoe designs are among the new features.
A bigger ergonomic heel tab delivers an easy on/off experience, and an improved elastomer shape increases all-around fit and security.
An updated toe bail insert improves comfort over a broader variety of footwear, while low-profile rivet connections reduce pressure areas.
The revolutionary concave tungsten carbide spike design provides rapid traction on ice, while a directionally optimized lug design enhances grip on ascents and descents in soft snow.
Similarly, the redesigned center ridges on traction plates deflect uneven ice, allowing spikes to contact faster.
With an MSRP of $54.95, the NANOspikes are guaranteed to provide comfort, fit, and traction, whether jogging or walking on snowy, icy roads and sidewalks.
---
Images courtesy of Kahtoola
Backpackers.com Affiliate Policy: This article may contain affiliate links, which help fund our website. When you click on the links to purchase the gear we get a commission, and this goes a long way to creating guides, gear reviews, and other excellent content.