If you're looking for a new sleep system, or want to improve your sleeping experience at camp, then Kammok's Ursa Sleep System is the way to go.
This premium system offers the cozy comfort and restorative rest that you deserve no matter where your travels take you.
Greg McEvilly, founder and CEO of Kammok, said that uncomfortable sleep at camp is a huge barrier for a lot of people wishing to experience the restoration of time outside.
"The Ursa Sleep System completely changes that, inviting people that wouldn't traditionally like camping to get joy out and enjoy a night under the stars," he said.
This comprehensive sleep system comes with everything you need, including a self-inflating base pad, a memory foam topper, an insulated camp blanket, and an adjustable, extra-large pillow with changeable thickness.
You can spend more time outside by spending less time setting up camp thanks to the self-inflating base.
The asymmetric zipper system makes it simple to combine with other parts, allowing you the freedom to adapt your camping arrangement to your needs.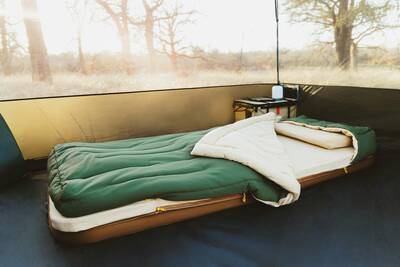 While the spacious built-in foot box is intended to help retain heat, it may also be used by warmer sleepers who like to remove their feet from the blankets.
The travel case provides a durable, easy-to-carry solution that keeps Ursa clean and safe and makes deploying and packing away easy.
The Ursa Pillow is made of excellent foam that molds to the contour of your head and offers the ideal combination of support and comfort.
With the comfort and assurance Ursa offers, you may spend more rejuvenating time outside. Check out this product only at Kammok.
---
Images courtesy of Kammok
Backpackers.com Affiliate Policy: This article may contain affiliate links, which help fund our website. When you click on the links to purchase the gear we get a commission, and this goes a long way to creating guides, gear reviews, and other excellent content.