Backpackers.com — Hammock camping is best during summer, and summer is almost here. It's probably not a coincidence then that Ultimate Hammocks — a brand known for developing lightweight, affordable hammocks — has launched a Kickstarter in May 2016 for its new strap. Billed The Ultimate Strap (an excellent marketing strategy if nothing else), this hammock strap aims to outstrip the competition on every level.
You might not realize it, but hammocks are a growing industry. There are a few big brands carried in stores like REI, but there are a ton of smaller manufacturers of hammocks. Pretty much everyone uses parachute material for the hammock itself, and many of them are the same at the core. The device is sold as an alternative sleeping system for backpackers, and as a must-have luxury for campers and backyard enthusiasts. Basically, having a hammock to hang is always a good thing.
However the "hanging" part of that scenario has always proved a little difficult. Every hammock manufacturer also sells hammock straps, and these range from long coils of heavy-duty ropes that won't break to incredibly light, flimsy material that might not support you and another person. Hanging straps has historically required some knowhow — knots, loops, carabiners, and the "correct" tree size (or lack thereof) are all part of the equation.
A hammock won't work if you can't hang it, so straps are important. Ultimate Hammocks has tackled this problem head-on and developed The Ultimate Strap, a hammock strap meant to work with any hammock. It is lighter, longer, and more durable than any other strap on the market in its class, and it's only $25.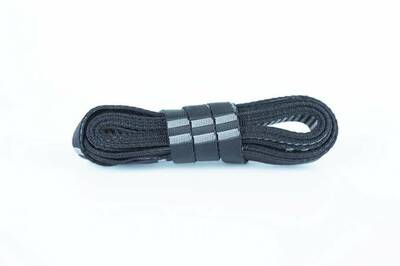 The Kickstarter began May 1, 2016, and is already fully funded. With over $30,000 at the time of writing, the campaign has far exceeded Ultimate Hammock's original goal of $8,000, and proves to be a resource people need. We'll break down the Ultimate Strap and its competition below.
The Ultimate Strap for Your Hammock
First, let's start with Ultimate Hammocks itself. The company is "small" in the big scheme of the outdoor industry, but has a solid range of products, a good following, and notoriety in the hammock world. They have three types of hammocks: a single and double meant for backcountry adventure, and the Scout, a heavier and more generic use hammock. Ultimate Hammocks has already developed straps for its current hammocks, and while those work, the new straps will likely replace everything they currently produce.
Here's the Kickstarter video on the Ultimate Strap:
As you can maybe tell, the Ultimate Strap has three main selling points:
1. Patent Pending Nano Weave Technology
This is the crux of the new strap, and it makes for an incredibly light and durable piece of gear. The Nano Weave technology shaves a full .5 inches off the thickness of the straps, and also allows it to taper at critical junctions. It makes the material incredibly slim, so packing the Ultimate Straps is a breeze.
This technology is indicative of what many gear manufacturers are doing these days — reinventing the wheel with fancy materials. The strap is still the strap, but it's now made better and therefore you, the user, will benefit.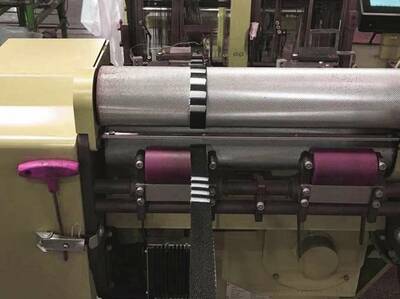 2. No Stitches
Due to the Nano Weave manufacturing process, the Ultimate Strap has no stitches. The Ultimate Hang (not affiliated with Ultimate Hammocks) notes that there is sewing at the bottom of the each loop, but these don't present as literal stitches in the fabric. This is a big deal.
The Ultimate Strap is a daisy-chain loop-style strap, which means small loops spaced evenly are used as attachment points. There are 17 loops in total. Each of these is stitch free, and stitches are often why straps end up breaking. Seams are usually double, triple, or quadruple stitched to reduce this break point, which adds a small amount of weight and goes to show how much of an issue it is.
The Ultimate Strap is without any stitches in the loops, and therefore more resilient.
3. Ultralight
The Ultimate Strap comes in two versions, the 2.4 oz version that has a tensile strength of 850 lbs, or a 4 oz version with a tensile strength of 1600 lbs. The reality is that 2.4 oz for a hammock strap is so light you'll hardly notice it in your pack, which is exactly what you want with a piece of gear. At such a light weight you'd think the strap wouldn't be long — wrong. Each strap (there are two) is 10 feet in length, which is as long or longer than anything else on the market.
Because the Ultimate Strap is light and thin, it packs up neatly and seamlessly, allowing it to fit in your hammock bag without taking up much room. All of this means it's a prime choice for ultralight backpackers, but it would also fit perfectly for college kids toting a hammock around campus. The dual versatility of those extremes is impressive, and makes for a great product.
It's important to note that while 2.4 oz is the weight of the strap, the daisy-chain loops are meant to be used with a carabiner. A climbing-rated carabiner is best for this, and these are usually 1-2 oz each, which will double the overall weight. This still doesn't add up to much, but it's worth noting.
Out-Designing the Competition
As we mentioned earlier, hammock straps are nothing new. Every hammock company has one — but Ultimate Hammocks has created a product that is meant to not only work flawlessly with their own hammocks, but with every other hammock on the market. This is a smart move, because in most cases when you buy a hammock from a company like ENO, it doesn't come with straps. This is a classic example of overpricing in the outdoor industry, and one that typically frustrates consumers.
You can buy the Ultimate Straps alone in the sale, so Ultimate Hammocks hasn't reinvented that wheel, but it has created an affordable option for hammock straps. Competitors' straps typically range from $20-40, are inches to feet shorter in length, and typically have a lot of stitches.
The design is also extremely easy-to-use. Each strap has daisy-chain loops at the end that a carabiner attaches to, and the carabiner also attaches to the hammock. It's about as simple as fastening a water bottle to the outside of your backpack. There are 17 looped attachment points, so you are sure to get the right level of hang.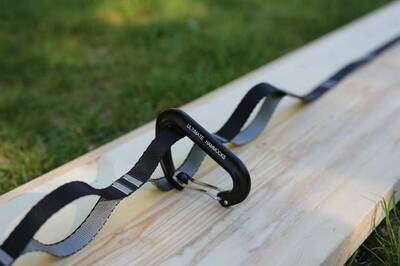 The combination of simplicity, strength, and length allows for extreme versatility.
Costs and Rewards
Ultimate Hammocks is not new to Kickstarter, and has a large number of tiered rewards. We won't list them all (just go to the Kickstarter page to see them), but here are the important ones:
A pair of straps (2.4 oz or 4 oz version) is $25, and this comes with a stuff sack (but no carabiner).
A pair of carabiners is $10. These are 7075 Aluminum 20kN Wire Gate carabiners in a variety of colors. This is on par with most carabiner costs.
A pair of straps, the storage bag, and a Single Ultimate Hammock is $55. This hammock great for backpacking or lounging, and comes with carabiners, all in a variety of colors. For perspective, this hammock alone is $59.95, so this is a huge savings.
A pair of straps, the storage bag, and a Double Ultimate Hammock is $65. Everything is the same as above, except the Double Hammock is meant for two people. The Double is $69.95 normally, so this is also a major steal.
We love the concept of Kickstarter because it allows innovation to flourish. The Ultimate Strap seems to have done just that. The Ultimate Hang, the premier place for hammock knowledge and reviews, was shipped a production version and gives the Ultimate Strap a very high review. If you've been waiting to get that summer hammock, now is the time.
The campaign and these discounted prices ends June 2, 2016.
All images courtesy Ultimate Hammocks, All Rights Reserved