Backpackers.com — Innovation is a fine thing, and we are lucky to live in an age when it is prevalent and easily accessible. Such is the case with Kickstarter. We've highlighted a number of Kickstarter campaigns (all of which have been successful!), and have another one for you to check out.
Meet Nozipp, a company named after its debut product — a zipperless sleeping bag. Someone once said the best ideas are those you can write down on a napkin. This fits that idea. You could even get a small drawing of the sleeping bag on that napkin, and a solution to the whole zipper thing, too. Nozipp's solution? Magnets.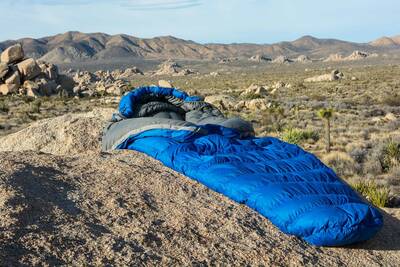 Yes, this is a high quality down-filled sleeping bag that is secured by magnets. The Kickstarter is already 100% funded, so these things will be created. You can get in on discounted bags now, or wait until the product goes live and gets reviews. Get the details below.
Nozipp — Sleeping Bag Made of Magnets
The Kickstarter was created by Taylor and Andrew, two silly dudes with serious careers in Los Angeles. They made a video to go with the Kickstarter, which is hilarious:
This sleeping bag is meant to contend with the high-end backpacking bags already on the market. It's not for car campers (though it will work well in that scenario), mostly due to the cost. With a retail price of $549, the Nozipp bag is expensive. Of course, the Kickstarter knocks 24-27% off that retail price (depending on the pledge you make), so getting in early has its advantages.
The bag is high-end due to its 850-fill water resistant down, the 2 lb 6 oz weight, and the 40 D/20 D ripstop nylon on the outer and inner shell, respectively. Those are the basic requirements to compete, but there are three standout features to this bag.
The first is the whole zipperless thing. Nozipp uses magnets, which are sewn into the lining, to seal you up and keep in your warmth. This allows for easy entry and exit of the sleeping bag, a process which is now noiseless. Zippers were necessary, but annoying. The magnets take out the annoying factor of closing your bag.
Building on this magnet design is the three distinct modes of use for the Nozipp bag: "Mummy Mode," "Roomy Mode," or "Open Mode." Open mode is a bit of a cop out — you can do this with any sleeping bag. But Mummy and Roomy are distinct — there are lines of magnets sewn into two different parts of the bag. If you lock in the tighter magnets, you will get a mummy style sleeping bag. If you lock in the other tier, your bag will suddenly be much roomier.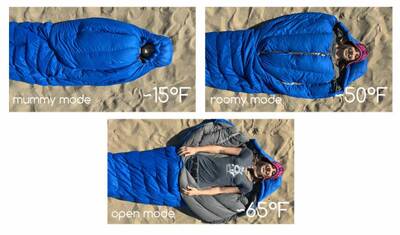 This sounds awesome, and seems like it will work well.
The final feature is directly related to those three modes. Nozipp had the prototype of its bag tested on the official standards for sleeping bag temperature ratings — the EN 13537. The bag has a lower limit of 15 degrees (for men), which means warmth well below freezing. But, due to the multiple modes, it's comfortable in roughly 65 degree weather, and everything in between. This claim seems legitimate, but reviews will have to test the fullness of the ability.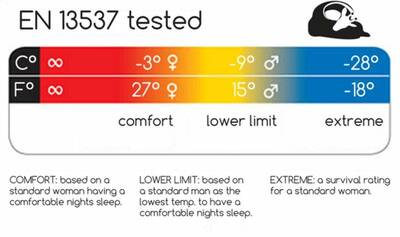 If you're up for some unique gear, consider purchasing a Nozipp bag in this Kickstarter. You'll get a high-end bag with new technology — and who doesn't love magnets?
All screenshots courtesy Nozipp, All Rights Reserved.