Backpackers.com — We tried to calculate the number of backpacks on the market — there are just too many to give you a reasonable number. It's almost as if backpacking is a popular activity, one companies have not only caught onto, but have decided to engineer to the ends of reason.
Now, you can add one more.
The new backpack, called the Wildland Scout, was built with bushcrafting in mind by YNOT, a Toronto-based company that makes every bag in its own factory, using products that were made entirely in the U.S. and Canada. The backpack was co-designed Joe Robinet, a bushcrafting icon known for his YouTube Channel and as one of the survivors on The History Channel's "Alone."
YNOT started with bike messenger bags, and over the years it has grown into a high-end shop for unique and custom products. YNOT also has a history of launching its products with Kickstarter, the crowdfunding platform, which is precisely what its doing for the Wildland Scout.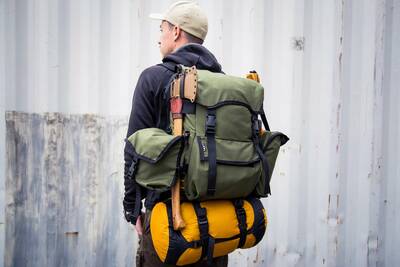 We explain the Wildland Scout Bushcraft Backpack below, and interview YNOT to find out what makes the Scout different in a crowded backpacking market.
Kickstart the Wildland Scout
This isn't YNOT's first crowdsourcing rodeo. Because the company designed the pack with a bushcraft icon who has a large online following, the Wildland Scout Backpack has been tested, the specs have been laid out very clearly, and the Kickstarter goal has already been met.
That means if you're interested in this pack, which we'll detail below, it will definitely be produced and shipped to you by August 2016.
Here's the promotional video, which features Robinet and YNOT founder Tony Mammoliti traipsing around the woods with their Wildland Scouts:
The Basics
The Wildland Scout Modular Bushcraft Backpack is a small pack meant for day hikes and overnights — at most about 72 hours in the wild. More if you have access to water and a source of food you can forage or hunt. Here are the specs:
The main pack is a total of 30 liters, which includes a velcro front pocket for secondary storage and two slim built-in pockets on either side.
The internal body has a floating liner that is detachable on three sides via velcro. It is separate from the external pack, which means a secondary layer for waterproofing and a pocket for anything that gets wet.
A laser-cut MOLLE system is cut into both sides of the pack, allowing for easy clipping and add-ons. Custom MOLLE pockets can be purchased and attached to the Wildland Scout, each of which adds about 3 liters of volume (they are large). The MOLLE system is cut into the bottom of the pack too, allowing for attachable straps.
Custom axe pass and loop pass on either side of the pack for easy storage of long objects, like an axe, tent, or poles.
Military grade clips are used throughout the pack, a number of which auto-lock, which will keep compression taut.
1000D Cordua used on outside of the pack, highly abrasion resistant and gives a classic look.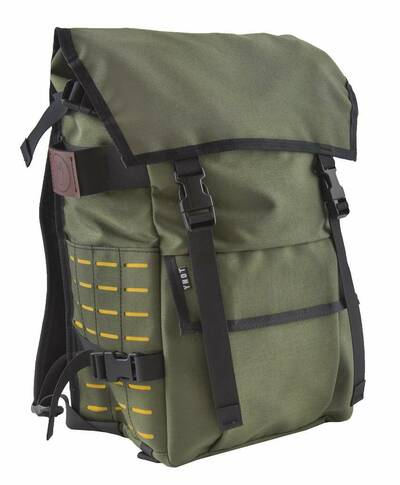 A Modular Backpack
The Wildland Scout is a modular backpack — as is the rest of the YNOT's gear. This essentially means there's a high-level of customization possible, not just in the different components on the pack itself, but in the colors available.
The MOLLE laser-cut structure on the sides and bottom of the pack allow for endless customization outside of YNOT products, but you can also buy add-ons from the company to enhance the carrying capacity and functionality of the Wildland Scout. There are five colors (since YNOT reached its stretch goal) by default, or you can customize a huge range of colors for extra cost.
The price structure for the Kickstarter reflects this. The basic Wildland Scout pack is $194 or $209 USD, depending on the early bird status of your purchase. This does not include the extra MOLLE pockets, the extra compression strap, or the packing pouches.
To get everything — the backpack, two MOLLE pockets, two storage pouches, and two base compression straps — it'll cost about $272 USD.
A Bushcraft Backpack
The Wildland Scout isn't the kind of backpack we normally highlight. It's not ultralight, it's not made of the most technologically advanced material, and it can't be heat-molded to anything.
It's a bit of a throwback in style, and was made with bushcraft in mind.
Bushcraft is a different approach to getting outside. It includes activities like creating shelter out of your environment, plant identification and foraging, starting fires with flint and tinder, then cooking your meal right over that fire. Also, hauling serious blades like axes and knives into the wilderness.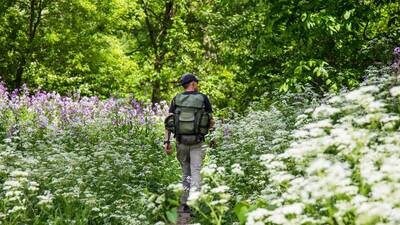 It's a robust topic and subculture in the backpacking community, one we won't explain in full for this article. Know that this pack was co-designed by bushcraft icon Joe Robinet, and the materials, design, and look of the pack is meant for this specific market.
Typically that means smaller overall volume, heavier and studier fabrics, and more of an emphasis on camouflage than sleek looking packs.
Below we interview YNOT to get a deeper look at the Wildland Scout Bushcraft Backpack.
Wildland Scout Interview with YNOT
Backpackers: Why did you choose Joe Robinet to consult on the backpack, beyond his YouTube following and bushcraft expertise?
YNOT: We chose to work with Joe for a number of reasons. Tony, the founder, and the crew at YNOT, being outdoor enthusiasts, have been fans of Joe's for a long time. We also wanted to work with someone local. Having Joe in the studio with us makes the design process a lot easier. One of the unique things about YNOT is that we own and operate our own factory in Toronto, Canada. This means we design and prototype in house, making any adjustments immediately rather than shipping them back and forth across the world!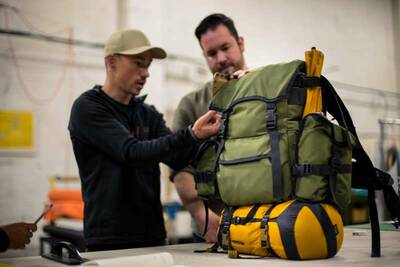 Backpackers: How does the Scout stack up against your other backpacks? It's not the biggest, is it the most rugged? What do you expect people will do most with it?
YNOT: The Scout is definitely an extremely rugged pack but it shares the same materials and production processes as all of our other products. We like to design technical gear that doesn't necessarily look super technical. Making the bag look and function just as well in the bush as it will at the office. We have been using the Scout on camping trips, in the office everyday, and most recently a surf trip to Europe.
Backpackers: What is the longest trip you recommend with the Scout?
YNOT: Joe uses the Scout as his 72-hour pack, fitting the essentials for a quick getaway. We say there are no rules. If it all fits in the bag you are good.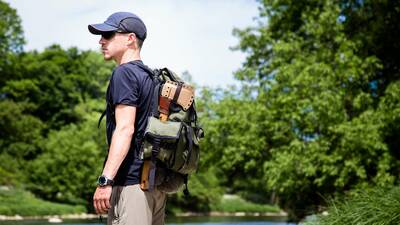 Backpackers: What is the recommended weight limit of the Scout?
YNOT: Our packs are extremely durable and it would be hard to put a weight limit on them. But Joe believes that an ideal weight for this pack on a trip is 25-30 pounds. Anything over 35 pounds you should be rethinking your gear and maybe repack.
Backpackers: How do you feel this pack compares to others in the market? What are the main differences between this pack approach (modular, fairly heavy, bushcraft oriented), to manufacturers like Osprey or ULA? Do you find your packs last longer, or have different qualities that make them stand out?
YNOT: We design our packs to be technical but simple at the same time. Often companies that manufacture overseas get carried away adding unnecessary pockets, seams, and hardware. Due to the high cost of local manufacturing we have to create innovative ways of maximizing the capabilities of our designs.
We use the highest quality materials and production processes available to us, sourcing materials locally when possible. We also have some automated sewing machines and laser cutters. This improves accuracy and durability hugely, and isn't something you often see in products made overseas.
Backpackers: If customers don't get all the extra features, what else can the MOLLE clip areas be used for?
YNOT: The MOLLE/PALS system that we use is a standard military spacing. This means you can add any existing MOLLE pouches you have or purchase. We laser cut our MOLLE/PALS system to make it stronger with a cleaner design aesthetic.
Backpackers: Can you speak to the back panel and shoulder pad support?
YNOT: The modular back panel and shoulder pad system the Scout features is the same across our entire line. The shoulder pads are designed to articulate which means they will fit women and smaller frames a lot better. We then reinforced the back panel with a sheet of ABS plastic to give additional rigidity and to prevent the contents of the pack being felt on the back.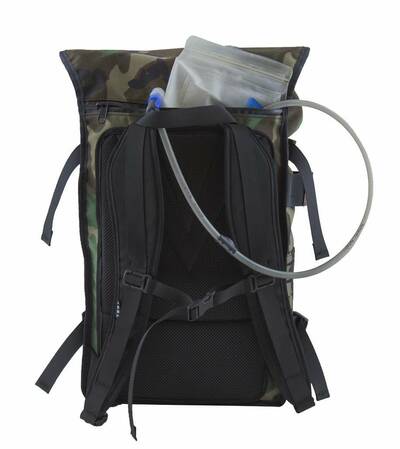 This system has been tested extensively over the last year and a half throughout our line, including the Magnetica, the bag the Scout was based on, which we launched with another very successful crowdfunding campaign.
Backpackers: It looks like the Wildland Series is new, and this is the first pack for it. Will there be others? You've already hit your target for the Kickstarter, so what's next?
YNOT: We don't want to give too much away but Joe and the team are already working on future products. These products, like the Scout Backpack, need to be field tested before we hint at anything. But stay tuned. I think you will be surprised.
Backpackers: Do you consider yourself part of the cottage gear movement and, if so, can you talk about this and other companies you enjoy working with in that realm?
YNOT: I don't know if we are in the cottage gear movement. We have over 100 retailers in 20-plus countries and have distributors in the UK, Europe, and Japan. Some of the retailers include companies like MEC, the REI of Canada.
Yes, we are a small company but if we pigeon hole our self in the "Cottage Gear" [industry] I think that limits our growth and our thinking as a company. We use the the advantages of being a small company that owns its own production facility — agility, quick product launches, control of our own design and development, as well as each step of raw material sourcing and manufacturing. These advantages allow us to work with larger companies and organizations on custom pieces and collaborations, like Cevervelo, Red Bull, and TED to name a few.
Don't get us wrong. We love working with smaller companies like our friends at Explorer's Press, but we operate like the big guys!
The Wildland Scout Bushcraft Backpack Kickstarter campaign ends July 25, 2016. If you have a hankering for a durable bushcraft backpack designed for multi-purpose use, be sure to grab one at the discounted price.
All images courtesy YNOT, All Rights Reserved