Outdoor enthusiasts have a groundbreaking reason to celebrate as KUIU, a leading name in outdoor gear, proudly announces the launch of its latest creation – the DeltaStorm 2200 Submersible Backpack.
This cutting-edge daypack sets a new standard in waterproof protection and durability, catering to adventurers who demand the utmost reliability in their gear.
DeltaStorm 2200: Waterproof and Durable Backpack
Crafted from TPU-coated waterproof fabric and boasting welded construction, the backpack guarantees dry storage even in the harshest conditions.
The inclusion of air-and-watertight zippers adds an extra layer of assurance against the elements.
Designed with the modern explorer in mind, the DeltaStorm 2200 offers a range of features that set it apart.
Its detachable shell and accessory holder contribute to impeccable organization, ensuring that essentials are always at hand.
This daypack not only keeps gear dry but also afloat, thanks to its specialized fabric and construction.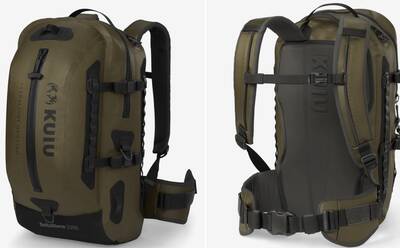 Whether trekking through rain-soaked terrain or kayaking in choppy waters, adventurers can trust their equipment to remain buoyant.
A standout feature of the DeltaStorm 2200 is its versatile internal organizer that can be effortlessly removed and suspended in a blind or from a tree, allowing for swift access to ammunition, calls, or other critical tools.
The innovation doesn't stop there – the backpack boasts an external compression strap system that facilitates various carrying options and the attachment of bulkier items to the pack's exterior.
For those seeking the technical specifications, the DeltaStorm 2200 doesn't disappoint:
Weight: 4 lb 6.5 oz / 1999 g
Sizing: Waist: 28-59 in / 71-150 cm
Volume: 2200 cubic inches / 36 L
Expanded Pack Size: 23 x 12.25 x 12.5 in / 58 x 31 x 31.5 cm
Removable Organizer Size: 14.5 x 10 x 4 in / 36 x 25 x 10 cm
Price: $399
With the DeltaStorm 2200 Submersible Backpack, KUIU is redefining adventure gear once again, setting a new standard for waterproof functionality and adaptability.
Outdoor enthusiasts can now embark on their quests with confidence, knowing their equipment will remain dry, organized, and readily accessible, no matter the circumstances.
---
Images courtesy of KUIU
Backpackers.com Affiliate Policy: This article may contain affiliate links, which help fund our website. When you click on the links to purchase the gear we get a commission, and this goes a long way to creating guides, gear reviews, and other excellent content.