It has been a holiday season for the books. A year for the books, really, and it's almost over.
This Guide is for those that still have gift gaps on the family and friend list to fill. Every product will get to you before December 25th, will stoke out the outdoor nut in your life, and will save you the trouble of any in-person shopping.
See our Last Minute Gift ideas below, and get on it!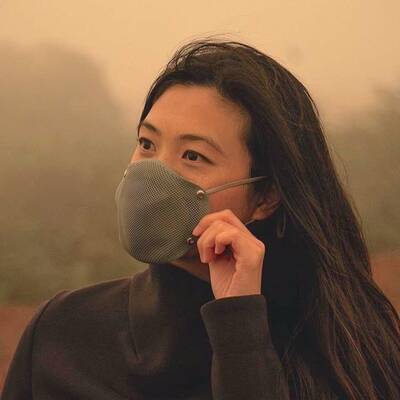 If there's one product you don't want to be without this winter, it's a face mask. GATA, a brand with roots in survival go-bags, saw the need for an outdoor-ready mask at the beginning of the pandemic and has created just that.
The GATA Mask is made with FDA-approved silicone, which means you can wash, boil, or put it in the dishwasher for full sanitization. The silicone mask has perforated holes for excellent breathability and elastic bands that are adjustable for the size of your face. The mask comes with 10 KN95 filters, which last for 50 hours of use, and 2 filter reinforcements. You hook the filter onto the reinforcement structure through small perforated tabs, then insert that in the silicone mask.
The reusability factor is endless, and design is impressive. The GATA Mask is a serious step beyond your typical cloth mask, comes in two sizes, and will keep you well protected.
---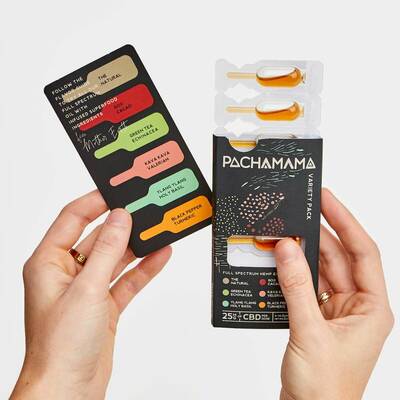 If you or your loved ones are new (but curious) to the world of CBD, we recommend the Pachamama CBD Variety Pack. It includes six single 25 mg doses and each one is slightly different, covering the full range of Pachamama varietals. These varietals combine CBD with other superfood-infused tinctures to help induce relief in the body and mind*. The Variety Pack includes Pachamama's Create, Detox, Focus, Recover, Relax, and The Natural (straight CBD) varietals, each of which helps to foster exactly what the name implies.
Pachamama is one of the cleanest manufacturers of CBD in the U.S. and has received a Purity Award from the Clean Label Project (no easy feat). Their products are USDA Certified Organic and use air extraction to extract the CBD, which is much cleaner than solvents, CO2, or hydrocarbons, the more common (and less healthy) methods used. Likewise, the superfood and plant-extracts used in the Variety Pack (and in full bottles of CBD by Pachamama) are all-natural.
We are serioiusly impressed with the purity and feeling of Pachamama CBD and find the Variety Pack to be a perfect sampler to get on board.
See the Pachamama CBD Variety Pack
---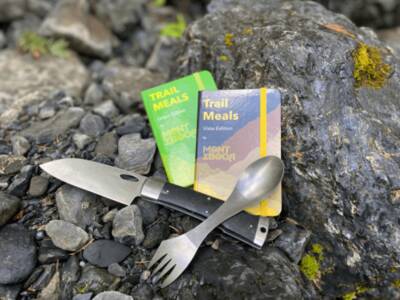 How many times have you eaten a less-than-satisfying pouch of food in the backcountry? Too many, says Chef Corso, creator of MONTyBOCA, an impressive resource of fast, easy, tasty meals for your outdoor adventures.
The Trail Meals Duo Recipe Book includes the Origin and Vista editions of the most popular MONTyBOCA recipes. The recipes use 10 ingredients or less, are ready in 30 minutes or less, and require no pre-prep. The books each have 20 trail tested recipes, 3 packing checklists (including what you need to prepare the food!), and are laminated with thick pages for inclement weather. Plus, they come with the eBook version so you can skip the weight of a book, if you want.
Chef Corso is classically trained, has trail tested every one of these recipes himself or with his outdoor community of meal testers, and is stoked to bring good food to your backcountry experience. Plus, $2 for every cookbook sold goes to protecting public lands and community projects.
Get 15% off the MONTyBOCA Trail Meals Duo with code BOCAHOLIDAY.
See the MONTyBOCA Trail Meals Duo
---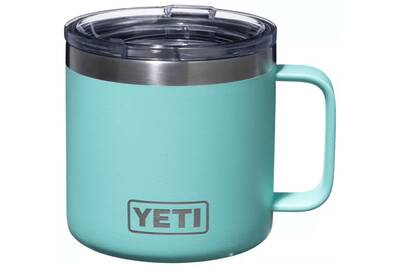 The YETI Rambler Mug does what all YETI products do: take a fairly common product and make it the most durable, functional thing you've ever seen. The Rambler Mug is a 14-ounce double-wall vacuum insulated container that uses 18/8 food-grade stainless steel to keep your drinks piping hot, or freezing cold, and is built to never break.
YETI uses a radiant barrier to help keep your cold drinks icy — this reduces the effect of sunlight on the liquid, it does not sweat, and the extra-large handle allows for easy gripping. It comes with the Standard Lid, which presses into the mug to keep drinks warm or cool and has a small, always-open area to sip. The Rambler is a short, squat mug that can accompany you (or your lucky gift-ee) anywhere.
---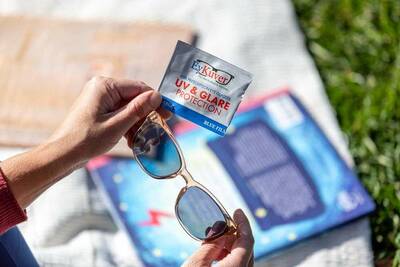 Protection and comfort are vital for the best outdoor experiences. People usually think of back and hip support, but protecting your eyes is important too. EyKuver is an ultralight and cost-effective sun solution for prescription lens wearers who want to take their daily-use lenses on the trail and convert them to sunglasses.
The EyKuver is a custom film that adheres to your standard lenses, providing effective UVA/UVB and glare protection. They're ideal for on-the-fly convenience in the backcountry because they weigh almost nothing, don't require you to have a separate pair of glasses, and make sure you can see perfectly for your entire trip. Each EyKuver pack includes three pairs of the protective films, which are uniquely formulated to adhere to the front of your prescription lens with no chemical adhesives or residues. When the sun goes down, simply peel them off and stash for another use.
---
Baselayer Tops
One of the best outdoor gifts to give as we head into winter is a baselayer top. Backpackers, hikers, and campers will rejoice (internally or with great cries of joy) to receive such a thing. Most of the outdoor lovers in your life have an old, stinky baselayer top that gets them through every season, but find it hard to upgrade when there are so many other pieces of gear to collect.
Odlo — a Norweigian sportswear brand that helped to invent the original baselayers for cross country skiing — have some of the comfiest, high-performing tops on the market. We recommend two below — one with merino, and one fully synthetic.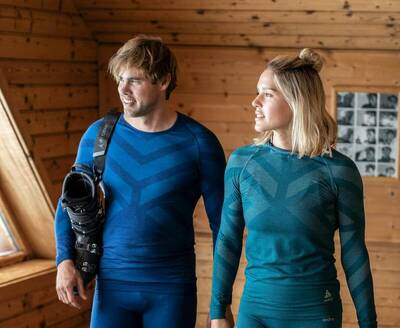 The newest baselayer from Odlo is the Natural Kinship, which uses a mix of Merino wool and synthetic fibers to get the best of both worlds. The 52 percent virgin Merino wool is best for breathable warmth and cozy comfort, while the mix of polyester, polyamide, and elastane provide exceptional stretch and odor protection.
The Natural Kinship Baselayers are made with Odlo's seamless body-mapping technology, which provides a precise fit and reduces chafing while hiking. These baselayers will give warmth, comfort, and versatility to any backpacker's clothing kit, layer exceptionally well, and above all will keep you warm!
See the Men's Odlo Natural Kinship Baselayer
See the Women's Odlo Natural Kinship Baselayer
---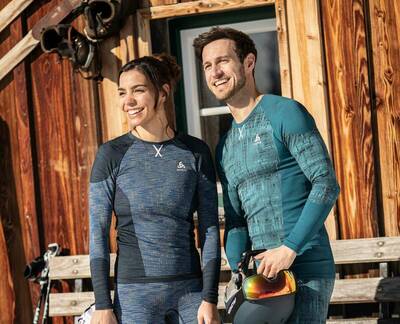 While the Natural Kinship is all about a Merino wool blend, the Odlo Blackcomb baselayer is fully synthetic and has an epic reputation. The top is slim-fitting and also uses the body-mapping technology to create a huge range of comfortable motion for high-output activities. The Blackcomb also uses Odlo's ZeroScent tech, which keeps the baselayer free of stink no matter how intense your cross-country ski tour is.
This Blackcomb version has a face mask built in — it's ideal for those who are delving into truly cold conditions this winter. The full hood comes all the way up to your chin if needed, creating a versatile warm layer that can be adjusted when the wind picks up.
See the Men's Odlo Blackcomb Baselayer with Face Mask
See the Women's Odlo Blackcomb Baselayer with Face Mask
---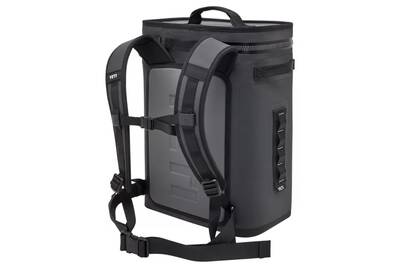 Backpack coolers allow you to hike into a secluded spot, bust out ice-cold drinks and food, and hang in style. The YETI Hopper Backflip 24 was built for the above — but in classic YETI style it was also built for boat trips, days fishing on the lake, and just about anywhere you need something cold.
The Hopper Backflip builds on the iconic Hopper, YETI's soft cooler, by extending the volume to fit 20 cans of beer (in a 2:1 ice-to-can ratio), adding heavily padded shoulder straps, and a removable hip belt and sternum strap for easy carry. YETI uses the heavy-duty Hydrolok leakproof zipper to ensure your food and drinks stay cold (and your clothes dry), and the Dryhide shell is built extremely tough: it's waterproof, mildew resistant, and has a food-grade interior liner.
If you want to gift the ultimate in cooler backpacks, the YETI Hopper Backflip is it.
---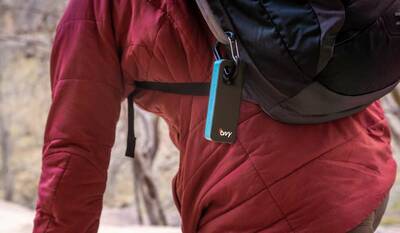 Satellite communication in the wilderness is no joke. If you or your loved ones are off the grid, it's necessary to have one, and the Bivy Stick Blue is the lightest, simplest satellite communicator on the market.
It's a 3 oz device that has 2-way text capability via satellite communication. There's a robust smartphone app that enables you to communicate your location and status clearly with loved ones, but it also has built-in buttons on the device in case your phone is dead. You can share your location with GPS tracking, it has an SOS button for a complete rescue, and there is 100% global satellite coverage, so if you can see the sky, you can get in touch.
The Bivy Stick Blue is IP67 water resistant, meaning it can be three feet deep in water and still function for half an hour, and it's tiny. The data plans for use can be turned on and off whenever you need to use it, and there are no contracts or activation feeds.
The gift of a Bivy Stick Blue can literally save lives, and will always save your peace of mind.
See the Bivy Stick Blue Satellite Communicator
---
This post is Sponsored by multiple brands.
*Statements have not been evaluated by the food and drug administration. this product is not intended to diagnose treat cure or prevent any disease.
Backpackers.com Affiliate Policy: This guide contains affiliate links, which help fund our website. When you click on the links to purchase the gear we get a commission, and this goes a long way to creating guides, gear reviews, and other excellent content.