The world's outdoor experiences are experiencing impressive growth and increasing participation.
While this is great news for the outdoor industry and its participants, a new report cited unparalleled participation in outdoor recreation that is changing our collective outdoor experience.
The Breaking Trails Report
Breaking Trails, by onX, a pioneer in outdoor navigation, revealed a substantial gap between an increasing number of outdoor enthusiasts and the percentage of those who engage in stewardship – activities that help protect and restore the public lands that fuel their experiences.
This "stewardship gap" is one of the primary themes highlighted in the report, which details the results of a survey conducted in late 2022 to 2,200 recreationists across the United States.
Becky Marcelliano, onX Senior Access and Stewardship Manager, said participation in outdoor recreation is at an all-time high, and conveyed that everyone should have access to nature, and the mental and physical benefits it provides.
"But we also realize that increased recreation means additional pressure on our public lands. And while most of us see the importance of stewardship, only a handful of folks–less than one-in-five–are doing the lion's share of the work," she said.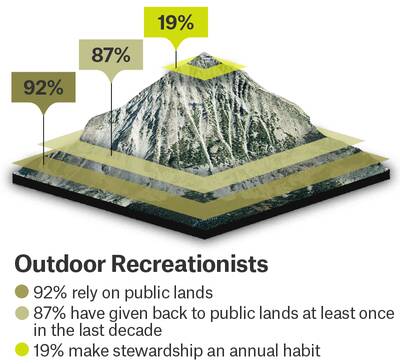 Key findings from the report include:
96% of outdoor enthusiasts think it's important to preserve and maintain public lands and the access to recreation that they provide.
Nearly all (92%) rely on the nation's 901 billion acres of public land for outdoor recreation.
Nearly two-thirds note that overcrowding has negatively impacted their time in nature over the past five years, citing various challenges from packed trailheads and noise pollution to litter and decreased access.
87% of outdoor enthusiasts report that they have given back to public lands in some way in the last decade. However, only 19% of outdoor enthusiasts surveyed say they commit to one of these primary stewardship activities on an annual basis: volunteering, donating, or advocating.
When the survey looked more closely at the breakdown of individuals who practice stewardship annually, it discovered the following trends:
Younger generations are more likely to participate in stewardship activities than their older counterparts, with Gen Z being the most inclined.
Exposure to nature early in life correlates to participating in stewardship activities as an adult.
The more outdoor activities someone participates in, the more likely they are to give back.
Those who identify as experts in at least one outdoor activity are two to three times more likely to engage in annual stewardship compared to those who describe themselves as beginners or intermediates across all their outdoor activities.

Promoting Growth in Stewardship
According to Breaking Trails, one of the best ways to "close the gap" in stewardship–especially between experienced stewards and those just embarking on their outdoor journey–is through outdoor mentorship.
By mentoring other outdoor enthusiasts, Marcelliano said they can inspire a cultural shift from being a 'user' and 'visitor' of the outdoors to becoming a 'protector' and 'steward.' That is where the real change happens."
Beginning on June 8, onX is encouraging all adventurers to engage in stewardship through its Navigating Stewardship campaign.
Outdoor enthusiasts of all kinds are encouraged to tune into onX channels to learn different stewardship practices–big and small, explore different stewardship communities, test their outdoor knowledge, and join a social challenge.
In an ongoing effort to help steward public lands, onX also devotes a portion of its sales every year to securing and protecting public access.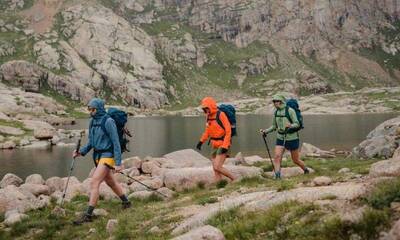 Through its Access and Stewardship Grant Program, the company endeavors to help secure or improve public access to 150,000 acres, and to help restore, secure, or build 150 miles of trails.
onX is currently accepting applications for its next round of grant funding, which is open through July 7, 2023.
---
Images and content courtesy of onX
Backpackers.com Affiliate Policy: This article may contain affiliate links, which help fund our website. When you click on the links to purchase the gear we get a commission, and this goes a long way to creating guides, gear reviews, and other excellent content.