Nikwax, a manufacturer of revolutionary waterproofing products, is proud to unveil a new experiential retail tool that will help customers identify their waterproofing needs.
Dubbed the Aqua Forensic Device (AFD), this new tool will assist customers in self-diagnosing the item's need for aftercare, as well as suggesting and dispensing the proper products.
The mobile AFD provides 3D cameras, as well as water jet spray heads situated around the interior of the enclosed booth. The user enters wearing the gear they wish to test.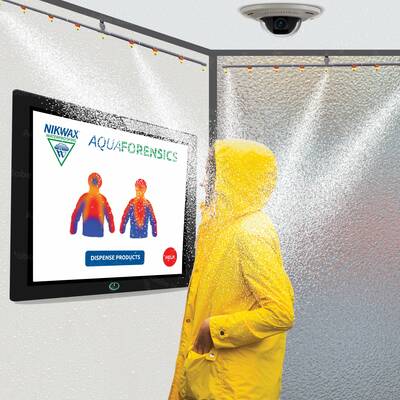 After using the touchscreen interface to enter information about their item, including the type of gear, brand, and age, the booth selects the correct spray height and strength, performs a diagnostic spray, then analyzes the results.
All areas of water-repellency failure are documented on the video screen, and the correct Nikwax products are then dispensed from the accompanying vending unit.
There's also a call button that enables the customer to directly connect with the store's staff to ask additional questions.
The AFD will be shipping to select retailers in time for the busy holiday season. If your retail location is interested in this device, please contact Nikwax at [email protected].
~~~April Fools!~~~
Nikwax has always been at the forefront of driving awareness of the need for aftercare, but there is no such thing as a Aqua Forensic Device! Hope you enjoyed this joke from Nikwax.
---
Image courtesy of Nikwax
Backpackers.com Affiliate Policy: This article may contain affiliate links, which help fund our website. When you click on the links to purchase the gear we get a commission, and this goes a long way to creating guides, gear reviews, and other excellent content.