Nikwax has taken another step toward making its products more sustainable by using 100% post-consumer recycled plastic in their bottle lids.
As a world-leading manufacturer of technical cleaning and waterproofing products, the brand remains committed to reducing the use of plastic.
This most recent action keeps the brand on track to meet its aim of having 90% of its total plastic use come from recycled plastic by the end of 2023.
As a result, all of Nikwax's product bottles and lids are now made of 100% PCR plastic and are completely recyclable.
Brian Davidson, President, Nikwax NA, said that the raw material they were working with is made from various sources so a key challenge was consistency and quality of the lid.
"After a lot of research and testing, our team was able to develop a lid that met our standard of quality and maintained the desired colors to match our Green for Clean and Purple for Proof," he said.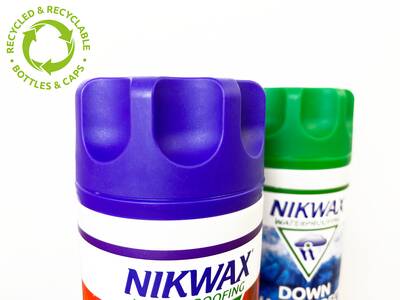 Additionally, with rigorous testing of this new material, the Nikwax team found the recycled plastic's quality and performance provided an even better fitting lid and an improved customer experience.
Nikwax transitioned to recycled (and recyclable) plastic for all of its bottles in 2020, and as part of this ongoing commitment, the caps will now be.
---
Image courtesy of Nikwax
Backpackers.com Affiliate Policy: This article may contain affiliate links, which help fund our website. When you click on the links to purchase the gear we get a commission, and this goes a long way to creating guides, gear reviews, and other excellent content.