NOMAD Goods is one of those companies that makes things you want to touch. The Active Strap is brand new, and pairs an elegant sense of design with impressive waterproof leather to create an Apple Watch strap that can go literally anywhere.
The Active Strap does the basic stuff an Apple Watch strap must do. It slides smoothly with a satisfying snap into your Watch, is compatible with Watch Series 1-5, and has a single-sized strap that fits wrists from 150 mm to 210 mm (that's most people!). The hardware is refined, made of 316 stainless steel, and looks good.
But it goes way beyond this, both in style and function. The Active Strap has well-formed ridges along the backside of the strap, which creates a bit of space between your wrist and the material. This allows breathability and, as the leather ages, custom comfort.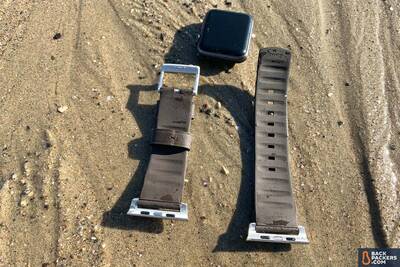 The ridges are coupled with small perforations, too, mixing design aesthetic from classic plastic-based watches and high-end business leather watches.
The Waterproof Leather of the NOMAD Active Strap
The unique quality of the NOMAD Active Strap is the waterproof leather. It's made by a German company called Heinen, who uses a specialized tanning process that infuses natural lipids into the leather.
This is a complex process which means, in the end, that the Active Strap does not have a waterproof coating — like so many products — and does not use a synthetic material, like plastic, to make it waterproof. The leather itself is waterproof, due to the tanning.
This means the Active Strap doesn't have chemicals on it, and it means the waterproofing can't be "rubbed off" over time like so many "waterproof" outdoor products.
We put the Active Strap in the exact conditions recommended by NOMAD — the salty Pacific Ocean. It came out looking, well, stylized. And it shed the water the way you'd expect plastic too — except it isn't plastic at all.
Who is NOMAD Goods?
NOMAD Goods is a gadget and electronic accessories company based out of Santa Barbara, California. They take a minimalist, design-centric approach to creating products where outdoor travel and electronics meet. They stand out because of how well their product functions, and how good it looks.
Best known for rugged smartphone cases (also leather), technologically impressive charging products, and uniquely designed cables, the company creates long-lasting, high quality gear.
See the NOMAD Active Strap, and learn more about NOMAD.
---
This article is sponsored by NOMAD. 
Backpackers.com Affiliate Policy: This guide contains affiliate links, which help fund our website. When you click on the links to purchase the gear we get a commission, and this goes a long way to creating guides, gear reviews, and other excellent content.