Outdoor Voices, the sought-after brand renowned for its lifestyle, fitness, and outdoor-loving apparel, has exciting news for enthusiasts everywhere as it makes its grand entrance at REI Co-op.
After a long-awaited search for the perfect collaboration, the brand is set to become available at REI stores starting this August.
The apparel selection promises a comprehensive array of choices, catering to both men and women seeking functional yet fashionable attire.
The lineup includes Outdoor Voices Men's Clothing, Outdoor Voices Women's Clothing, and a dedicated Outdoor Voices Fitness line, all seamlessly blending performance with style.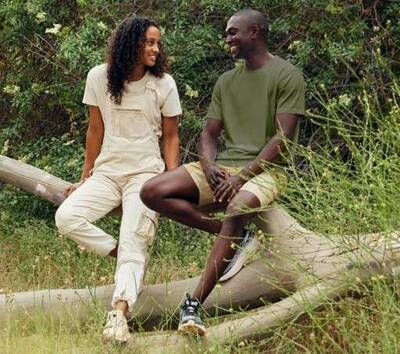 Recommended Women's Products:
RecTrek Zip-Off Overalls – The women's Zip-Off overalls feature 10 pockets, adjustable suspenders, zip-off legs and a mini backpack.
RecTrek Zip-Off Pants – The women's RecTrek Zip-Off pants equip you for outdoor fun, and they have enough pockets to hold all your essential gear.
The Exercise Dress – The Exercise Dress is a do-anything staple that you can wear for everything from hiking with friends to walking your dog.
RecTrek Colorblock 3″ Shorts – Made of durable, water-resistant RecTrek fabric with a high-rise, relaxed fit, the women's RecTrek Colorblock 3 in. shorts are equipped for your summertime hikes.
Everyday Shirt – The women's Everyday shirt offers the kind of casual comfort that will quickly make it a go-to wardrobe staple.
RecTrek Zip-Off Overalls
The Exercise Dress
Everyday Shirt
Recommended Men's Products:
RecTrek 5″ Shorts – Designed with durable, stretchy material, the men's  RecTrek 5 in. shorts are a comfortable option whether you're setting up camp or pushing to the summit.
RecTrek Colorblock 7″ Shorts – These durable, lightweight shorts are made with 4-way stretch fabric and plenty of pockets for your on-trail essentials.
RecTrek Zip-Off Pants – Featuring zip-off sections that allow you to wear them 3 ways and ample pockets for on-trail storage, the men's RecTrek Zip-Off pants are ready for every hiking adventure
ThinkFast Shortsleeve T-Shirt – The men's ThinkFast Shortsleeve T-shirt is breathable and fast drying, so you can work up a sweat without feeling wet.
SoftShield Liner Down Jacket – A lightweight jacket with heavyweight warmth, the Outdoor Voices SoftShield Liner down jacket is designed for layering up when the temps drop
ThinkFast Shortsleeve T-Shirt
RecTrek 5″ Shorts
SoftShield Liner Down Jacket
By joining forces with REI, Outdoor Voices ensures that its products reach an even broader audience of outdoor and fitness enthusiasts.
The integration of Outdoor Voices within REI heralds a new era of accessible, stylish active wear for all seasons.
Get ready to elevate your outdoor wardrobe as Outdoor Voices and REI embark on this exciting journey together.
---
Images courtesy of REI Co-op
Backpackers.com Affiliate Policy: This article may contain affiliate links, which help fund our website. When you click on the links to purchase the gear we get a commission, and this goes a long way to creating guides, gear reviews, and other excellent content.