The Orvis PRO Insulated Hoodie is a thing of wonder. Designed for those who wander harsh environments and experience capricious weather, this jacket strikes the perfect balance of lightweight design, insulating warmth, breathability, and durability.
This jacket has an athletic fit with enough flexibility for outdoor activities from hiking to skiing to fishing. The official name is the Orvis PRO Insulated Fishing Hoodie, but this feels like a misnomer since this jacket can be used for anything outdoor-related. It can be the first choice of outer layer for outdoor enthusiasts of every stripe.


The features are thoughtful and precise. For instance, the hood for the Orvis PRO Insulated Hoodie is a Goldilocks size, as in just right — small enough for a solid fit and big enough for a hat or small helmet when needed. The Orvis PRO Insulated Hoodie also comes with abrasion-resistant stretch-woven cuff panels that make the sleeves feel like a perfect fit every time.
See the men's Orvis PRO Insulated Hoodie
See the women's Orvis PRO Insulated Hoodie
Orvis PRO Insulated Hoodie Specifications
Feature Type
Feature Specs
What This Means
Weight

Men: 15.7 oz
Women: 13.4 oz

Lightweight and packable, this jacket is a no-brainer for day or overnight trips.
Type
Insulated Jacket
It'll help keep you warm during colder excursions.
Insulation

80g/m2 PrimaLoft® Gold Active insulation in body, hood, and arm (45% recycled content)
80g/m2 Polartec Alpha insulation in side panel and under arm (55% recycled content)

The insulation is body-mapped to perform and keep you warm where you need it most.
Outer Material
20D mechanical stretch Ripstop Nylon shell
Durable against abrasion for when you're roughing it.
Pockets
4
Secure zippered fleece-lined pockets.
Pocket Placement
2 side pockets, 1 exterior chest pocket, 1 internal zipped security pocket
Lots of options for storage, and the internal zipped security pocket doubles as a travel stuff sack.
Waist
Elastic with drawstring
The waist can be zipped up to keep out wind drafts and create a tighter fit if needed.
UPF
N/A
unknown
Fit
Athletic Fit
Fits well, with a little bit of room. Made for active use and perfect for layering.
Weather Resistance
Wind and water-resistant
You'll stay dry in snow and light rain, and the windchill won't be much of a factor.
Manufacturer Warranty
Orvis Great Catch Guarantee
Orvis promises 100% customer satisfaction. Self-service returns, refunds, and exchanges.
Retail Price
$249
Mid-range pricing that's well worth it for the attention to detail and quality craftsmanship.
See the men's Orvis PRO Insulated Hoodie
See the women's Orvis PRO Insulated Hoodie
Unique Features of the Orvis PRO Insulated Hoodie
The Orvis PRO Insulated Hoodie is a thoughtful piece through and through. Hats off to the design team at Orvis. This jacket was tested in constant blower powder in the Wasatch range, and it didn't wet out even a little.
However, the thing that impressed the most was the breathability. Our tester runs hot even during the winter, so to find a jacket that he can layer well without worrying about sweating is rare. The body-mapped insulation creates a warm but breathable jacket.
All-Weather Performance
Recycled PrimaLoft Gold Active insulation in the core, head, and arms creates warmth without taking up space. It is highly breathable and was more than adequate during a light snowstorm, with only a sweatshirt layered underneath.
Interior warmth.
Exterior protection.
The side panels and underarms are packed with Polartec Alpha insulation originally developed for Special Ops teams. While still warm and insulating, these areas feature increased flexibility and breathability.
A 20d mechanical stretch ripstop nylon comprises a windproof and water-resistant exterior. All these materials are intelligently combined, forming an all-weather, all-season jacket that can be layered and utilized in almost any outdoor situation.
Amazingly Useful Pockets
The two handwarmer pockets are roomy, fleece-lined, and smartly placed. They are deep enough to comfortably fit your gloved hands and store whatever you need, but they have enough structure so they don't feel like a black hole.
The external zippered chest pocket can hold a large phone, and it's so well-designed that you won't even feel anything is in there. Plus, each of these pockets has sturdy YKK zippers that feel like they'll last a good long time.
The internal security pocket doubles as a stuff sack for traveling or backpacking with the Orvis PRO Insulated Hoodie. It packs down to a small size that you can easily stow away when you're not using it.
Interior zip pocket.
Stuffed in its own sack.
Elastic Drawstring Waist
This feature is useful for the shoulder seasons when you don't need to layer as much or when your main cold source is a biting wind. The waist can be tightened down to keep out any drafts.
It's also a useful way to enhance the athletic fit of the garment if you usually run a slim fit.
We also tested the women's version.
Fit and warmth approved!
How the Orvis PRO Insulated Hoodie Compares to other Insulated Hooded Jackets
There are many insulated hooded jackets on the market. So, how does the Orvis PRO Hoodie compare against some of the segment's best sellers?
Orvis PRO Insulated Hoodie vs. REI Co-Op Stormhenge Down Hybrid Parka
The REI Co-Op Stormhenge Down Hybrid Parka is a hybrid jacket made to keep out the rain. It runs a little longer than the Orvis Hoodie with its parka style but does a great job keeping you dry.
The Orvis PRO Insulated Hoodie features better pockets and a more streamlined hood than the REI Parka, plus, the Orvis Hoodie has a better fit for layering, and it comes in at a lower price point.
The Orvis Hoodie is more versatile, more breathable, and the internal stuff sack means you can travel easier with it. If you're going to be on the move, the Orvis Hoodie is definitely the better choice.
Orvis PRO Insulated Hoodie vs. Outdoor Research Shadow Insulated Hoodie
Outdoor Research makes great products for climbing and active pursuits. The Shadow Insulated Hoodie is their hybrid offer, with some water resistance and good stretch.
But the spandex material in the Shadow Insulated Hoodie is both a strength and a weakness. It does make the material stretchier than most, which is important for complex climbing movements; however, this also makes it less durable and less water resistant than the Orvis Pro Insulated Hoodie. There also are not many features on the Outdoor Research Hoodie. So while the Shadow Insulated Hoodie works well for the specific niche of highly active climbers, most everyone else would be more comfortable in the Orvis Hoodie.
Orvis PRO Insulated Hoodie vs. KUHL Spyfire Down Hoody
The KUHL Spyfire Down Hoody is a jacket made to be worn underneath an outer shell. It is made of 800 fill goose down and comes in fun colors.
The KUHL Spyfire Down Hoody is very well designed, but it does cost more than the Orvis PRO Insulated Hoodie and is not quite as durable or all-weather ready. The KUHL Spyfire Down Hoody is stuffed with goose down, which doesn't like to get wet. If you want an insulated hoodie that'll work as well on the slopes and trails as it does when your bushwhacking to a secluded lake, you'll want to stick with the Orvis PRO Insulated Hoodie.
See the men's Orvis PRO Insulated Hoodie
See the women's Orvis PRO Insulated Hoodie
Who is Orvis?
Orvis is a classic fishing brand that has since expanded its offerings to suit all sorts of outdoor enthusiasts. The company was founded in 1856 and has evolved tremendously since. The brand's PRO line is part of an effort to re-contextualize anglers within the larger landscape of outdoor athletic recreation, and the PRO Insulated Hoodie is a valuable addition to that effort.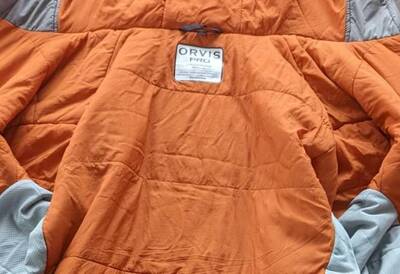 See the Orvis PRO Insulated Hoodie, and learn more about Orvis.
---
Orvis sponsors this post.
Backpackers.com Affiliate Policy: This article may contain affiliate links, which help fund our website. When you click on the links to purchase the gear we get a commission, and this goes a long way to creating guides, gear reviews, and other excellent content.